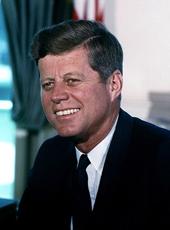 Joint Statement Following Discussions With President Sukarno of Indonesia.
PRESIDENT KENNEDY and President Sukarno completed today in Washington a series of discussions on a wide range of matters of mutual interest. First Deputy First Minister of Indonesia, Johannes Leimena; the Secretary of State, Dean Rusk; Indonesian Foreign Minister Subandrio; the Acting Assistant Secretary of State for Far Eastern Affairs, John M. Steeves; the United States Ambassador to Indonesia, Howard P. Jones; and Indonesian Ambassador to the United States, Zairin Zain, participated in the discussions.
The two Presidents welcomed this opportunity to renew their friendship and to reaffirm the spirit of cooperation and confidence which has characterized the relations between their two countries.
The two Presidents discussed the recent emergence of the new nations in Asia and Africa. Both Presidents welcomed the newly found freedom of these countries and agreed that their genuine aspirations can best be fulfilled through mutual cooperation both within and without the United Nations. Both Presidents recognize that these new countries must be alert to any attempts to subvert their cherished freedom by means of imperialism in all its manifestations.

President Kennedy stated that the Indonesian Eight-Year Development Plan provides further opportunity for the two nations to work together. He offered to provide the services of a top-level economic team to consult with their Indonesian counterparts regarding the best way in which the United States might assist in achieving the goals of this plan.
Both Presidents expressed gratification at the high degree of cooperation between their countries and noted, in illustration, the successful visit to Indonesia of the hospital ship, the S. S. Hope, sponsored by the People-to-People Health Foundation.
Both Presidents recognize that the disarmament problem must be considered in relation to the general world situation. Both men agreed that the successful conclusion of a treaty ending nuclear tests, while not in itself a solution to the problem of disarmament, would be a first and most significant step.
Both Presidents strongly and unreservedly support the goal of a neutral and independent Laos.
Both Presidents expressed pleasure that President Sukarno's travel schedule had provided an opportunity for them to meet for this informal and worthwhile exchange of views.
John F. Kennedy, Joint Statement Following Discussions With President Sukarno of Indonesia. Online by Gerhard Peters and John T. Woolley, The American Presidency Project https://www.presidency.ucsb.edu/node/234745