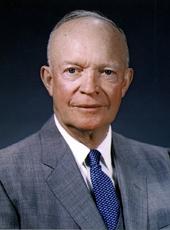 Joint Statement following Discussions With President Chiang Kai-shek.
AT THE INVITATION of President Chiang Kai-shek, President Dwight D. Eisenhower visited the Republic of China from June 18 to June 19, 1960. This historic journey of the President of the United States of America and the warmth and enthusiasm with which he was received by the Chinese people demonstrated anew the strong 'bonds of friendship between the two countries.
Both President Chiang and President Eisenhower welcomed the opportunity afforded them by this visit for an intimate exchange of views on various matters of common interest and concern, calling to mind that the two countries have always stood closely together as staunch allies in war as well as in peace. The talks between the two Chiefs of State were held in an atmosphere of utmost cordiality.
In the course of their discussions, the two Presidents reaffirmed the dedication of the two Governments to an untiring quest for peace with freedom and justice. They recognize that peace and security are indivisible and that justice among nations demands the freedom and dignity of all men in all lands.
Taking note of the continuing threat of Communist aggression against the free world in general and the far Eastern free countries in particular, the two Presidents expressed full agreement on the vital necessity of achieving closer unity and strength among all free nations.
They pledged once again that both their Governments would continue to stand solidly behind the Sino-U.S. Mutual Defense Treaty in meeting the challenge posed by the Chinese Communists in this area. They deplored the outrageous and barbaric practice of the Chinese Communists in shelling and ruthlessly killing Chinese people on alternate days and noted that this practice emphasized the necessity for continued vigilance and firmness in the face of violence.
Discussions were also held on the importance of accelerating the economic expansion of the Republic of China in order to enhance the prosperity and well-being of its people. President Chiang explained the steps which his Government is taking to assure the early accomplishment of his goal. He expressed the appreciation of his Government and people for the valuable assistance which the United States of America has rendered to the Republic of China. President Eisenhower expressed the admiration of the American people for the progress achieved by the Republic of China in various fields in recent years and gave assurance of continuing United States assistance.
finally, the two Presidents voiced their common determination that the two Governments should continue to dedicate themselves to the principles of the United Nations and devote their unremitting efforts to the intensifying of their cooperation and to the further strengthening of the traditional friendship between the Chinese and American peoples.
Note: The joint statement was released in Taipei.
Dwight D. Eisenhower, Joint Statement following Discussions With President Chiang Kai-shek. Online by Gerhard Peters and John T. Woolley, The American Presidency Project https://www.presidency.ucsb.edu/node/234822