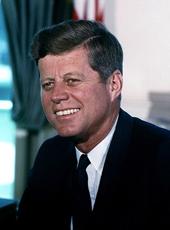 Joint Statement following Discussions With President Ahidjo of the Cameroon.
PRESIDENT Ahmadou Ahidjo, who is making a five day visit to the United States as the guest of President Kennedy, will conclude a two-day stay in Washington tomorrow and continue his visit in New York.
Although President Ahidjo has been in this country before, this is his first voyage to America since his country became independent and since he became its first Chief of State. The visit has given the two Presidents an opportunity to become personally acquainted. They have held frank and cordial discussions covering a wide range of topics of mutual interest to their countries. These included a number of world problems, in particular the means of accelerating the decolonization of Africa, and also of other parts of the world and the consolidation of the independence of young nations. President Kennedy congratulated President Ahidjo for his successful efforts in the progressive development of his country, both in combating internal subversion and in achieving the reunification of the two parts of Cameroon.
The two Presidents noted with satisfaction the efforts recently undertaken to create African unity. In this connection President Ahidjo expressed his satisfaction over the role played by the United States in the framework of United Nations action in the Congo in order to hasten the re-establishment of the peace and unity of that country. The United Nations remains, in the view of both Presidents, the best means whereby nations can discuss issues openly, and the best instrument for finding solutions to problems that menace the peace of the world.
In the field of cooperation the Presidents noted that in addition to a continuing program of economic aid and technical assistance to the Cameroon, the United States is also preparing to make a loan to help finance the extension of the trans-Cameroonian railroad.
The two Presidents agreed to take steps to encourage commerce and investment between their two countries and noted that a United States Trade Mission is tentatively scheduled to visit Camcroon in May 1962.
President Ahidjo and President Kennedy agreed that the exchange of views made possible by this visit have reaffirmed that their two countries have many common goals and ideals. They expressed the conviction that the visit has served to strengthen and improve the friendly relations between the United States and the federal Republic of Cameroon.
John F. Kennedy, Joint Statement following Discussions With President Ahidjo of the Cameroon. Online by Gerhard Peters and John T. Woolley, The American Presidency Project https://www.presidency.ucsb.edu/node/237000