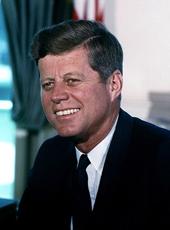 Joint Statement Following Discussions With Premier Khrushchev in Vienna.
PRESIDENT KENNEDY and Premier Khrushchev have concluded two days of useful meetings, during which they have reviewed the relationships between the U.S. and the USSR, as well as other questions that are of interest to the two States. Today, in the company of their advisers, they discussed the problems of nuclear testing, disarmament, and Germany. The President and the Chairman reaffirmed their support of a neutral and independent Laos under a government chosen by the Laotians themselves, and of international agreements for insuring that neutrality and independence, and in this connection they have recognized the importance of an effective cease-fire. The President and the Chairman have agreed to maintain contact on all questions of interest to the two countries and for the whole world.
Note: During their meeting Premier Khrushchev handed the President an aide memoire on Berlin and another dealing with the testing of nuclear weapons. On June 17 the White House released the text of the U.S. reply to the latter. Stating that the positions taken by the Soviet delegation at Geneva and at Vienna made it appear that the Soviet Union did not want an agreement banning nuclear weapons testing, the U.S. note urged the adoption of an effective test ban treaty (Department of State Bulletin, vol. 45, PP. 18, 22, 231).
For the President's statement concerning the U.S. reply to the aide memoire on Berlin, see Item
John F. Kennedy, Joint Statement Following Discussions With Premier Khrushchev in Vienna. Online by Gerhard Peters and John T. Woolley, The American Presidency Project https://www.presidency.ucsb.edu/node/234781