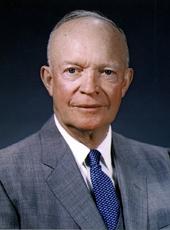 Joint Statement Following Discussions With King Mahendra.
THE PRESIDENT of the United States and His Majesty Mahendra Bir Bikram Shah Deva, King of Nepal, today held a friendly and fruitful discussion on various matters of mutual interest.
King Mahendra, who is visiting the United States upon the invitation of the President, has also addressed a joint session of the United States Congress. At the conclusion of his Washington stay on April 30, King Mahendra will begin a twelve-day coast-to-coast tour of the United States, during which he will meet with various civic, cultural, and business leaders.
The President expressed great admiration for the steps which have been taken under the leadership of King Mahendra to foster the growth of democracy in Nepal, as exemplified by the promulgation of a constitution by the King and by the holding of general elections in 1959 under the provisions of that constitution.
In their review of the world situation, the President and King Mahendra expressed their mutual concern with the vital problem of achieving lasting peace and establishing a world order based on international justice. They reaffirmed their determination to work toward those goals, the achievement of which will contribute immensely to the general progress, prosperity, and welfare of mankind.
The President and King Mahendra agreed that the American people and the Nepalese people have in common the virtues of tolerance, charity, and benevolence, which virtues should serve as the basis of relations between all nations. The President and King Mahendra agreed further that Nepal and the United States share a profound belief in the sovereignty and independence of nations and in genuine noninterference in the affairs of others. The President and King Mahendra agreed that any attempt by any nation to impose its own economic system or political beliefs on any other country should be condemned.
The President and King Mahendra expressed a common belief that social and economic progress should be achieved by all peoples in the manner of their own choosing and in government based on consent of the governed and the dignity of the human individual. In this spirit, the President assured King Mahendra of the continuing readiness of the United States to be of assistance to the Government of Nepal in its high objective of developing the resources of the country for the welfare of its people.
The President and King Mahendra expressed their mutual desire to maintain and further strengthen the cordiality and genuine friendship which has always characterized Nepalese-American relations and which has been so evident during the King's visit.
Dwight D. Eisenhower, Joint Statement Following Discussions With King Mahendra. Online by Gerhard Peters and John T. Woolley, The American Presidency Project https://www.presidency.ucsb.edu/node/234212