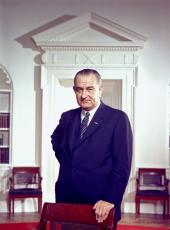 Joint Statement Following Discussions With Chancellor Erhard.
PRESIDENT Johnson and Chancellor Erhard met today at the White House with their senior advisers.
The President and the Chancellor expressed their satisfaction with the close and cooperative relations between their two countries and the political, economic, and military strength of the Atlantic Alliance. The President and the Chancellor also agreed on the continuing importance of maintaining an intimate and dynamic Alliance.
The Chancellor welcomed the President's assurance that the United States would maintain its forces in Europe, backed by nuclear power, so long as they were wanted and needed for the peace and security of Europe.
The Chancellor emphasized Germany's vital interest in the continued progress of European unity. And the President, in turn, agreed that European unity was an important factor in the strengthening of the Alliance. The President also expressed his appreciation for the Federal Government's effort to further European economic integration and to contribute to the development of increasingly closer economic ties between Europe and America and the rest of the world.
The Chancellor told the President of his appreciation for the President's strong support to efforts to resolve the German problem. The President and the Chancellor agreed that their governments, together with the other responsible powers, must continue to seek all available means to end the unjust division of Germany as soon as possible.
They agreed too that improvements in relations with the countries of Eastern Europe would help to contribute to peace and security and that a common allied policy would contribute to this end.
The President and the Chancellor also discussed the serious threats to peace and stability in a number of other areas of the world, and especially in southeast Asia. In this connection, the Chancellor emphasized the importance of mutual solidarity in dealing with communist aggression. He told the President his support for the American determination to turn back aggression in Viet-Nam and welcomed the United States Government's efforts to bring about a peaceful settlement of that conflict. The Chancellor also told the President of his interest in the projected Asian Development Bank and the German Government's desire to participate in it and also provide economic assistance which would contribute to the establishment of political and economic stability in this area of the world.
The President and the Chancellor also expressed their hope for continuing progress in the Dominican Republic, leading to the restoration of peace and representative government there.
Finally the President and the Chancellor reaffirmed the strong and close friendship of their peoples and governments, working together for peace and freedom in the future as they have in the past. For this reason, they agreed to meet regularly and to discuss questions of common interest.
Lyndon B. Johnson, Joint Statement Following Discussions With Chancellor Erhard. Online by Gerhard Peters and John T. Woolley, The American Presidency Project https://www.presidency.ucsb.edu/node/241311