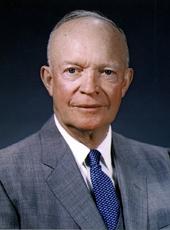 Joint Statement Following Discussions With Chairman Khrushchev at Camp David.
THE CHAIRMAN of the Council of Ministers of the USSR, N. S. Khrushchev, and President Eisenhower have had a frank exchange of opinions at Camp David. In some of these conversations United States Secretary of State Herter and Soviet Foreign Minister Gromyko, as well as other officials from both countries, participated.
Chairman Khrushchev and the President have agreed that these discussions have been useful in clarifying each other's position on a number of subjects. The talks were not undertaken to negotiate issues. It is hoped, however, that their exchanges of view will contribute to a better understanding of the motives and position of each and thus to the achievement of a just and lasting peace.
The Chairman of the Council of Ministers of the USSR and the President of the United States agreed that the question of general disarmament is the most important one facing the world today. Both governments will make every effort to achieve a constructive solution of this problem.
In the course of the conversations an exchange of views took place on the question of Germany including the question of a peace treaty with Germany, in which the positions of both sides were expounded.
With respect to the specific Berlin question, an understanding was reached, subject to the approval of the other parties directly concerned, that negotiations would be reopened with a view to achieving a solution which would be in accordance with the interests of all concerned and in the interest of the maintenance of peace.
In addition to these matters useful conversations were held on a number of questions affecting the relations between the Union of Soviet Socialist Republics and the United States. These subjects included the question of trade between the two countries. With respect to an increase in exchanges of persons and ideas, substantial progress was made in discussions between officials and it is expected that certain agreements will be reached in the near future.
The Chairman of the Council of Ministers of the USSR and the President of the United States agreed that all outstanding international questions should be settled not by the application of force but by peaceful means through negotiation.
Finally it was agreed that an exact date for the return visit of the President to the Soviet Union next spring would be arranged through diplomatic channels.
Note: This statement was released at Gettysburg, Pa.
Dwight D. Eisenhower, Joint Statement Following Discussions With Chairman Khrushchev at Camp David. Online by Gerhard Peters and John T. Woolley, The American Presidency Project https://www.presidency.ucsb.edu/node/234354