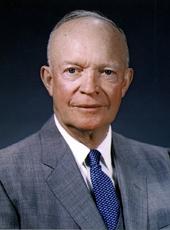 Joint Declaration by the President and Prime Minister Macmillan on Nuclear Weapons Tests.
PRESIDENT EISENHOWER and Prime Minister Macmillan have discussed the present position of the nuclear tests conference at Geneva between the United States, United Kingdom and the Soviet Union.
It has been, and remains, the earnest desire of both the United States Government and Her Majesty's Government in the United Kingdom to achieve, by international agreement, the total prohibition of all nuclear weapons tests, under effective international control.
When the Geneva Conference began seventeen months ago, there was reason to hope from the preliminary scientific discussions which had preceded it that there would be no insuperable technical or scientific difficulties in establishing an effective control system capable of detecting nuclear tests of all kinds. Subsequently, however, it appeared from further scientific research that in our present state of knowledge there are great technical problems involved in setting up a control system which would be effective in detecting underground nuclear tests below a certain size. It is, however, the sincere hope of the President and the Prime Minister that an agreed program of coordinated scientific research, undertaken by the three countries, will lead in time to a solution of this problem.
Meanwhile, the President and the Prime Minister believe that progress can be made towards their ultimate objective of a comprehensive agreement. They have agreed that much has been accomplished in these Geneva negotiations toward this objective. They point out that in the effort to achieve the early conclusion of a treaty there are a number of important specific problems to be resolved. These include the questions of an adequate quota of on-site inspections, the composition of the Control Commission, control post staffing, and voting matters, as well as arrangements for peaceful purposes detonations. They believe that negotiation on these points should be speeded up and completed at the earliest possible time. The Prime Minister and the President have agreed that as soon as this treaty has been signed and arrangements made for a coordinated research program for the purpose of progressively improving control methods for events below a seismic magnitude of 4.75, they will be ready to institute a voluntary moratorium of agreed duration on nuclear weapons tests below that threshold, to be accomplished by unilateral declaration of each of the three powers. In order to expedite progress, the President and the Prime Minister have agreed to invite the Soviet Government to join at once with their two Governments in making arrangements for such a coordinated research program and putting it into operation.
It is to be understood that once the treaty is signed, ratification will have to follow the constitutional processes of each country.
The President and the Prime Minister have agreed to give instructions to their delegates at Geneva in accordance with the spirit of this declaration.
Note: This declaration was released at Camp David, Md.
Dwight D. Eisenhower, Joint Declaration by the President and Prime Minister Macmillan on Nuclear Weapons Tests. Online by Gerhard Peters and John T. Woolley, The American Presidency Project https://www.presidency.ucsb.edu/node/235635