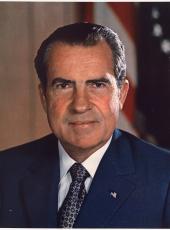 Joint Communique' Following Discussions With President Echeverria of Mexico.
PRESIDENT Richard Nixon and President Luis Echeverria Alvarez welcomed this opportunity to renew their personal friendship and the cordial dialogue which began at their first meeting here in 1970. They regarded this visit as particularly appropriate at a time when the eyes of the world have been focused on President Nixon's recent visits to Peking and Moscow. The visit of the Mexican President to the United States serves to direct broad attention to the equally important tasks of advancing new approaches to Latin America and the less developed nations of the world.
They also agreed that their meetings had contributed to the establishment of a new era, an opening characterized by a spirit of frankness, with Mexico and which they hoped would characterize intra-Hemispheric relations.
The two Presidents exchanged impressions on world and Western Hemisphere affairs in considerable detail. President Nixon described his talks with the Chinese and Soviet leaders. President Echeverria recounted his experiences on recent visits to Japan, Chile and Peru. They found this review informative, useful as well as stimulating. They were firmly united in the view that world peace with social justice is essential to the well-being of all mankind.
The Presidents discussed overall relations between their two countries--political and economic affairs, and cooperation in the scientific, technical, cultural and other fields.
The President of the United States recognized the important role developing countries could and should play in erecting a new international monetary system and in progressing toward a free and fair trading system. In endorsing trade policies more responsive to the problems of both developed and developing countries, he reaffirmed his intention to seek congressional authorization at the appropriate time for the United States to participate with other industrialized countries in a system of Generalized Tariff Preferences for imports from developing countries.
Regarding the problem of the salinity of the Colorado River, President Echeverria told President Nixon that Mexico reiterates its position as regards receiving its assignment of original waters from the Colorado River, to which the Treaty of February 3, 1944 refers, and therefore, with the same quality as those derived from the Imperial Dam.
To this, President Nixon replied that this was a highly complex problem that needed careful examination of all aspects. He was impressed by the presentation made by President Echeverria and would study it closely. It was his sincere desire to find a definitive, equitable and just solution to this problem at the earliest possible time because of the importance both nations attach to this matter.
As a demonstration of this intent and of the goodwill of the United States in this connection, he was prepared to:
(a) undertake certain actions immediately to improve the quality of water going to Mexico;
(b) designate a special representative to begin work immediately to find a permanent, definitive and just solution of this problem;
(c) instruct the special representative to submit a report to him by the end of this year;
(d) submit this proposal, once it has the approval of this Government to President Echeverria for his consideration and approval.
President Echeverria said that he recognized the goodwill of President Nixon and his interest in finding a definitive solution to this problem at the earliest possible time. He added that based on two recent trips to the Mexicali Valley and his talks with farmers there, his Government, while reserving its legal rights, had decided to stop using waters from the Wellton-Mohawk project for irrigation purposes while waiting for receipt of the US proposal for a definitive solution.
Both Presidents agreed to instruct their Water and Border Commissioners to prepare and sign a Minute containing the above program and commitments as soon as possible.
The Presidents discussed the many areas of ongoing cooperation between Mexico and the United States, and their conviction that such cooperation serves to bind our people even closer together in mutual effort and understanding. They took note of the agreements concluded during the visit by their respective Secretaries for Foreign Relations: a bilateral agreement with regard to the exchange of information, training and research in the fields of science and technology; a subsidiary agreement which contemplates the exchange of young technicians and scientists (including the training of some 100 young Mexican technicians and scientists through US Government agencies); renewal of the agreement on Cultural Relations.
President Nixon and President Echeverria discussed the serious nature of the illicit international traffic in narcotic drugs. They reviewed the joint enforcement measures which their countries have successfully undertaken over the past two years. President Nixon informed President Echeverria of recent measures taken to combat the drug problem in the United States. They agreed to acquire and employ additional equipment in the antinarcotics campaign and to make available increased training of personnel for this purpose.
With regard to the question of migratory Mexican workers, the two Presidents discussed the economic, social and political factors that produce this problem and agreed it was desirable for each government to undertake immediately a study of this question with a view to finding a mutually satisfactory solution.
Recognizing the communality of many environmental problems and the need to seek cooperative solutions through the exchange of research and experience, the two Presidents have agreed that appropriate policy level officials from Mexico and the US will meet on a regular basis for discussion and consultation concerning current and future environmental problems of mutual concern and the methods for dealing with them in a more systematic way.
The conversations between Presidents Nixon and Echeverria were at all times cordial and marked by the spirit of good neighborliness which exists between Mexico and the US. At the same time problems were discussed frankly and openly as between true friends in an atmosphere of mutual respect and trust. President Echeverria particularly wished to convey on behalf of Mrs. Echeverria, his party and himself, his deep appreciation for the warm hospitality which was extended to them by President and Mrs. Nixon.
President Nixon expressed his great pleasure that President and Mrs. Echeverria will now have an opportunity to visit other areas and cities of the United States and assured them they will receive a warm and friendly welcome from the American people.
Note: The joint communiqué was released at Key Biscayne, Fla.
See also Items 200 and 201.
On June 15, 1972, the White House released an announcement of the exchange of diplomatic notes by Secretary of State William P. Rogers and Secretary of Foreign Relations for Mexico Emilio O. Rabasa on bilateral agreements in the scientific, technological, and cultural fields. The announcement is printed in the Weekly Compilation of Presidential Documents (vol. 8, p. 1054).
Richard Nixon, Joint Communique' Following Discussions With President Echeverria of Mexico. Online by Gerhard Peters and John T. Woolley, The American Presidency Project https://www.presidency.ucsb.edu/node/254583