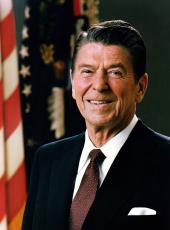 Joint Columbia-United States Statement on Drug Abuse and Trafficking
During our meeting today, we discussed the drug scourge which afflicts both our nations, the Hemisphere at large, and mankind generally. We reviewed the measures our two nations are taking and will take, separately and together, to combat the production, trafficking, demand and use of illicit narcotics.
Our nations recognize the terrible effect drug abuse has on the health and well-being of individual users, as well as more generally on the economies and public morality of both societies. It is especially deplorable when the drug poisons are found among the young and even small children.
Drug trafficking is a criminal activity that has no frontiers and can only be controlled by a combined effort of all countries involved. We have shared our concern that the financial power resulting from the enormous profits of illicit narcotics trade poses a terrible threat to democracy in the Americas. Our mutual dedication to the anti-narcotics struggle is an integral part of the close relations that exist between our two nations. We both see a vital need to enlist the cooperation of other governments in this intensified effort.
We understand that the gravity of the problem is a consequence of both illegal production and distribution of drugs as well as growing demand. We also understand these factors are closely related and all efforts to suppress one without at the same time taking equally vigorous actions against the other will be fruitless. For these reasons, each government is prepared to assume its responsibilities, eliminating both illegal production and drug abuse.
The United States recognizes the effort, the commitment of resources and the sacrifices that Colombia has made in destroying crops and laboratories, seizing shipments and bringing suspected drug traffickers to justice, including the extradition of traffickers accused of narcotics crimes in the United States. For the United States' part, enforcement activities are increasing and prevention and education programs are having positive results in reducing drug abuse.
We are in entire agreement on the need to continue these intensified efforts and to ensure the closest possible collaboration in the war against narcotics. Both nations reaffirm respect for our mutual legal obligations to extradite traffickers under our existing treaty, and will remain in close contact to periodically examine and improve the framework of our legal and law enforcement cooperation as necessary to adapt to changing conditions as we learn from our experiences.
We have noted with satisfaction the beginning of new areas of cooperation against narcotics. Mrs. Reagan and Mrs. Betancur, who met earlier today at the White House, look forward to their meeting at the First Ladies' Conference on Drug Abuse, which will be held in Washington on April 24th. We are confident those meetings, in which they will play leading roles, will have a lasting impact.
Colombia renews the commitment to fight against drug trafficking at all levels in order to destroy the crops, the laboratories where drugs are processed, to interrupt the transportation to the U.S. market and to see that those responsible for the trafficking are severely punished. The United States commits itself to increasing its efforts to diminish use and demand of drugs, destroy crops and to strengthen its support for the war against narcotics.
The cost of success in the past has been high. It has included the life of a Colombian Cabinet Minister, Rodrigo Lara Bonilla, and law enforcement officers from both countries. We cannot allow such sacrifices to have been in vain. We pledge to each other to revitalize and intensify our efforts to destroy the trafficking network. Our decision is irreversible, our dedication total. Nothing will deter us from this fight.
RONALD REAGAN

BELISARIO BETANCUR
Ronald Reagan, Joint Columbia-United States Statement on Drug Abuse and Trafficking Online by Gerhard Peters and John T. Woolley, The American Presidency Project https://www.presidency.ucsb.edu/node/259825