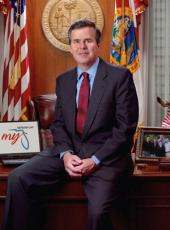 Jeb Bush Campaign Press Release - Lindsey Graham: Jeb Bush is Best Choice for Commander-in-Chief
With ISIS on the rise and radical Islamic terrorism threatening our homeland, America needs a strong and steady leader in the White House. I believe every American voter has an obligation to pick a commander in chief worthy of the sacrifice of our men and women in uniform and someone with the experience, judgment and temperament to keep our nation safe.
Jeb Bush is that leader. Jeb is ready to be commander in chief during these dangerous times.
As a transformational two-term governor of America's largest swing state, Jeb Bush has been tested, time and again. In the aftermath of the 9/11 terrorist attacks, Florida's tourism-driven economy took a major hit. Jeb successfully brought Republicans and Democrats together in support of a series of economic reforms that jump-started Florida's economy and resulted in his state becoming the national leader in job creation and small business creation.
Gov. Bush also set the gold standard for emergency management and disaster preparedness when he mobilized the Florida National Guard and led an unprecedented recovery effort after eight major hurricanes hit his state from 2004-2005.
Jeb Bush knows how to make tough calls when under fire. This is why 30 retired admirals and generals and 12 Medal of Honor recipients, including South Carolinians Maj. Gen. James Livingston and Corp. Kyle Carpenter, have joined me in endorsing Jeb's candidacy.
As a retired colonel in the United States Air Force Reserves and member of the Senate Armed Services Committee, I know how important it is to have a commander in chief who is committed to rebuilding our military.
Barack Obama's devastating defense cuts are undermining our national security. In a commanding speech before cadets at The Citadel, Gov. Bush outlined a comprehensive strategy to strengthen our military and ensure that our soldiers have the training and equipment they need to execute their missions successfully.
Gov. Bush has also outlined a detailed strategy to destroy ISIS. Unlike many of the other Republican candidates, Jeb has been honest about the need to put more American boots on the ground in the Middle East to take out ISIS. He deserves credit for having the courage to tell the truth about what is needed to destroy ISIS. This will not be an easy fight, but it is one that America must lead to restore stability to the Middle East and to protect our homeland from terrorist attacks like the mass shootings in Paris and San Bernardino, Calif.
Gov. Bush also understands that American leadership is necessary to mobilize a coalition of our Middle Eastern partners and European allies to take the fight directly to ISIS. America must lead, but we cannot fight this war alone. The Bush strategy would embed our soldiers with the Iraqi military, arms the Kurds, re-engage with the Sunni tribal leaders and send a clear and unmistakable message to Turkey, Saudi Arabia and Jordan that America is all in when it comes to destroying ISIS — but they must step forward as well.
Gov. Bush recognizes that Bashar Assad, the butcher in Syria, must be toppled in order to take out ISIS and restore stability in Syria. Assad's brutality is a recruiting tool that ISIS uses to radicalize Sunnis in Syria. Donald Trump mistakenly believes that we can sit back and allow Assad, Putin and Syria to fight it out. However, he misunderstands the complexity of the region, what is needed to restore order and how to end the slaughtering of innocent Syrians that has led to one of the worst refugee and humanitarian crises in recent memory.
Gov. Bush's Syrian strategy embraces many of the ideas that I have advocated such as establishing a no-fly zone to prevent Assad from barrel bombing innocent civilians.
Gov. Bush would also create safe zones in Syria for refugees, and he would provide military and logistical support to moderate forces in Syria. Jeb knows that American leadership is also required after Assad falls to ensure that the country doesn't lurch deeper into chaos or fall into the hands of radical Islamists. After all, the infamous "leading from behind" foreign policy of Barack Obama and Hillary Clinton already led to the fall of Libya, and we cannot allow that to happen again.
It is easy to talk tough on foreign policy and give sound bites about carpet-bombing the Middle East. However, it takes deep thought, humility and an understanding of how to project American military power to chart out a clearly defined strategy that will successfully destroy ISIS and protect America.
Jeb Bush stands head and shoulders above the rest of the field in meeting the commander in chief test, and I encourage my fellow Republicans in South Carolina to join me in voting for him.
Jeb Bush, Jeb Bush Campaign Press Release - Lindsey Graham: Jeb Bush is Best Choice for Commander-in-Chief Online by Gerhard Peters and John T. Woolley, The American Presidency Project https://www.presidency.ucsb.edu/node/312948