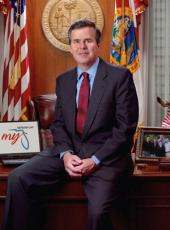 Jeb Bush Campaign Press Release - Lindsey Graham Endorses Jeb
Today, at a joint press conference in Charleston, SC, Senator Lindsey Graham announced his endorsement of Governor Jeb Bush for President.
Graham endorsed Jeb because he is the most ready to lead the nation as Commander-in-Chief, he has the best national security credentials and he has the most comprehensive and well-thought-out plan to defeat ISIS.
"I have concluded without any hesitation, without any doubt that Jeb Bush is ready on Day One to be a Commander-in-Chief worthy of the sacrifices of the 1% who have been fighting this war," said Graham. "You have to have an alternative to leading from behind, and Jeb Bush has that alternative."
Graham also emphasized how whether it's fiscal, social or national security issues — Jeb is the most conservative candidate in the field:
"As to South Carolina, we have a reputation of picking the most conservative person who can win. I think that Jeb, by any reasonable definition, is a fiscal and social conservative and above all others he understands conservatism when it comes to national security. Conservatism when it comes to national security is building a strong military second to none and using it smartly and forming alliances that will make us safe over here."
This election is too important to nominate someone who has no chance against Hillary Clinton. As Graham pointed out, Jeb is the one who has what it takes to win in November:
"Jeb Bush is going to be a nominee that can win an election that as a party, we can't afford to lose," said Graham.
Watch the full video below to learn more about why Senator Lindsey Graham decided to join our team and add your name here to help us build on our momentum in South Carolina and across the country.
Jeb Bush, Jeb Bush Campaign Press Release - Lindsey Graham Endorses Jeb Online by Gerhard Peters and John T. Woolley, The American Presidency Project https://www.presidency.ucsb.edu/node/312659