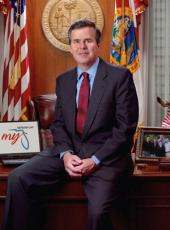 Jeb Bush Campaign Press Release - Jeb Has the National Organization & Momentum on His Side
Governor Bush has the momentum coming out of New Hampshire and ahead of the South Carolina primary. Leaders in the March primary states agree: Gov. Bush is the proven conservative in the race with a national organization built for the long haul.
See below for statements from leaders in Alabama, Georgia, Oklahoma, Tennessee, Virginia, Florida, Idaho, Illinois, Michigan, Mississippi, North Carolina and Puerto Rico.
Alabama:
"Governor Jeb Bush is a strong and tested leader with the steady hand we need to keep America safe from radical Islamic terrorism. Jeb's strong showing in New Hampshire has jump-started his campaign. I am confident that Jeb will do well in Alabama and throughout the SEC primary states on March 1." — Lt. Governor Kay Ivey
"New Hampshire voters have made Jeb Bush the Comeback Governor. I am proud to support Jeb's campaign. He is ready to be Commander-in-Chief. He will have the backs of our soldiers and he will fight to ensure that our veterans receive the benefits they deserve." — Congressman Mike Rogers
Georgia:
"Gov. Jeb Bush was a conservative, proven reformer as governor. He has the best record on cutting spending, cutting taxes and creating jobs of anyone in the race. Jeb performed well in New Hampshire because he has the best plans to strengthen our economy and national security." — Lt. Governor Casey Cagle
Oklahoma:
"I served as governor of Oklahoma when Jeb was governor of Florida. The conservative reforms he implemented in Florida were a model for the rest of nation. Governor Bush made Florida the national leader in job creation and small business creation, helping to boost the incomes of middle class families by $1,300. Jeb was a transformational governor and he will be a transformational president. I know Governor Bush will do well in Oklahoma on March 1." — Former Governor Frank Keating
"Jeb Bush is the most experienced and best qualified presidential candidate. He understands that Washington, DC is too big and too intrusive. That is why he is committed to the 10th Amendment and restoring the proper balance of power between the federal government and the States. Jeb was a reform-minded conservative governor who achieved great things in Florida. His record and conservative plans to enhance our economic and national security will serve him well in the Oklahoma primary on March 1." — Attorney General Scott Pruitt
Tennessee:
"New Hampshire has given Jeb Bush the shot of momentum he needs to ultimately defeat Donald Trump and Ted Cruz and win the Republican nomination. Governor Bush is clearly the most qualified and experienced candidate to be Commander-in-Chief. He can compete and win in Tennessee on March 1." — Former U.S. Senator Bill Frist
"Jeb Bush has the right message and right record to do very well in Tennessee during the SEC primary. The voters of New Hampshire have given Jeb's campaign the jolt he needs to make a serious push for the Republican nomination." — Tom Ingram
Virginia:
"As president of the United States, Jeb Bush will rebuild our military, destroy ISIS and protect our veterans who have sacrificed to keep our homeland safe. Jeb's commitment to the military and his solid conservative reforms to grow our economy are exactly what we need from the next Commander-in-Chief. This is why Jeb ran strong in New Hampshire and this is why he will be successful in Virginia on March 1." — Former Congressman Eric Cantor
Florida:
"I was proud to go to New Hampshire to campaign for Governor Bush. I saw first-hand the excitement his campaign is generating. Jeb has some real momentum now and the strongest political organization in Florida. I am going to work hard to ensure that Jeb wins on March 15 because he is the Commander-in-Chief we need." — Chief Financial Officer Jeff Atwater
"I am proud of what Jeb accomplished in New Hampshire. He exceeded expectations and proved the pundits wrong. Jeb is the most qualified candidate for president who has offered the most sweeping conservative reforms of anyone in the race. Jeb has always been an ideas man and he is showing the media and political class that voters are yearning for real leadership and solutions." — Speaker of the House Steve Crisafulli
Idaho:
"As a former Governor, I have deep respect for what Jeb Bush achieved in Florida. From cutting taxes every year by $19 billion to balancing eight budgets to making his state the national leader in job creation, Jeb has an extraordinarily strong record of accomplishment. New Hampshire gives Jeb the momentum he needs to take his campaign to Idaho and all the way to the Republican nomination. I am proud to be on his team." — Former Governor Dirk Kempthorne
Illinois:
"Jeb Bush scored a significant achievement in the New Hampshire primary. He has jump-started his campaign — which is great news for the American people because Jeb is the proven reformer we need to clean up the mess in Washington, DC. I look forward to campaigning with Jeb when the race for the nomination comes to Illinois on March 15." — State Senator Karen McConaughay
"Leadership is not just about reflecting anger back, it's about understanding that anger and showing a way out. Jeb'ssupport for our troops and his understanding of the current global landscape is something we need in our next Commander-in-Chief, and attributes to the support he has from countless veterans, including 12 Medal of Honor recipients. As a veteran myself, I've supported Governor Bush since day one, and I'm glad to see his message of optimism resonating. He's ready for the White House, and we're ready to elect him as our next president." — Congressman Adam Kinzinger
Michigan:
"I am proud of the campaign Governor Bush ran in New Hampshire. Jeb is the strong leader America needs during these challenging times. He has the best plans to strengthen manufacturing by reforming our broken tax code and cutting red tape that makes our businesses and workers less competitive. Governor Bush is going to do very well in Michigan on March 8 because he has the best economic agenda and message to inspire working families who have been left behind by Barack Obama's broken economy." — Attorney General Bill Schuette
"Jeb Bush is the real deal. He is a proven conservative reformer who is ready to lead. I know Jeb will be a great Commander-in-Chief and I look forward to helping him win the Michigan primary on March 8." — Congressman Mike Bishop
Mississippi:
"Jeb Bush is the best Republican candidate to take on Hillary Clinton. We are not going to beat the Clinton machine unless we put forward a nominee who has a proven record and the ability to go toe-to-toe with the Democrats. Jeb proved in New Hampshire that he has the courage and toughness to defeat the Clinton machine." — Insurance Commissioner Mike Chaney
"Jeb has the Big Mo coming out of New Hampshire. He is going to do very well in Mississippi on March 8. His conservative record on the Second Amendment, life and cutting taxes is going to resonate here. Jeb is ready to be Commander-in-Chief and he is the best candidate to carry our conservative banner into battle against Hillary Clinton and the Democrats." — Austin Barbour
North Carolina:
"Jeb Bush is ready to be Commander-in-Chief. His strong support for our military and veterans is going to resonate strongly in North Carolina. Jeb proved his toughness in New Hampshire. I am proud to be on his team and will work hard to help him succeed in North Carolina and ultimately win the Republican nomination." — Congressman Patrick McHenry
Puerto Rico:
"As a governor, I have great respect for what Jeb achieved in Florida and I am committed to helping him win in Puerto Rico. Jeb Bush has the strongest organization of any Republican candidate here and I know he is going to run strong on March 6. Clearly, New Hampshire has strengthened Jeb's campaign as we move forward." — Former Governor Luis Fortuno
Jeb Bush, Jeb Bush Campaign Press Release - Jeb Has the National Organization & Momentum on His Side Online by Gerhard Peters and John T. Woolley, The American Presidency Project https://www.presidency.ucsb.edu/node/312365