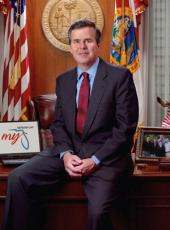 Jeb Bush Campaign Press Release - Jeb: A Clear Choice on Protecting our Veterans
In an astonishing statement, Hillary Clinton recently declared that the abuses and incompetency inside the VA Department that led to the deaths of thousands of veterans was not a widespread problem.
Every American, especially the heroes who defended our nation and their families, should be outraged by Hillary Clinton's callous disregard for the inferior care that is being provided to our veterans. The VA scandal where veterans were put on waiting lists and denied care resulting in their deaths is one of the most glaring examples of an uncaring bureaucracy that I have ever seen. Even more disturbing is the fact that only three people have been fired and that the VA decided to hand out more than $140 million in bonuses this year.
The incompetency at the VA is also on vivid display in Denver, CO where a new VA hospital that was supposed to cost $300 million has ballooned to nearly $2 billion. Is it any wonder that the American people are fed up with Washington, D.C. and no longer trusting in the ability of their elected officials to be responsible stewards of their tax dollars?
When I become president of the United States, I will clean house at the VA and ensure that our veterans receive the quality health care benefits they have earned and deserve. Hillary Clinton may not think the scandals inside the VA are a big national problem. I couldn't disagree more.
I recently unveiled a comprehensive plan to improve the performance of the VA and to ensure that veterans have more health care choices. Under my plan, more veterans could choose between receiving care at a VA hospital or using their benefits at another health facility. I believe strongly that giving veterans more choices and control over their health care will create competition that will result in the VA becoming better at providing services and more accountable.
During my campaign for the presidency, I have met with countless veterans who have told me about their frustration in dealing with the VA. The status quo is clearly inexcusable and it must be disrupted by the next commander-in-chief. I have a proven track record of making government more efficient and accountable. In Florida, I turned the old order upside down and challenged entrenched special interests. I will do the same thing in Washington, D.C. and I will start first with the VA Department.
I am honored to have been endorsed by over 75 prominent veterans nationally, including 12 Medal of Honor recipients and 30 former generals and admirals. These heroes are some of the most highly decorated veterans in America. They are supporting my candidacy because they know I will be a strong commander-in-chief who will rebuild our military, strengthen our standing in the world and defend our homeland. I am inspired by the sacrifices they have made for our nation and motivated by their valor to pursue reforms at the VA that will honor the service of every American who wore has the uniform of our armed services in service of our nation.
Jeb Bush, Jeb Bush Campaign Press Release - Jeb: A Clear Choice on Protecting our Veterans Online by Gerhard Peters and John T. Woolley, The American Presidency Project https://www.presidency.ucsb.edu/node/312971