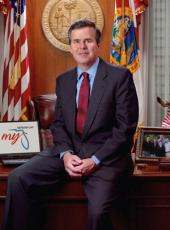 Jeb Bush Campaign Press Release - African-Americans for Jeb
This morning, Governor Bush rolled out his education policy which aims to give access to a quality education to every child, an issue he strongly believes is the civil rights challenge of our time. This afternoon, the campaign is announcing the initial members of the African-Americans for Jeb National Steering Committee, a group that will help promote Jeb's message of expanding education opportunity and economic empowerment across the nation.
"I am impressed by Gov. Jeb Bush's record expanding school choice, college access and affordability, and his support for African-American entrepreneurs and businesses. Jeb understands that education and economic empowerment are the civil rights issues of our time. As we reflect, today, on Dr. King's legacy and the work left to achieve his Dream, Republicans should look to a leader who's been both consistently conservative as well as inclusive, building bridges, and growing the tent of our party," said former Congressman Gary Franks (CT-5).


In a new video, Jeb discusses Dr. Martin Luther King's vision based on equality of opportunity, and speaks about how we need to ensure children in poverty get access to a quality education that will prepare them for a lifetime of success.


"America is in vital need of leadership, not entertainment or colorful rhetoric. Real leadership. We need leadership that will stand for liberty and justice for all. Leadership that will expand opportunity for all. Leadership that will pave the way for every child, no matter their race or zip code, to receive a quality education. We need a leader who will ensure quality care for our veterans and secure the borders of our nation. We need a leader who will remind us that diversity is our greatest asset in America. I choose to support Gov. Jeb Bush for he is America's best hope for change," said Mary Millben.
"I have known Jeb Bush for 21 years. Thanks to Jeb's leadership, low-income and African-American students in Florida made among the biggest gains of any state in the nation. I know first-hand that Jeb has a heart for people; and he cares. Jeb has demonstrated a lifelong commitment to closing racial disparities in education and employment, and expanding opportunity for all," said T. Willard Fair.
African-Americans for Jeb National Steering Committee:
Dr. John Agwunobi— Former Florida Secretary of Health, Assistant Secretary for Health and Human Services, Retired Rear Admiral in the Public Health Service Corps

Darrell Allison- President of Parents for Educational Freedom

Renee Amoore- Deputy State Chairwoman of the Pennsylvania Republican Party and Businesswoman

Paul Boyd- Clerk, Shelby County, TN

Laura Branker- Senior Vice President, Smith & Co.

Reg Brown- Partner at Wilmer Hale, Former Deputy General Counsel to Governor Bush

Nick Buford- Valdosta State University, Mission:Next Campus Leader

David Byrd- Consultant, Byrds Eye LLC

Matt Carter II- Former Chair, Florida Public Service Commission

Nancy Charles- President, Central Florida Haitian Educators Association

Dr. Dion Clark- Director, NCWorks Career Pathways

Kay Cole James- Former Director of the US Office of Management and Budget

Cristal Cole- former Director of Community Engagement, Foundation for Excellence in Education

Stephen Davis- DuPage Airport Authority

Hugh "Danny" Dunn- former White House aide, President George W. Bush

T. Willard Fair- CEO, Miami Urban League

Sophia Fifner- Director of Development and Public Relations, I Know I Can, Columbus, OH

Dr. Kingsley Fletcher- Life International Church

Vennia Francois- Former Aide to Senators Mel Martinez and George LeMieux

Gary Franks- Former Member of Congress, CT

Byron V. Garrett— Chairman, National Family Engagement Alliance

Dylan Glenn- Managing Director, Guggenheim Partners, Former Deputy Chief of Staff, President George W Bush

Wendy Grant- Vice President, Republica

Beverly Green- Former Palm Beach County School Board Member

David Griffin- Former Florida Lottery Secretary

James Michael Harvey- Former Chairman, Shelby County Commission, TN

Chelsi Henry- Ebony Contributor, Chair of the Republican Diversity Coalition

Marsha Hill- Executive Assistant, Florida Department of Agriculture and Consumer Services

Paula Hoisington- Vice President, Net Communications

Pastor R.B. Holmes- Bethel Missionary Baptist Church

Joel James- President, Morehouse College Republicans

Garrett Johnson- Co-Founder, SendHub.com

Julia Johnson- President, Net Communications, Former Chair of the Florida Internet Taskforce, Former Chair of Florida Public Service Commission

Freda King- Program Coordinator, "Dress for Success" Walmart Going Places Program

Ruben King-Shaw- Chairman and CEO, Mansa Capital

Roderick "Rod" Love- President and CEO, Community Synergy Group

Ramon Manning- Chairman, Partners Energy North America

Frank T. Martin- Former COO, Santa Clara Valley Transportation Authority

Judge Simone Marstiller- Florida First District Court of Appeals

Darrick McGhee- VP Public Affairs, Johnson & Blanton
Marquis McMillan- Florida A&M, Mission: Next Campus Leader

Fred McClure- CEO, George Bush Presidential Library Foundation, Former Assistant to President George H.W. Bush and Special Assistant to President Ronald Reagan

Dr. Rhonda Medows- Former Florida Secretary, Agency for Health Care Administration, Commissioner, Georgia Department of Community Health

Mary Millben- Helen Hayes nominee, singer & actress

Sonya Montgomery- President, the DeSoto Group

Rufus Montgomery- President and CEO, The Cascon Group

Willie Montgomery- Retired Postmaster and Decorated Vietnam Veteran

Windell Paige- Former Director of the Office of Supplier Diversity, State of Florida

Kelly Price- CEO and Founder, Memphis Entrepreneurship Academy

Sam Rivers, Jr.- South Carolina State Representative; Pastor, Voice of the Lord International Ministries, Columbia SC

Rachel Robinson- Former Executive Director, Palm Beach County Republican Party

Pastor Windell Rodgers- Mount Calvary Baptist Church, Easley SC

Chris Sanders- Georgia Young Republicans, Mission: Next Campus Leader

Don Scoggins- Prince William County Republican Party Executive Committee

Leon Searcy, Jr.- University of Miami Hall of Fame (Football), 11 year veteran of NFL

Daryl Sharpton- Founder and President, The Sharpton Group, Former Chairman of the Miami-Dade Expressway Authority

Marcus Skelton- Former Chairman, DC Young Republicans

Leslie Steele- Consultant for the Yes4Marriage Campaign in 2008

Lynn Swann- Pro Football Hall of Fame, Pittsburgh Steers

Rebecca Swindle- Former Florida Lottery Secretary

Maurice Washington- Former Charleston, SC Councilman

Stefan Walker- Consultant, The Politics Store

Sheldon Watts- Board of Trustees, DuPage County, IL

Pastor Harry Williams- In the Word International, Jacksonville, FL

Robert Woody- Former Deputy Secretary, Florida Department of Juvenile Justice
Join the African-Americans for Jeb coalition below:
Jeb Bush, Jeb Bush Campaign Press Release - African-Americans for Jeb Online by Gerhard Peters and John T. Woolley, The American Presidency Project https://www.presidency.ucsb.edu/node/312032