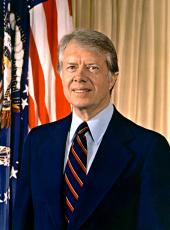 Jackson, Mississippi Remarks on Arrival at Allen C. Thompson Airport.
Thank you very much, Governor Finch. Senator Stennis, Senator Eastland, Congressman Sonny Montgomery, and others who have come here to Mississippi from Washington with me, I want to express my thanks to you.
Just so nobody has any doubt that I know, and just so I don't have any doubt that you know, do you all remember what State put me over the top on election night? [Applause] Very good.
As a matter of fact, we were waiting to see who would be the next President. I was talking on a telephone with Governor Cliff Finch, and the television screens flashed, "Jimmy Carter wins," and I know that I busted Cliff Finch's eardrums when I shouted, "Mississippi did it! Mississippi did it!" And I thank you for it.
When I first came here, Mayor Russell Davis met me at the airport, and a group of business leaders and, later, a group of students, educators, both black and white, came to talk and to listen to me and to learn what I stood for.
I was a former Governor who was not well known. And over a period of time, the people of your State and the people of the country came to realize that I felt the same way that you do, that I tried to search in my own heart for those things that are conservative: basic decency and a pride in our past, a belief that those who are able to work ought to work, a belief that the best government is the government closest to the people, that budgets ought to be balanced, that there ought to be a careful attention paid to letting people's individuality be encouraged, that people should make their own decisions, that government officials ought to be accountable to the people back home.
These kinds of principles have bound us together, deep religious conviction, and combined with that in a changing world, as has been demonstrated in Mississippi, Georgia, Tennessee, Alabama, Louisiana, and other States, has been a willingness for us to change when we saw that the future could be better than the past. And we did not lack courage to reach our hands out to our black neighbors, those of us who were white, and say, "Join us in creating a better future for everybody." This was not an easy thing for us to do. But we have done it, and we are better off for it.
We also have seen in foreign affairs that some of our principles that are espoused throughout this country can be put into effect.
One of the most controversial issues so far has been that of human rights. But we say that government ought not to subjugate people, that people ought to have a right to speak their own voice, that they ought not be imprisoned because they believe in a certain political philosophy, and I have been criticized for this stand. But I'll never back down, as long as you stick with me.
We've also seen in our country a renewed faith, not because of me but because of you. Since last November, we've had 3 million additional people go to work. The unemployment rate since December has dropped one full percentage point. We've got a long way to go, but I think there's a general recognition now that the Congress--the Senate and the House--and the President in the White House are working closely with one another, not trying to blame each other for mistakes, but trying to share responsibility.
And we work very closely also with the Governors and mayors and county officials back home to be sure that when decisions are made about controversial questions, that your voice is heard by us and that our decisions are shaped by the sound judgment and the basic intelligence and the widely varying experience that you can bring to political decisions.
Another thing that I want to say before I close is I'm very glad that I was able to help bring the rain to Mississippi. I just hope it's raining in Plains, Georgia, as well as it is in Jackson.
We have a lot of characteristics as farmers in the agricultural region that I've described already. As I said a few minutes ago in Charleston, South 'Carolina, I'm proud to be an American, and I'm also proud to be a southerner.
For long weeks, long months, 2 years ago, people just didn't believe that a southerner could be elected President. But you and I together showed them they were wrong. And for the last 6 months, strangely enough, I haven't seen much in the newspapers or magazines about my being a southerner. Now I, like you, am an American.
And I think we have helped break down those barriers that used to separate us from the rest of the country. And now we see that, as is the case with our neighbors next door, we also share our hopes and our dreams with people throughout this great country. And I'm proud of that change that has taken place to a great measure because of your confidence in me.
In closing, let me say that I am very deeply grateful to you, and I pray God that, with your help, you'll never be disappointed that I am in the White House. I need your help, your encouragement, your advice, your sound judgment, and your prayers. And I hope you'll give me all those things as I fill the job which you have given to me.

Thank you very much. God bless you.
Note: The President spoke at 5:30 p.m.
Jimmy Carter, Jackson, Mississippi Remarks on Arrival at Allen C. Thompson Airport. Online by Gerhard Peters and John T. Woolley, The American Presidency Project https://www.presidency.ucsb.edu/node/243363