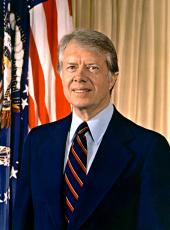 Italy: Meeting With Chancellor Helmut Schmidt of the Federal Republic of Germany Exchange With Reporters.
Q. How about telling us about your talk?
THE PRESIDENT. Very good.
Q. What did you discuss?
THE PRESIDENT. Well, we had a thorough discussion about many issues of interest to both countries. We discussed Afghanistan. We discussed the theater nuclear force question. We discussed the agenda for Chancellor Schmidt's upcoming trip to Moscow in just an outline form. We discussed some of the issues that will be coming up here at the Venice summit conference.
I might say that we have no differences between us about how to deal with Afghanistan. We both agree completely that the Soviets must withdraw all their troops from Afghanistan. As Chancellor Schmidt said, the presence of any of their troops there is unacceptable.
We also understand completely the situation on the theater nuclear force, and I assured Chancellor Schmidt that we have absolutely no doubt that he and the Federal Republic of Germany are completely committed to carry out the agreement that was reached back in December concerning the deployment of theater nuclear force for Western Europe.
Q. Why did you write him the letter then, sir, if you had no doubt about that?
THE PRESIDENT. We're not going to have a press conference, but I would say that I stated in my letter that there had been erroneous press reports, and I outlined the position of the United States concerning the theater nuclear force question.
CHANCELLOR SCHMIDT. I would like to underline any single sentence which the President just spoke, and there isn't really much to add from my side.
Q. Why were you responding to the President's letter, Mr. Chancellor?
THE CHANCELLOR. I am not going to answer press conference-type questions as much as the President did. There will be press conferences at the end of the summit.
Q. But you two agree, then—you do agree on things.
THE PRESIDENT. Yes.
Q. Well, then—
THE CHANCELLOR. I never thought that we did not agree in substance. Thank you very much.
Q. Did you discuss taking up the question of a deployment in Moscow?
Q. Should we write that you like each each other now or what?
THE PRESIDENT. Always have. Thank you very much.
Q. Are you going out tonight, Mr. President?
THE PRESIDENT. I don't know. I don't think so.
Note: The exchange began at approximately 8:45 p.m. on the steps of the Cipriani Hotel in Venice.
Jimmy Carter, Italy: Meeting With Chancellor Helmut Schmidt of the Federal Republic of Germany Exchange With Reporters. Online by Gerhard Peters and John T. Woolley, The American Presidency Project https://www.presidency.ucsb.edu/node/251263