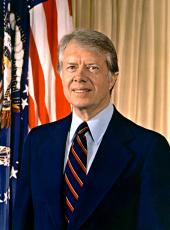 Investigation of Korean CIA Involvement in Congress Letter to Republican Congressional Leaders on Their Proposal for a Special Prosecutor.
To Senator Howard Baker: (To Congressman John Rhodes:)

I have reviewed your letter to me dated June 10, 1977, recommending on behalf of Republican Congressional leaders that a special prosecutor be appointed to investigate allegations of "... the Korean Central Intelligence Agency's involvement in domestic American politics." After discussions with Attorney General Bell and others, I have decided that appointment of a special prosecutor would be inappropriate and unwarranted, and would probably impede the investigation.
Your letter does not contain any specific information indicating that the Justice Department cannot conduct this investigation adequately. I assure you that any implication that the investigation has not been thorough and impartial is not well founded. I have been advised by Attorney General Bell that, in accordance with sound investigative procedures, the day-to-day conduct of the investigation is in the hands of experienced prosecutors, joined by career investigators of the F.B.I., the I.R.S. and other agencies. In addition, there continues to be active participation by a Federal Grand Jury, which has been meeting twice a week to hear testimony in this matter.
I am also advised by the Attorney General that the investigation is exceedingly thorough. To date, several hundred persons have been questioned, many repeatedly, and more than fifty witnesses have testified before the Grand Jury. Financial and other records, amounting to many thousands of individual documents, have been obtained, usually by grand jury subpoenas, from more than one hundred different sources. I am told that substantial progress is being made.
Your letter suggests that appointment of a special prosecutor is warranted because the controversy "is developing into a pattern of accusation by innuendo and trial by leak." You do not cite any facts to support the notion that media coverage of the matters under investigation has been based on leaks from the Justice Department.
In fact, I am advised by Judge Bell that many of the specific assertions in the press are entirely incorrect; some are unsupported by, and others are directly contrary to, the evidence and information obtained by the Justice Department.
I also believe there is a serious danger that appointment of a special prosecutor at this time would impede the investigation. The investigation has progressed to the point where potential prosecutions have been identified and, in several cases, the evidence-gathering process is nearly completed. The record thus far encompasses thousands of pages concerning hundreds of separate matters which occurred over a period of more than five years. Substitution of new personnel who would be entirely unfamiliar with this material would bring the investigation to a standstill for a number of months.
Finally, no suggestion has been made that members of the present Administration were in any way involved in the alleged illegal activities so as to raise a possible need for extraordinary measures in this investigation. As you know, the activities in question took place before this Administration took office. Furthermore, they involved individuals from both political parties. Attorney General Bell is advised continuously of the progress of the investigation, which is under the direct supervision of the Assistant Attorney General in charge of the Criminal Division.
I appreciate your concerns in this matter, and thank you for your letter. I am satisfied that the investigation is proceeding in a vigorous and impartial manner, and I therefore have determined that appointment of a special prosecutor is neither warranted nor advisable.

Sincerely,
JIMMY CARTER
Note: This is the text of identical letters addressed to Representative John J. Rhodes, minority leader of the House of Representatives, and Senator Howard H. Baker, Jr., minority leader of the Senate.
Jimmy Carter, Investigation of Korean CIA Involvement in Congress Letter to Republican Congressional Leaders on Their Proposal for a Special Prosecutor. Online by Gerhard Peters and John T. Woolley, The American Presidency Project https://www.presidency.ucsb.edu/node/243231