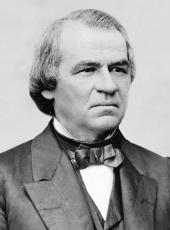 Interview with Judge Wardlow, Alfred Huger, Colonel Dawkins and W.H. Trescott of South Carolina
THE PRESIDENT, after the customary preliminaries of reception, invited them to be seated, when at once the conversation commenced by Judge Wardlow informing him that they were a delegation from the State Convention of South Carolina, sent there to present certain memorials of that body. These memorials had been very carefully considered in the Convention, and he believed they told exactly the truth. The President inquired the object of the memorials. Judge Wardlow informed him that one of them was in behalf of Jefferson Davis, A. H. Stephens, George A. Trenholm and Governor Magrath. He said they had understood that by the late interference of the President, Messrs. Stephens and Trenholm had already been released from close confinement and permitted to return to their homes. He would ask for Governor Magrath either a pardon or that he might be released on his parole. They could assure the President no harm would result from such an act of clemency.
THE PRESIDENT replied that all could not be pardoned at once. The business must be proceeded with gradually, and an effort made to execute the law. A discrimination was necessary as we went along. It was a too common expression, by way of argument in regard to clemency, that such a one had been pardoned, and that he was just as bad as another who had not been pardoned.
JUDGE WARDLOW replied that the delegation presented no such argument as that.
THE PRESIDENT said sometimes the peculiar locality had much to do with pardons. Like many other things in human affairs we cannot have a fixed rule. Much depends on discretion and circumstances. If we know ourselves, we want to do what is best and just, and to show a proper degree of humanity on the part of the Government.
JUDGE WARDLOW remarked that they had not come there to express their own hopes and desires, but as delegates from the South Carolina Convention to present the memorials of that body in a formal manner.
THE PRESIDENT: We will, gentlemen, extend all the facilities and courtesies which the question requires. We would prefer to pardon twenty men than to refuse one.
JUDGE WARDLOW replied, that they did not design to say anything with reference to Governor Magrath, further than that they believed much good would result by the exercise of the Executive clemency toward him.
COLONEL HAWKINS said if they could get Governor Magrath paroled it would be a great relief to him at the present time.
JUDGE WARDLOW thanked the President for having released Messrs. Stephens and Trenholm.
THE PRESIDENT: We have thus far, then, anticipated your memorial.
MR. HUGER said Mr. Trenholm was one of their most useful men, and there was no doubt he would exert all his power with a view to entire harmony between the State and the Government.
THE PRESIDENT replied that he understood that was so; adding, if treason was committed, there ought to be some test to determine the power of the Government to punish the crime. He was free to say that it was not a mere contest between political parties, or a question as to de facto governments. Looking at the Government as we do, the laws violated, and an attempt made at the life of the nation, there should be a vindication of the Government and the Constitution, even if the pardoning power were exercised thereafter. If treason has been committed, it ought to be determined by the highest tribunal, and the fact declared, even if clemency should come afterward. There was no malice or prejudice in carrying out that duty.
JUDGE WARDLOW remarked they were well aware of that.
THE PRESIDENT resuming, said there might be some unkind feeling on this subject, but it did not exist to any great extent
JUDGE WARDLOW said, although not instructed by the Convention, he was induced to ask whether Mrs. Jefferson Davis, who was now confined to Georgia, could not cross into South Carolina to see her friends.
THE PRESIDENT replied that he had received letters from Mrs. Davis, but they were not very commendable. The tone of one of them, however, was considerably improved, but the others were not of the character beseeming one asking leniency.
JUDGE WARDLOW interposed by saying she was a woman of strong feeling.
THE PRESIDENT: Yes; I suppose she is a woman of strong feeling and temper, but there is no intention to persecute her. There is as much magnanimity and independence, and nobleness of spirit, in submitting, as in trying to set the Government at defiance. True magnanimity takes things as they are, and when taken in the proper way I disconnect them from humiliation. Manifestations of temper and defiance do no good.
JUDGE WARDLOW remarked that the tone of the newspapers was more favorable, and different from what it was. He then asked if the President had seen a copy of the amended Constitution of South Carolina. Of course he had seen they accepted emancipation. He felt perfectly satisfied that the person and property of the negro would be protected, and spoke of the great difficulties of regulating labor and restraining vagrancy, etc.
MR. HUGER remarked that they had a deep consciousness of the truth of all the President said.
THE PRESIDENT, resuming, observed that the character of an individual may characterize a nation, which is nothing but an aggregate of individuals; and when a proper spirit is manifested, all can act harmoniously. The man who goes to the stake is almost dignified by his bearing: it lifts him above humiliation. In these cases, gentlemen, we will do the best we can. While there is sympathy, there is a public judgment which must be met But, I assure you, gentlemen, no disposition exists for persecution, or thirst for blood.
THE PRESIDENT thought many of the evils would disappear if they inaugurated the right system. Pass laws protecting the colored man in his person and property, and he can collect his debts. He knew how it was in the South. The question when first presented of putting a colored man in the witness stand, made them shrug their shoulders. But the colored man's testimony was to be taken for what it is worth by those who examined him, and the jury who hear it. After all, there was not so much danger as was supposed. Those coming out of slavery cannot do without work; they cannot lie down in dissipation; they must work; they ought to understand that liberty means simply the right to work and enjoy the products of labor, and that the laws protect them. That being done, and when we come to the period to feel that men must work or starve, the country will be prepared to receive a system applicable to both white and black—prepared to receive a system necessary to the case. A short time back you could not enforce the vagrant law on the black, but could on the white man. But get the public mind right and you can treat both alike. Let us get the general principles, and the details and collaterals will follow.
A conversation of some length ensued between the President and Judge Wardlow and Mr. Trescott as to the legislation of the State necessary in reference to the condition of the Freedmen, and to the scope and consequences of the Circular No. 15 and General Orders No. 145, from the Adjutant-General's Department, relative to abandoned lands in South Carolina and other Southern States. The examination of these objects, it is understood, is to be continued at another interview.
THE PRESIDENT said: We must be practical, and come up to surrounding circumstances.
Judge Wardlow, Colonel Hawkins and Mr. Huger, all expressed to the President their conviction that the State had accepted in good faith the result of the issue which had been made; that the people felt that the President had stood between them and a harsh use of the power of the Government; that they felt entire confidence in his purposes and actions, and hoped, in return, to entitle themselves to his confidence as to their feelings and actions.
THE PRESIDENT replied, he was glad to hear it; that whenever such mutual confidence existed, there would, he thought, be an open road to the restoration of good feeling and a prosperous condition • and that if he knew himself, and he thought he did, he would recommend nothing but what would advance their interests. So far from pandering or looking to future elevation, he must be believed, when he said he had not an eye single to such preferment. If, he continued, I could be instrumental in restoring the Government to its former relation, and see the people once more united and happy, I should feel that I had more than filled the measure of my ambition. If I could feel that I had contributed to this in any degree, my heart would be more than gratified, and my ambition full.
JUDGE WARDLOW : Every man in South Carolina would respond to that.
MR. HUGER : I am sure there is on their part no Punic faith. They deserve your confidence, and I am sure they will earn it.
THE PRESIDENT expressed himself gratified with what had been said by these gentlemen.
Mr. DAWKINS remarked that all South Carolina reposed confidence in the President, and that the memorials presented by the Chairman of the delegation represented the true sentiments of the people of that State, both in regard to those whom they wished pardoned and the feeling and position of South Carolina.
Source: John Savage, "Life and Public Services of Andrew Johnson".
Andrew Johnson, Interview with Judge Wardlow, Alfred Huger, Colonel Dawkins and W.H. Trescott of South Carolina Online by Gerhard Peters and John T. Woolley, The American Presidency Project https://www.presidency.ucsb.edu/node/355904