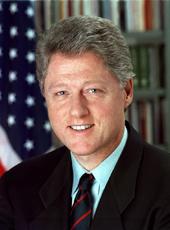 Interview With Joe Garvey of the Armed Forces Network in Baumholder
Mr. Garvey. The first question, Mr. President. You have spent the entire day talking to soldiers, shaking soldiers' hands. You've been briefed by the Task Force Eagle commanders. You've talked to spouses. What is the one thing that you'll walk away with here today?
The President. An immense feeling of gratitude that our country has people who are this well-trained, this highly motivated, this patriotic, and this good working for us. You know, these people have volunteered to serve their country, to go anywhere and do anything that their country needs. And they are an exceptional group of people, and their families are exceptional people.
Now, because of the training they've had in Germany, they believe that the training probably will be harder than the mission, and of course, we all hope it will be. So I think every American should feel an immense sense of pride and gratitude that people like the men and women of the 1st Armored Division are out there serving our country.
Mr. Garvey. Changing gears just a little bit, has having a U.S. forward-deployed force in Europe been an advantage for the planning and potential and ultimate execution of this Bosnia mission?
The President. Absolutely. It's been a huge advantage. For one thing, we are here, obviously part of the unified NATO Command, but we can do our planning not just through General Joulwan and the NATO Command Headquarters but right down through the Americans that are expected to do it and have it here in close proximity. It's made a big difference, and the training has made a huge difference.
We've been able, as you know, to recreate the conditions that our people will face in Bosnia here in Germany. We're fairly close by; we can get the same sort of topography, the same kind of weather conditions, and I think that that has made a huge difference.
I'm not sure we have ever sent a group of our men and women in uniform into a situation where they were better prepared in advance in almost on-site training. Neither of those things would have been nearly as good had we not had a forward deployment in Germany.
Mr. Garvey. I know you're a busy man. I have nothing else to ask you, Mr. President, unless you have something yourself you would like to add.
The President. Well, the only other thing I would like to add is that I think it's important for the American people to understand that with our volunteer Army now, it's more and more of a family place. It's more and more a place full of exceptional people with good values and deep ties, either to their spouses and children who are with them while they're in the service or to their parents back home.
And so when we make a decision, when I make a decision, like the decision to deploy our troops to carry out the peace mission in Bosnia, it's a family decision, it affects families, and I am very mindful of that. And one of the things that I really appreciate is the extent to which caring for the families, thinking about their needs, making sure that they're treated in the proper way is a big part of the mission now. And I think that's something that we have gotten better at and something I hope we will continue to get better at, because if we're going to have a volunteer Army, we want the very best people in it and we want people to be able to succeed in uniform but also in their family roles. And that is very, very important to me—especially at Christmastime I guess I'm thinking a lot about it, but all year long we have to be better and better and better at that, because this is a family commitment as well as an American commitment.
Mr. Garvey. Thank you. I appreciate your time.
The President. Thank you.
NOTE: The interview began at 4:40 p.m. at the Rheinlander Club.
William J. Clinton, Interview With Joe Garvey of the Armed Forces Network in Baumholder Online by Gerhard Peters and John T. Woolley, The American Presidency Project https://www.presidency.ucsb.edu/node/221075