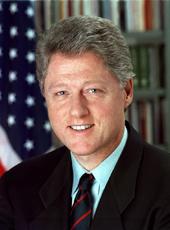 Interview with Gary Matthews of ESPN in Pine Bluff
Mr. Matthews. Thank you very much, Mr. President. Thank you for coming in. I understand that you're a great amateur baseball fan. Did you have the opportunity to play when you were growing up here in Arkansas?
The President. I did. Everybody did when I was a boy, but I was never as good as these guys are.
Mr. Matthews. Well, I'm sure you, like other fans across the country—and having played major league baseball myself—are happy that the strike is over. It's just so good to see so many fans here in Pine Bluff come out and support amateur sports.
The President. It is. I was delighted when the strike was over. As you know, I did what I could to help bring it to an end, and I think it kind of keeps the spirits of baseball fans up all across America. But the real heart and soul of baseball in our country are people like this, all these fans out here in stands like this all over America today and all these young people that are doing it in this way. They build the spirit of baseball, and they make it possible for a few people like you to rise to the top and have the career that you had.
Mr. Matthews. Well, thank you. I really appreciate that. I understand that you're the first President to come to Pine Bluff in over 100 years. What took you so long?
The President. I was here a lot before I became President. These people in this county were as good to me as any people in our entire State. They carried me on their shoulders through 12 years as Governor and I owed them a trip back here, and I'm honored to be here today.
Mr. Matthews. Well, thank you, Mr. President. Enjoy the game today.
The President. Thank you.
NOTE: The interview began at 1:21 p.m. at Taylor Field, where the President threw the first pitch at the National Amateur All Star Baseball Tournament. Mr. Matthews was a former Chicago Cubs baseball player.
William J. Clinton, Interview with Gary Matthews of ESPN in Pine Bluff Online by Gerhard Peters and John T. Woolley, The American Presidency Project https://www.presidency.ucsb.edu/node/221414