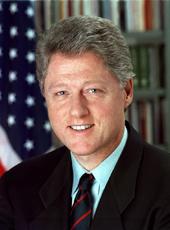 Interview With Dick Enberg of NBC Sports in Palm Springs, California
Mr. Enberg. Well, a historic foursome. How do you put this group together to play a game of golf?
Bob Hope. Well, it's damned lucky, I think, you know. Because I called President Clinton and asked him, and he finally said, "Yes, I'd like to do that." Then I got President Ford, President Bush, and we got—and me. Three Presidents and a hacker. [Laughter]
Mr. Enberg. Mr. Clinton, your ambitions as a golfer—have you set any goals?
President Clinton. I'm just trying to get my handicap in single digits. That's my goal. It seems unlikely in my present position. But I love to play, and I was gratified when Bob called me the other day. He said that he liked my State of the Union Address, but I could speak a lot better if I come out here and played in his tournament. It would put me in a better frame of mind.
Mr. Enberg. You're without your 35-year-old putter. I hope the rumors aren't true that Mr. Ford confiscated that. [Laughter]
President Gerald R. Ford. Well, Dick, I've played here 17 years with Bob, and it's always a great, great thrill. He's kind of a scoundrel, but he's fun to play with, and it's a great cause.
Mr. Enberg. And your thoughts, Mr. Bush?
President George Bush. Just to try to get it in the air. [Laughter]
President Clinton. We're going to try to stay out of—we're going to avoid out of bounds, he and I are. We're not going to go too far right or too far left. We're going to play political golf today. [Laughter]
Mr. Enberg. Have you been in this close an association in recent terms, or have you played before?
President Clinton. We've never played golf together before, but President Bush has been good enough to support a lot of things we've done together on trade and issues, for example, things he started that I tried to finish. So we've been together on several occasions.
Mr. Enberg. Any interesting wagers as you go around today?
President Bush. I don't know. We haven't gotten to that.
President Clinton. We're on the same side. We want somebody to bet with us and these other foursomes.
Mr. Enberg. Well, how about that on this side?
President Ford. Well, Bob and I will take the young fellows on. [Laughter]
Mr. Hope. Yes, sir.
Mr. Enberg. Well, Mr. Hope, this event becomes bigger and better every year. It's a great testimony to your love for——
Mr. Hope. Well, I'll tell you, we've drawn a crowd here today. I don't remember seeing anything like this. It's a beautiful thing to have happen for golf, you know, because you can't do any better.
President Clinton. Absolutely.
Mr. Enberg. Isn't it interesting that in these complicated times, this sport brings this unusual group together?
President Clinton. One of the nicest things about golf is that it's really becoming a sport for every man and woman in America. All kinds of people, all these new courses coming up, public courses, people able to play who never could have played 10, 20 years ago. And that's very rewarding, because it's a sport that you can play throughout your life and at all different skill levels. It's really a perfect sport for our people.
Mr. Enberg. Well, you gentlemen are used to high pressure. I can't think of anything in sports that has more anxiety and pressure than that first hit. [Laughter]
President Clinton. We are nervous as cats. We were just talking about it. We're just as nervous as we can be. [Laughter]
President Ford. Dick, I would advise people they should stay behind us. [Laughter]
Mr. Enberg. Gentlemen, thank you very much, President Bush, President Clinton.
President Clinton. Thank you very much.
NOTE: The interview was taped at 9:56 a.m. for later broadcast at the Indian Wells Country Club, where the President participated in the Bob Hope Chrysler Classic golf tournament. A tape was not available for verification of the content of this interview.
William J. Clinton, Interview With Dick Enberg of NBC Sports in Palm Springs, California Online by Gerhard Peters and John T. Woolley, The American Presidency Project https://www.presidency.ucsb.edu/node/220786