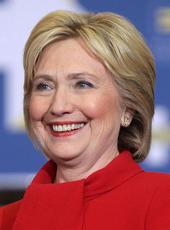 Interview with Alisyn Camerota of CNN's "New Day"
[begin video clip]
CLINTON: I hope you will fight for me. And I promise you this, I will stand up and fight for you every single day of this campaign. And then when we win I will fight for you in the White House. Thank you and god bless you.
[end video clip]
CAMEROTA: A powerful close to Hillary Clinton's last campaign event of the night Sunday. Former secretary of state spent most of the day making her way through Iowa in a last ditch effort to rally caucusgoers ahead of tonight's vote. Democratic presidential candidate Hillary Clinton joins us now. Secretary Clinton, good morning.
CLINTON: Good morning, Alisyn.
CAMEROTA: Okay. How are you feeling and how do you plan to spend the next 12 hours?
CLINTON: I am feeling great. I am so proud of the campaign we have run here in Iowa. I've got the most dedicated campaign team, the organizers who have been on the ground, the thousands of volunteers. We actually knocked on 125,000 doors this weekend. So there is just a lot of excitement and energy. I'm urging everybody to come out and caucus tonight to be part of this unique American process. I hope they will come out and caucus for me.
CAMEROTA: So, Secretary, let's talk about the issue that has bedeviled your campaign. That, of course, is the ongoing investigation into your e-mails. On Friday, the State Department withheld 22 e-mails. They didn't release them. Because of material deemed top secret. I know you have been asked this six ways to Sunday along the campaign trail and I know that you've always said there is nothing there, but your opponents have said that this is big. It's is a big deal. How do you convince voters today not to be concerned about this?
CLINTON: Well, Alisyn, there is nothing new. And I think the facts are quite helpful here. It's a little bit like what the Republicans and others have tried to do with respect to Benghazi. Just a lot of innuendo, a lot of attacks. I just know that after I testified for 11 hours, answered every question, nothing new came up. Most voters have made up their minds. And I'm grateful for that. The same here. And I think most of the voters who have followed this know exactly what's going on here. I never made any different explanation than the one that I have made over and over again. I take classified information seriously. I did not send or receive any material marked classified and I want all of these released. This is a dispute about retroactive classification, quite a mouthful. So what people talk to me about is how I'm going to get incomes up, how I'm going to make sure the Affordable Care Act works, and get prescription drug costs down, and make college affordable and relieve student debt. That's what's on voters' minds. And that's what I'm talking about and that seems to be what is exciting and energizing people as they move toward the caucus tonight.
CAMEROTA: Um but Secretary Clinton, something does seem to be happening with this investigation, or at least the FBI seems to be talking about it more, because in the past week several media outlets have said that their sources in the FBI say, quote, "something's going to happen." What does that mean to you?
CLINTON: It means people are selectively leaking and making comments that have no basis in anything I'm aware of. And, you know, I regret that that seems to be part of the atmosphere because we need to let this inquiry run its course, get it resolved. But I can tell you, Alisyn, that is not on the minds of the literally thousands of people that I have seen in the last few weeks. And I'm glad it isn't. Because the facts are the facts. No matter how much selective leaking or anonymous sourcing and all that kind of stuff that goes on, what people want to know is what I can do to be the best possible president for them and their families. And I've been thrilled at the kind of reaction and response I've been getting, the crowds that we had. That last event last night was just overwhelming. I'm looking forward to people coming out expressing their opinion about who can be the best president and commander in chief for the Democratic Party and then getting on to win the Democratic nomination and being successful next November.
CAMEROTA: Yesterday "The New York Times" endorsed you. They wrote that you are the right choice in terms of experience and vision. I'm sure that was music to your ears. Do you think "The New York Times" endorsement plays in Iowa?
CLINTON: Well, I don't know. But I know "The Des Moines Register" does and they endorsed me. I know "The Boston Globe" matters and a lot of the newspapers in New Hampshire that have endorsed me and this is very gratifying because, yeah, there is a lot of static that goes on and the Republicans and their allies are determined to do everything they can to try to bring me down. They don't know me very well. Because I don't quit when I'm fighting for what I believe in. And I believe that I can be the president who makes progress with people. And I'm just going to stick with it. And so when very respectable and responsible outlets like "The Register" or "The Times" or "The Boston Globe" and others look at all the candidates, interview us, ask us really hard questions and conclude that I'm their choice for president, I find that incredibly validating. And I do hope that voters pay attention to it because it's a pretty tough vetting process they go through.
CAMEROTA: Secretary Clinton, that's talk about the Republicans and what's going on in terms of how the electorate feels. I know that you know that this campaign has been about how angry and how anxious people are feeling out there and of course all of the division in this country. Some people say we have never seen anything like it. You've made a point during the campaign of talking about how you don't really like how the Republicans do become in many ways. So how would you bring the country together, including Republicans?
CLINTON: Well, the same way I always have. When I'm not actually running for office, I work closely with everybody, including Republicans, to find common ground. That's what I did when I helped to create the Children's Health Insurance Program that insures 8 million kids. I worked with Democrats and Republicans. It's what I did when I got to the Senate and, you know, worked with Republicans to get health care for our National Guard and Reserve members when they weren't being deployed. I worked on responding to 9/11. I found common ground on a number of issues with respect to health care and the like. As secretary of state, the same thing. So, Alisyn, I think that you've got to work at it every single day. There is no shortcut. You have to build the relationships and you have to be willing to try to meet people where they are and move them over. That's the way politics works in America. That's the way our system is set up to work. Now we can get frustrated by it. We can wish that it were smoother. But I'm very proud of the record that President Obama has compiled. You know, the Affordable Care Act, the Dodd-Frank regulations on Wall Street, getting our economy out of the ditch. The Republicans put it into working to put those sanctions on Iran, the effort I led. And so much more. So I know how you get things done. I am a progressive who wants to make progress and actually produce real results in people's lives. That's what I'm offering. I'm not overpromising. I'm laying out the plans that I have. I'm asking people to look at them and I'm asking people to hold me accountable. Because I want to get back to working together to try to unite this country to make it possible for us to set big goals and achieve them. That's what I intend to do.
CAMEROTA: Let's talk about how this differs for you than 2008. Once again, you find yourself here in Iowa with an opponent who some think sort of came out of nowhere but who has garnered a lot of excitement. So why isn't this deja vu all over again for you today?
CLINTON: Well, look, I always thought we'd have a close contest and I think that is good. It's good for the Democratic Party. But I'm thrilled at my campaign and we learned a lot of lessons. We have applied those lessons. We have got a great team working literally around the clock. I think I'm a better candidate. I think my experience as secretary of state gave me a depth and understanding about what the next president will face that, frankly, nobody else running on either side could have. And I think that what voters are looking for is a way out of their frustration. Yeah, people are angry. People are disappointed. People are worried. You know, what happened in the Great Recession was a body blow. I mean, 9 million people lost their jobs and 5 million houses were lost and $13 trillion and family wealth was wiped out. People haven't gotten a raise. They have been working but they don't feel like they are getting ahead. So they deserve — the American people deserve to be worried. But what I'm offering is a way forward. You know, once you get through the anger and the political attacks and all the rest of it, people have to ask themselves, who can do the most for me and my family? Who can protect our country? Who can get the economy going and incomes rising and make sure the Affordable Care Act works and get prescription drug costs down? I know how to do this and I'm ready. I'm experienced and I think I have got the best shot at becoming both the nominee and the next president.
CAMEROTA: Secretary Clinton, we will be watching, of course, with great interest what unfolds over the next 12 hours. Thanks so much for taking time to be on NEW DAY.
CLINTON: Thank you. Hope you feel better. Take care.
CAMEROTA: Thank you. Thank you. That's so nice. I'm drinking tea and honey right now. Thanks so much.
Hillary Clinton, Interview with Alisyn Camerota of CNN's "New Day" Online by Gerhard Peters and John T. Woolley, The American Presidency Project https://www.presidency.ucsb.edu/node/312421