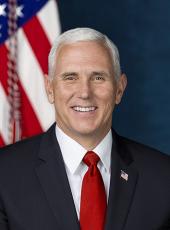 Interview of the Vice President on "The Chris Salcedo Show," KSEV
Q: Sir, thank you for being with us on The Chris Salcedo Show.
THE VICE PRESIDENT: Well, good morning, Chris. Thank you for having me on, and thank you for all you've done to get the word out in the midst of this crisis.
I'm speaking to you from the White House, but I can assure you, on behalf of the President and myself, our entire administration, the hearts of every American are in Houston today and with all of those affected by the impact of Hurricane Harvey and, of course, its aftermath with the historic flooding.
Q: Indeed. Let's detail some of that federal response and the assets that are on the ground courtesy of the federal government. Can you give us a rundown?
THE VICE PRESIDENT: I sure can. At this point, it's important to note that in moments like this -- as I knew back in the time that I was governor of Indiana -- Chris, as you well know, the state is in the lead. Governor Abbott has been very gracious in his words about the response of our administration and the swift response by President Trump in issuing an emergency declaration, even before landfall of Hurricane Harvey.
But in moments like this, your listeners know well, the state is in the lead. And it is important, and we can't say often enough, that it's important that people continue to follow the instructions of state and local officials, whether that's shelter-in-place, or to evacuate, or to not return to an evacuated areas. Local and state officials are in the lead, and the role of the federal government is to provide support.
And at President Trump's direction, we've been bringing the full resources of our national government to bear on the impact of Hurricane Harvey and, of course, the flooding, the rescue that's underway, and the recovery that will follow. We're with you.
We've deployed now more than 8,000 officials working through FEMA -- are literally on the ground supporting response in Texas and Louisiana. We have literally dozens of Coast Guard helicopters, fixed-wing aircraft, well over a hundred shallow water rescue boats working with Texas officials, and more than 3,000 National Guard.
People should also know that there are literally several dozen states that have provided task forces for rescue operations, and this is really an all-hands-on-deck effort, not only for the state of Texas and local officials, but for the federal government and states around the country. The focus right now, Chris, as you know, is on lifesaving efforts, and we will continue in the midst of this tropical storm to do everything in our power to get people out of harm's way and to conduct rescue operations. We are just so inspired by the efforts of first responders; in many cases, in the midst of a tropical storm, have been out in the air and on the water rescuing people.
And lastly, I would say to you, the President and I are deeply inspired by the volunteer effort that's been underway. Hundreds and hundreds of small boats that have been making their way down streets, finding neighbors and friends, the most vulnerable -- especially the elderly.
Texas is inspiring the nation by your volunteer efforts, by the heroism of your first responders. And at that the direction of President Donald Trump, I can assure you we are with you, we're going to stay with you with the full resources of the national government through this rescue operation into the recovery efforts, until we see all of eastern Texas restored from the aftermath of Hurricane Harvey.
Q: Yeah, that is truly a testament to the American spirit -- what we've been seeing from civilians coordinating their efforts with our brave first responders, running toward danger.
Vice President Mike Pence, our guest right now on The Chris Salcedo Show, let's move forward. The storm is (inaudible) with us at least past the middle of the week and a maybe a little beyond, depending on how long it meanders. And folks want to know, will the federal government be there afterward to help in the rebuilding efforts. Can you assure the people of Texas that will happen, sir?
THE VICE PRESIDENT: Well, let me assure all of your listeners that while the focus at this hour is on lifesaving efforts and rescue operations, we know -- as the FEMA director said this morning, Brock Long, at a press conference -- we know that literally, Houston and all the surrounding areas, Corpus Christi and the like, this will be years coming back. And we are with you.
Families that are affected by this should know that there is disaster assistance available. Businesses later this week -- we'll make sure and unpack small business loans that are available through the Small Business Administration. There's a broad range of resources that are available, and we're very confident that, working with the Congress, we'll be there for the long haul. We'll see Houston all the way back and provide all of the appropriate support from the federal government.
I do also want to encourage all of your listeners whose hearts are as moved by the suffering and the impact of Hurricane Harvey, as the President and I and our entire team: Take the opportunity to respond to that concern by supporting Red Cross, by supporting faith-based organizations that are already coming alongside in the midst of the storm, making resources and support available. We've actually got a website -- NVOAD.org -- which lists the national organizations active in disasters -- NVOAD.org. Or you can just go to Redcross.org and make a contribution.
We spoke to the leadership of Red Cross on Saturday. They already had hundreds of volunteers on the ground. These non-government groups and faith-based groups are full partners in these moments. And as we move forward into the long recovery, long after the water is gone, there will be families that are hurting, there will be real needs. Your national government, your state government, and these faith-based organizations and charities will be there as well.
And people who are as moved as we all are across the country with what's happening in Texas should respond as they're able to with generosity and, I'd also say, with prayer, Chris. We've been praying for all the families affected by this storm. From landfall to this very hour, our little family has been praying. We've all been carrying Texas in prayer, and we urge people to remember all of those that are hunkered down in dealing with this storm to the best of their ability.
Q: Only got about a minute left, Mr. Vice President. I hate to even talk about this, but politics has reared its ugly head before the rain even started falling. Sheila Jackson Lee, a Texas congresswoman, tried to put some blame early on the administration. "Texas has been through major storms," she wrote on a tweet, "in the Gulf. Trump has not. He needs to move quickly declaring a federal disaster area in Texas." Of course, this was already underway when she tweeted this. Mr. Acosta from CNN jumping on board right away saying, "Good morning, Mr. President. What is your administration doing to keep Texans safe?"
For those who are trying to make political hay of this, do you have a message for those folks, too?
THE VICE PRESIDENT: Well, I couldn't be more proud of President Trump's leadership, of the leadership of Governor Abbott and all the local officials and first responders in Texas. And we're going to continue to keep our eye focused completely on the rescue and recovery efforts.
I expect there will be plenty of time to debate all of this in the days ahead, but I can assure you that from the President on down, we're completely focused on doing everything in our power to get people out of harm's way, to engage in lifesaving efforts, and to continue to lean into this effort to assist in the long-term recovery that will be required in Texas.
But I would just say as a last thought -- I know your time is short, Chris. Thanks for letting me come on. Just encourage everyone in the sound of my voice, continue to follow the instructions of state and local officials, whether that's shelter-in-place or evacuate. And to those that are thinking about getting on the road to try and leave an area or to return to an evacuated area, we just encourage them: Listen to your local officials. Don't put your life at risk. And if you need help, to call 911 or all of the other resources. And help is on the way.
Q: The Vice President of the United States, Mike Pence. Sir, we appreciate your leadership and appreciate your time on The Chris Salcedo Show.
THE VICE PRESIDENT: Thank you, Chris. God bless you.
Mike Pence, Interview of the Vice President on "The Chris Salcedo Show," KSEV Online by Gerhard Peters and John T. Woolley, The American Presidency Project https://www.presidency.ucsb.edu/node/330990