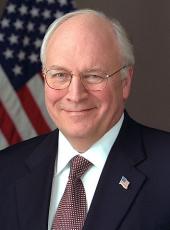 Interview of the Vice President by Chad Pergram, Capitol News Connection for Wyoming Public Radio
Office of the President of the Senate

Capitol Hill, Washington, D.C.
Q: Tell us first of all, how did you -- when did you first meet Craig Thomas, and what was that like?
THE VICE PRESIDENT: I got to know him when I first got involved in Wyoming politics, when I ran for Congress in 1978. Craig in those days was representing the REAs and he had been very active in the Farm Bureau before that and was very much a spokesman for Wyoming agriculture. He knew everybody in the state, had been heavily involved in those issues over the years. So we worked together in my capacity as a member of Congress and Craig's capacity as one of the leading -- representing one of the leading organizations in the state.
Q: And when you found out about his death, how did you find out? And just tell us how you felt at that moment.
THE VICE PRESIDENT: Well, Craig followed me in the House of Representatives, when I resigned from the House to go run the Defense Department he became my replacement and, of course, we worked closely together during those years. Then, for the last six years, in my capacity as Vice President and President of the Senate, we had seen a lot of each other. I saw him at lunch just two weeks ago.
I heard over the weekend, Sunday -- I was in Casper and heard from Craig's assistant that he was back in the hospital and not doing well. And so when I got back on Monday, I called and got hold of Susan. And she was in the hospital with Craig -- this was just a few hours before he passed away -- and had the opportunity to talk to her.
Q: And what is -- what is this void like, specifically for the Senate, but for Wyoming? I mean, he was sort of the epitome of Wyoming.
THE VICE PRESIDENT: Well, he had been instrumental in representing Wyoming in the Congress, both in the House and the Senate, for many, many years. He was, I think, revered around the state. It showed in the election results. He beat some pretty tough competition, Mike Sullivan, for example, when he ran for a Senate seat in -- when? -- I guess it was '94 when he first got elected to the Senate.
So he was held in very high regard by everybody I knew. I don't recall Craig ever getting into sort of a nasty, partisan dust-up with anybody. He had strong views. He operated in accordance with those views and principles, but always as a gentleman. He always managed to conduct himself in a way that wasn't offensive to anybody, whether they agreed with him or not.
Q: That's hard to do in Washington, sometimes.
THE VICE PRESIDENT: It is. It was representative, I think, of one of the better traits of Wyoming politics. And you're right, in Washington it is very hard to maintain that kind of respect and affection from your colleagues. It's unfortunately oftentimes very partisan here.
Q: Tell us a story about Craig Thomas that sort of cuts to what he was about, maybe a funny tale you remember or something that makes you laugh when you think about Craig Thomas.
THE VICE PRESIDENT: What I always remember about Craig was how much he loved the outdoors and how proud he was of his Wyoming heritage. He also, obviously, had been a Marine and that meant a lot to him. And, of course, in my capacity as Secretary of Defense, I've come across a lot of folks who are proud of their military service, and Craig was. He was somebody who didn't talk about it very much, but it was a very important part of his life.
Q: When you went to the Pentagon to be Defense Secretary, what was the transition like when he came into office? What sort of advice did you give him or what sort of things did he ask about?
THE VICE PRESIDENT: Well, you always joke about your congressional seat with your successors. Once you've held that seat, we all tend to think of it as "our seat." You know, Craig took my seat. Of course, that's not the case; that's Wyoming's seat.
And Craig was special as a successor, because he was so knowledgeable about the state. I can't think of anybody in Wyoming who could have stepped in in that special election with as much knowledge and as much broad experience about the state, border to border, as Craig had, because of his years working on those issues before he became the congressman. So he was uniquely qualified to take the post. I was glad I never had to run against him in an election.
Q: Just a final point or two here. What is sort of the legislative legacy that he leaves, and also was there something in your capacity as Vice President where there would be an issue that was maybe important to the administration that dealt with the West or Wyoming where you could call him up and say, hey, you know, really help us on this, this is important -- because of that unique relationship and those ties that run through Wyoming?
THE VICE PRESIDENT: Well, one of the last conversations I can recall having was legislation that he had sponsored to designate the Snake River up there in the Tetons a Wild and Scenic River, which he was an advocate of, which I agreed to support. It was a good idea. That was the last sort of substantive issue I can recall coming up that Craig had taken a position on, where I was happy to follow his lead.
Q: And when you saw him at the lunch a couple of weeks ago, was there a conversation?
THE VICE PRESIDENT: I did see him at the lunch a couple weeks ago. I commented on how good he looked. He was -- frankly, had made significant improvement over the last several months in terms of his physical appearance. And so I was surprised to find out that he had gone back into the hospital and that he was very sick. And it frankly happened fairly sudden. But based on what I had seen two weeks before at lunch, I would have bet that, you know, he had a lot of good years left. Unfortunately, that wasn't the case.
Q: Well, our condolences to you and we appreciate you taking the time.
THE VICE PRESIDENT: Well, thank you.
Richard B. Cheney, Interview of the Vice President by Chad Pergram, Capitol News Connection for Wyoming Public Radio Online by Gerhard Peters and John T. Woolley, The American Presidency Project https://www.presidency.ucsb.edu/node/283767