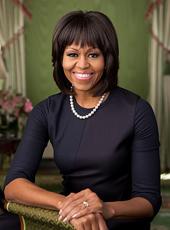 Interview of the First Lady by Bow Wow and Keshia Chante of BET's 106 & Park in New York City
MRS. OBAMA: Hello!
Q: Well, hello!
MRS. OBAMA: This is nice. (Applause.)
Q: So, welcome to 106. It's an honor, if I may say so myself, to have you here. We're really excited that you are here.
MRS. OBAMA: Well, let me just start by saying, first of all, that was my music to Let's Move.
Q: Yes.
MRS. OBAMA: Beyoncé hooked a sister up.
Q: She really did.
MRS. OBAMA: But I have to say I was sharing with you all that this appearance gives me street cred in my own home, because my kids never care what I do. When I told them I was coming here, they were like, oh. (Laughter.) So I'm very happy to be here with you. (Applause.)
Q: So your daughters are excited.
MRS. OBAMA: Yes, they are.
Q: So as you said, that was a collaboration with you and Beyoncé for your Let's Move campaign.
MRS. OBAMA: Absolutely.
Q: Really cool flash mob dancing. It was in a cafeteria if you guys all saw it. And it was a great workout routine. I got a little workout in that.
MRS. OBAMA: A little moving. That's important for you guys. I want you guys to be healthy, eat right, keep moving. When we did this video, we had flash mobs going on across the world. It wasn't just -- so on that day, people were moving. It was amazing. And I just want to thank Beyoncé. She has been terrific, just a great supporter. She is amazing. (Applause.)
Q: So you're so committed to encouraging young people to be the best versions of themselves. But I kind of want to know what were you like growing up?
MRS. OBAMA: What was I like when I was growing up? I have to say, I was a pretty serious student. I mean, one of the things I wanted to make sure was that I didn't peak in high school. That's something I want you all -- you don't want your best days to be in high school. So I focused on school. I mean, I was really clear that I wanted to go to college. So I needed to have myself together, go to my classes -- be on point, be involved in the school. I was student class treasurer, so I wasn't doing too much partying in high school. I was trying to get myself into college.
Q: Good for you.
Q: Oh, most definitely. (Applause.) And see, that was my next question. I was getting ready to ask you, well, what did you do for fun?
MRS. OBAMA: It was pretty low key back then. I try to tell my kids they have way more fun than we ever do. I mean, my kids go to parties. They hang out. But what we really did -- hung out with friends. You went over somebody's house, played some music. We didn't have a lot of money. Nobody had cars. You had to borrow. I know I was driving around my father's deuce and a quarter. And if he had to take that car to work, you didn't have a car.
So you went over to a friend's house. There were occasional parties, but there weren't that many parties going on. So I was probably a little more dull than people might imagine in high school.
Q: And I know with growing up, there's goals that people set all the time. Now, was there something that you wanted to be when you were growing up?
MRS. OBAMA: I thought I wanted to be a pediatrician when I was really little. And then, I wasn't that great at math and science, so I switched to law, because my mother told me I like to argue a lot. But I realized in high school and in college that you don't have to exactly know. You're kind of always discovering yourself.
So I studied law. I went to law school, but it was pretty clear that I just wanted to be a good student. I wanted to know how to read and write and communicate, be able to articulate my point, which is always a good skill. And I'm still discovering who I want to be. I don't know what I'm going to do when I leave the White House. So I tell young people you are always reinventing yourself. You're always discovering who you're going to be. The learning never stops. So ask me that in three and a half years or so and we'll see what it looks like on that side.
Q: You got it. No problem.
Q: And is it true that you commuted three hours to high school?
MRS. OBAMA: Yes.
Q: Was it every single day?
MRS. OBAMA: When I was growing up, there was really one strong school in Chicago. It was Whitney Young. It was a magnet high school. And if you were serious about college, you were going to go to that school. But it was literally on the other side of the city. So every morning, I got up at 6:00 a.m. I had to take a city bus. There wasn't an express bus then, so it literally took me an hour, an hour and a half to get one way.
And then, when it was snowing, this is what we used to do, because you know kids are lazy. We didn't want to stand. So on bad days, we'd leave even earlier, catch the bus in the opposite direction until it was empty and got on it, so we could get seats to ride all the way back. A little counter-productive, but we were young. We weren't really bright. We were just lazy. So, yes, it took a long time to commute.
So I had trouble doing sports, because if you were going to stay late doing sports, you'd wind up getting home at 9:00 p.m. or 10:00 p.m. if you didn't have a car or a parent, so that's why I did a lot of student government, because I could do it during the school day. But it was worth it to me, because I knew I had to go to a good high school. I knew I had to focus and take it seriously if I wanted to compete for the top colleges. (Applause.)
Q: Right on. Now, speaking of school -- you guys can clap. It's okay. (Applause.) Now, speaking of school this is what we want to do right now. Okay, now we're going to show a few photos of you. And what we would like for you to do is tell us what would you tell that girl in the photo. Ready? Okay, so here we go. Photo number one, let's check it out.
MRS. OBAMA: Oh, my gosh. What would I tell that girl? I don't know about you guys, but I think that girl was always afraid. I was thinking maybe I'm not smart enough. Maybe I'm not bright enough. Maybe there are kids that are working harder than me. I was always worrying about disappointing someone or failing. And the thing that I would tell that girl is don't worry about failure, because failure is the key to success. And you are smart enough to sit at any table and compete and to have your voice heard. (Applause.) And, fortunately, I've come to know that. (Applause.)
Q: Photo number two.
MRS. OBAMA: Oh, that girl was starting to get a little more confidence. I'd probably tell her to put on a different shirt. But I think that -- I can't remember what year that was. But I still think that it gets to confidence amidst all the worries. And I know there are kids in this audience today that are wondering how am I going to get to college, how can I pay for it? I came from a working-class background. My parents didn't have a ton of money, so I think there were a lot of worries going on in my head. How was I going to get there? How would I support myself when I got there?
So I know that kids that age are just full of worries. And we're going to talk about that a little later on, just about how you guys can think about going that next step. Because let me tell you, I was you. That was me -- same girl that all of you all are -- same worries, same fears. And look at where I am, where we are today. You could be the President of the United States, the First Lady, anything you want to be. That's what I would tell that girl. (Applause.) And I would tell you that too.
Q: I love that.
Q: Right on. We have one more, one more photo.
MRS. OBAMA: Where did you get all this stuff?
Q: Well, you're very popular there.
MRS. OBAMA: Oh, that was senior prom.
Q: Talk about this one.
Q: You look fabulous. Can I just say you are fabulous in that photo.
MRS. OBAMA: I designed that dress and my mother --
Q: Did you? (Applause.)
Q: Tell us the story. Tell us the story.
MRS. OBAMA: My mother made the dress. We weren't going to Nordstrom's or Neiman's or anything to buy anything. We went to the pattern shop and I picked out a couple of different patterns in the material. And I knew I wanted that split up the side. A little risky, but that was senior prom.
And by then, I was breathing a sigh of relief, because by then I had gotten into Princeton even though there were counselors and people who told me that I shouldn't reach that high, that I didn't have what it would take to get into a school like Princeton. But I ignored the naysayers. I got myself together. I focused on my applications. I got my financial aid forms in. It turned out that my parents could provide some support, but I got grants and scholarships. I was flying high then, because I had achieved one of my most important goals after all the worry and the hard work. Then, I could actually wear the split and have a little fun with my little date.
So I was really -- I was feeling at the top of my game right there, because I had done something that people told me I couldn't do. And I felt good. I felt really good. (Applause.)
Q: Just a sigh of relief.
Q: That's right. And she was styling in that gold dress. I got to let you know that right now. After the break, the First Lady is talking about her goal to make America the smartest country in the world and how that involves you. (Applause.) I'm letting you know right now this is one for the history books. Don't miss. This is big. Yes, indeed. Do not go anywhere. The First Lady is in the building. Mrs. Obama is here. (Applause.)
*****
Q: Welcome back. We are still here with First Lady Michelle Obama. And I just want to say thank you because I was invited to Bell Multicultural Academy, and I think that was the first time that you talked about the President's North Star goal. Is that correct?
MRS. OBAMA: Yes, you guys helped me kick off that initiative. We are trying to make sure that by the year 2020 that the United States has the most educated population in the world. We have slipped to 12th. We are going to regain that, and we're going to need everyone's help here to make that happen. (Applause.)
Q: Yes. Let's take a look real quick at what happened at Bell.
(Video plays.)
Q: That was -- I have to say that was such a cool experience, not just because that you came out and you gave a wonderful, inspirational speech, but I just thought the kids were so inspired and so motivated, and I think the best part was everyone kicked out the press. There was a point where there was no cameras, there was no press, it was just you, it was Jeff, it was me, and the kids, and you spent so much time, hours and hours, just answering all their questions, and I thought that was amazing. It was really cool that you did that. (Applause.)
MRS. OBAMA: Well, it was tons of fun for me. And I know that there are a lot of young people around the country who have questions about how to -- what do I do after high school? And that's one of the things -- by the year 2020, most of the jobs that are going to be out there available for young people are going to require some kind of education or training beyond high school. And we want to get you all ready for that. There are so many resources out there, and we want to answer your questions, and I want to tell my story so that you understand that you can -- if I can do it, you all can do it.
Q: Right on. (Applause.)
Now, we're continuing that conversation here today. But before we open it up to our audience, what are the steps of taking control of your education?
MRS. OBAMA: Well, first of all, I want all young people to understand there is nothing more important that they will do for themselves than to focus on their education. And the President, the Secretary of Education, they're doing tons of things to provide support, but ultimately, it's up to the student. I knew nobody was going to take my hand and walk me through the college process, so I had to own that. And it starts with taking high school seriously, and doing the best you can in every course you take, doing all your homework, being in class on time, no matter what you think about your teachers, or your parents' support. It's up to you to be in that school learning as much as you can as often as you can, and then asking for help when you need it. (Applause.)
Q: What would you say are the biggest obstacles our audience face in just taking those next steps? What do you think are the biggest things?
MRS. OBAMA: Well, it's just knowing what to do. I look at -- you know, I have a sophomore in high school. Malia is going to be applying for schools. And the amount of information, just doing test prep, getting ready for the SATs, knowing what applications, what financial forms you need to fill out, what kind of colleges are right for you, is a four-year college the right thing for you -- because higher education looks like so many different things. It's a two-year community college. It can be a training, a tech program. So how do you begin to explore that?
So we want young people to ask these questions, because we've got a great website, studentaid.gov. I want everybody to write that down. That's a site that the government has created to help walk you through the process of figuring out, beginning as a freshman all the way through senior year, what are the steps that you and your families need to be taking to make sure you're where you need to be when you graduate from high school. (Applause.)
Q: Yes. So now it's time to hear from some students. Please welcome Jeff Johnson, who will be taking your questions.
Hey, Jeff.
Q: Hey, you all, thank you. First Lady, good to see you again. It was great to be with you last week.
MRS. OBAMA: It's great to see you. You were amazing.
Q: Thank you so much. But right now we have a question. What's your name?
Q: Melanie (ph).
Q: Where do you go to school?
Q: Career High in New Haven.
Q: And what's your question for the First Lady?
Q: Do you have any advice for kids today?
MRS. OBAMA: My advice is what I've been saying: Education is what you should be focused on right now. It is the best investment that you can make for yourselves. I mean, when we think about our history and our how our grandparents and great grandparents fought and died so that we could get an education, we have no excuse but to take advantage of every opportunity that they died and fought for. And there is no excuse. Folks were learning how to read with no light, no heat, no food. So we as young people -- I want to make sure you all as young people know you don't have an excused not to go to the schools that are available to you, especially when you think about what's going on around the world. And there are kids who are dying to have access to the educational opportunities that we have here in America. So I want you guys to own that. Reclaim that hunger for education. (Applause.)
Q: We have another question. What's your name?
Q: Hannah (ph).
Q: And where do you go to school?
Q: Career High in New Haven.
Q: And your question for the First Lady?
Q: When did education become so important to you?
MRS. OBAMA: It was something that I knew from the very beginning. It was never a question in our household. I mean, my parents weren't rich. They were working-class folks, but they had a belief in the power of education, and it was just assumed you were going to college, and they were going to figure out how to help us make that happen. So it was -- there was never a question in my mind. And that's what we want young people to do to get us to that North Star goal, is to start thinking beyond high school.
High school is a stepping stone. It is not the finish line for anyone, because if you view it as a finish line -- sometimes you think, oh, you know, by the time I'm a senior I'm not going to have to be bothered with this anymore, so why go to class, why worry about learning how to write?
We need you all to be educated so that we have a workforce that can make sure that this country is competing globally. (Applause.)
Q: We have another question. How are you?
Q: I'm good.
Q: You good? What's your name and what's your question?
Q: Hi, I'm Najay (ph), and my first question is, what advice do you give to your daughters now about their education?
MRS. OBAMA: The same thing that my parents told me. They have to put 120 percent into their education. And one of the things that I'm hoping that they develop is a passion for learning. I mean, so many young people just get into the grades, and checking the boxes of just doing what they think they're supposed to do, but there's also a value in learning how to love to learn, because you're going to have to be doing that forever.
The way jobs are going now, nothing is set in stone. Few people work at a job for 50 years and retire and get that gold watch. People are needing to retrain, and be able to reeducate themselves, so that they stay on top of the jobs of the future. So I want my girls to be lifelong learners.
But I also don't want them to take anything for granted. I mean, these kind of conversations I'm having with you guys I have with them. They don't have any excuse not to be outstanding students. We're counting on them to do that.
And we're starting to work on -- I'm starting to talk -- I've been talking to my kids about college, and getting them to think about how much fun that's going to be, and getting excited about the possibility of living on a campus with other young people, and being able to explore, and making that something that they are desperate to get at. I don't want them staying at home up under me. (Laughter.)
Q: Well, thanks again to the students who asked their questions, of course.
Q: Thank you so much. You know, I had a question for you. I have a question for you. What do you say -- because nowadays a lot of kids, they see the entertainers, or they see the ball players, and they might say, you know, I'm in high school and I'm already getting recruited for ball, and I look at a Sean Diddy Combs, and he didn't have to go to school, or most other guys are making it are successful. They might not have that college background. What do you say to those that think like that?
MRS. OBAMA: Yes, I would just say that those people are few and far between. That is like winning the lotto. My brother is a head coach of a Division I school, and he's working with some of the top athletes in the country, and they all want to go pro. But he's got them focused like he did when he was in college -- that he had to have Plan B, C, and D -- and it all started with having an education.
And the truth is, as you all both know, you have to have education to be in entertainment, to be able to manage your business. You see all these entertainers and athletes who get taken advantage of, they wind up broke at the end of their careers, because if you don't know how to read and count, you can't check up on your lawyer and your accountant. You have to know this stuff better than they do, because no one is going to look out for you better than you. (Applause.) So going to college, getting an education is -- it is a must.
Q: And I was going to say, the one thing that no one can take away from you is your education, because a lot of those people -- you can lose a lot of things in life, you can lose health, you can lose circumstances, but you always get to keep what you know, and I think that's super important.
MRS. OBAMA: Absolutely.
Q: I believe in that.
Q: That's right, that's right. We'll get to know the First Lady a little better after the break. Stick around. I told you this is history. (Applause.) The First Lady is here. Don't go nowhere. (Applause.)
*****
Q: Welcome back to 106 and Park. We still have First Lady Michelle Obama here with us and we've had a great conversation about the President's North Star goal to make the United States number one in college graduates by the year 2020. I totally believe it's going to happen. (Applause.) And you guys are going to help, correct, 106? (Applause.)
So now it's time for the Bowl of Randomness. (Applause.)
Q: Okay, so this is what we're going to do here. We have this magic bowl and you're going to reach in here, there are some questions.
MRS. OBAMA: It's just not any bowl. It's popcorn.
Q: Garrett's. Chicago. That's right.
MRS. OBAMA: Chicago's finest. All right, first question: What's one thing you miss about your life before becoming First Lady? That's a great question.
You would imagine how -- anonymity, being able to walk out your front door on your own without agents, people following you around. I just long to walk out that front door, go to CVS and buy some toothpaste, and nobody would notice me.
Q: Have you ever tried? Like maybe like a wig and beards?
MRS. OBAMA: I do a cap and I've taken the dogs out for a walk. I've gotten to sneak into Target a couple of times, but the longer we're here, the more people -- it's harder because I was doing that when we first got here. So anonymity is something that I miss.
Q: I couldn't imagine just walking into Target and -- that would just be like --
Q: Be like, is that who I think it is?
MRS. OBAMA: Well, the first time I did that I was in an aisle, one woman walked up to me and she tapped me on the shoulder, and I thought, okay, she's seen me. And she said, can you reach up there and hand me that detergent? (Laughter.) And I was like, all right.
Question number two: On a scale of 1 to 10, how awesome was it when the President started singing "Let's Stay Together" -- Al Green? That was pretty awesome. I mean, he's got a pretty good voice.
Q: He does.
MRS. OBAMA: I always say my husband has got swag. He's got a little swag. (Applause.)
Q: He definitely does.
MRS. OBAMA: It was really sweet. But he sings all the time. Oh, yes, he's in the bathroom all the time just singing. He is always willing to sing. He's like, you want me to sing now, want me to sing something for you? But he has got a good voice. That was very sweet.
Q: All right, well, here we go. Another one. Let's reach in there.
MRS. OBAMA: Number three: What's your biggest fashion regret?
Oh, that's a tough one. Wow, biggest fashion regret. I don't have an answer to this one. I kind of always am happy with what I'm wearing. (Applause.) Sometimes as First Lady, sometimes I forget I'm the First Lady and I'm running around in shorts. I know the first time we went on a family vacation, I had shorts on getting off of Air Force One and that created a huge stink because people were like, she's wearing shorts getting off of Air Force One. And I thought, what, we're on vacation.
Q: And you have to be comfortable when you fly.
MRS. OBAMA: So I have avoided shorts getting off of Air Force One.
Q: Let's get one more.
MRS. OBAMA: All right, one more. One more. Who is a better dancer, you or the President?
That's easy --
Q: Uh-oh.
MRS. OBAMA: Me. (Laughter and applause.) Without a doubt. Without a doubt. He can sing. I can dance. I think that divides the talent evenly across the family tree. We're all satisfied. (Applause.)
Q: Thank you for answering the questions in the bowl of randomness.
MRS. OBAMA: Thank you, guys. That's fun.
Q: Me and Bow actually have a random question for you. You have one?
Q: Didn't you have one?
Q: Oh, I'll go first.
Q: Okay, go ahead.
Q: Okay. So what is a pick-up line that President Obama has used on you?
MRS. OBAMA: Oh my goodness. It wasn't a line, it was a whole day. Our first date, he laid it out. I mean, he covered every base. He took me to an art museum. And then he was talking Picasso. So he showed me his little cultural side and then we went for a long walk and we went to see the opening of "Do the Right Thing" -- Spike Lee -- so he showed me his swag side. We had a deep conversation about that and we ended it having drinks on the top of the John Hancock Building in Chicago. That was our first date. (Applause.)
Q: Wow.
MRS. OBAMA: Yes. That was a whole day.
Q: I have to totally step my game up. And my question for you is, what is the First Lady's guilty pleasure?
MRS. OBAMA: Oh, I could go on and on. Garrett's popcorn, pizza, French fries. I mean, I believe in "Let's Move" but I always talk about life in balance. I work out hard, I work out every day, so if I want some French fries -- I would say French fries are my most favorite guilty pleasure. If I could eat French fries 24-7, I would. But folks, we can't do that. (Laughter.) That's my message: Eat your vegetables, get your workout in, "Let's Move", all that good stuff, but a French fry every now and then, it's not too bad.
Q: You are so fun. Do you have any last words? You said a lot of amazing things, but any last words you want to give?
MRS. OBAMA: Well, what I want young people out there to know is that to be where you want to be in four years or in three years, two years, you have to start now. I tell my girls, you have to practice being who you want to be every single day. If you want to be a responsible, accomplished adult, you have to start now. You won't wake up one day and become that person -- you have to invest in that now. And that goes for your education as well. You all have to start now thinking about where you're going to be in four years, or when you graduate from high school. I want you guys to utilize studentaid.gov. It's a great resource and I want everybody out there to go online and check that out, and I want you guys to help us reach that 2020 north-star goal. I know we can do it. I'm so proud of you all. Keep it up.
Q: I just want to say thank you so much. This was such a surreal moment for us. And I probably speak -- I don't want to say probably, I know I speak for every young man and every young girl that's watching right now that this is honestly a pleasure for you to come here and to grace this space with us, like you don't understand how much this really means to us. And plus, BET and 106 and Park, and you've got our vote. You've got us. So anything you need from us, you guys have it. Thank you so much.
MRS. OBAMA: We love you guys -- proud of you both, proud of you all.
Q: Thank you so much.
Michelle Obama, Interview of the First Lady by Bow Wow and Keshia Chante of BET's 106 & Park in New York City Online by Gerhard Peters and John T. Woolley, The American Presidency Project https://www.presidency.ucsb.edu/node/320176