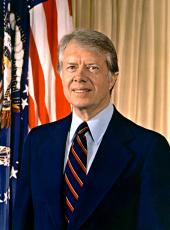 International Bank for Reconstruction and Development Nomination of Edward R. Fried To Be United States Executive Director.
The President today announced that he will nominate Edward R. Fried, of Kensington, Md., to be United States Executive Director of the International Bank for Reconstruction and Development. Fried is an economist at the Brookings Institution.
We was born April 13, 1918, in New York, N.Y. He received a B.A. from the University of Michigan in 1941. He served in the U.S. Air Force from 1943 to 1945.
From 1946 to 1954, Fried worked for the Division of Research, Far East, at the State Department, serving as an economist, then assistant chief, then chief of the division. From 1955 to 1960, he was chief of the economic section and deputy principal officer at the American Consulate in Hong Kong.
Fried was Counselor for Economic Affairs at the American Embassy at The Hague from 1960 to 1962. From 1962 to 1965, he was a member of the Policy Planning Council at the State Department with responsibility for foreign economic policy, and in 1964 and 1965, he was Executive Secretary of President Johnson's Committee on U.S. Trade Relations with Eastern European Countries and the Soviet Union.
From 1965 to 1967, Fried was Deputy Assistant Secretary of State for Economic Affairs. From 1967 to 1969, he was a senior staff member of the National Security Council with responsibility for Western Europe and International Affairs. He has :been a senior fellow at the Brookings Institution since 1969. From October 1969 to March 1970, he was on leave from the Brookings Institution to serve as Executive Director of President Nixon's Task Force on International Development.
Jimmy Carter, International Bank for Reconstruction and Development Nomination of Edward R. Fried To Be United States Executive Director. Online by Gerhard Peters and John T. Woolley, The American Presidency Project https://www.presidency.ucsb.edu/node/243504