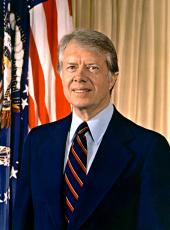 Inter-American Foundation Nomination of Four Members of the Board of Directors.
The President today announced four persons whom he will nominate to be members of the Board of Directors of the Inter-American Foundation. They are:
Alberto Ibarguen, of Glastonbury, Conn., for a 6-year term. Ibarguen, 34, was born in Puerto Rico. He was a Peace Corps volunteer in Venezuela from 1966 to 1968, and a Peace Corps program and training officer in Colombia from 1969 to 1971. In the summer of 1972 he was acting program director for the Inter. American Foundation. In 1974 and 1975, Ibarguen was director of the Puerto Rican Center for Justice. In 1975 and 1976, he was executive director and general counsel of the Connecticut State Elections Commission and lectured at the University of Connecticut Graduate School of Social Work. Since 1977 he has practiced law in Hartford.
Peter T. Jones, of San Francisco, Calif., for a 6-year term. Jones, 48, is senior vice president and general counsel of Levi Strauss and Co. He is a former vice president of Marcor-Montgomery Ward, and of the ITT Latin American Group. From 1961 to 1964, he was deputy to the Secretary of Commerce and Deputy Assistant Secretary of Commerce for Trade Policy and Financial Policy.
Arnold Nachmanoff, of Arlington, Va., for the remainder of the term expiring September 20, 1980. Nachmanoff, 41, is Deputy Assistant Secretary of the Treasury for Developing Nations. He served previously as vice president for investment management of Opportunity Funding Corporation and as associate general manager of the Cooperative Assistance Fund, both nonprofit private corporations engaged in financing economic development ventures in low-income communities throughout the United States. From 1970 to 1971, he was senior staff member for Latin America on the National Security Council staff.
Carolyn Payton, of Washington, D.C., for a 6-year term. Payton, 52, is Associate Director of ACTION. She worked for the Peace Corps from 1964 to 1970, serving as chief field selection officer for Latin America, deputy country director for the Eastern Caribbean, country director for the Eastern Caribbean, and special assistant to the Latin American regional director. From 1970 until her appointment as Associate Director of ACTION in 1977, she was director of the University Counseling Service at Howard University.
The President also announced that on confirmation by the Senate, Jones would be designated Chairman of the Commission, and that Charles Meyer, currently a member of the Commission, will be designated Vice Chairman. Meyer is senior vice president for public affairs of Sears, Roebuck Co.
Jimmy Carter, Inter-American Foundation Nomination of Four Members of the Board of Directors. Online by Gerhard Peters and John T. Woolley, The American Presidency Project https://www.presidency.ucsb.edu/node/245759