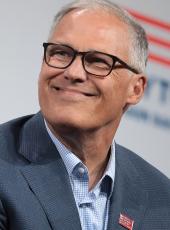 Inslee Campaign Press Release - What They're Saying: Jay Inslee at the First Democratic Debate
Jay Inslee Receives Praise for First Democratic Debate Performance
Miami, FL - In tonight's debate, Governor Jay Inslee proved that he is the only candidate giving climate change the focus it needs, and climate activists, progressive organizations, and elected officials took notice. Inslee received widespread praise for his emphasis on defeating climate change, as well as his record supporting Labor and achieving progressive results for Washingtonians as governor.
Jay Inslee has the most extensive record of any 2020 candidate passing and implementing bold, progressive laws and initiatives. He understands that America can't wait any longer to fight climate change, make healthcare affordable, or get the economy working for everyday Americans again. The next president must be able to achieve results immediately, and Inslee has the record to show he can deliver.
Praise for Governor Inslee included:
Amanda Golden, NBC News
Lots of "yes" call outs and nodding to @JayInslee just now at this #DemDebate watch party in Londonderry, NH
American Federation of Teachers
Thank you @JayInslee for your focus on workers. #AFTvotes #DemDebate
Sunrise Movement
.@JayInslee gets it right: raising wages and protecting workers means supporting our brothers and sisters in the labor movement. #1u And we can create millions of good, union jobs by with a #GreenNewDeal. #DemDebate
Fight for 15
Thank you Governor @JayInslee for declaring from the #DemDebate stage that you were proud to join #FightFor15 @McDonalds strikers and are committed to unrig the system and make it easier for workers to form and join unions. #UnionsForAll #1u
Charlie Mahtesian, Senior Politics Editor, Politico
Jay Inslee is smart to talk about collective bargaining in his first answer. He speaks directly to a key Dem constituency with a strong first answer – and he still hasn't talked about his signature issue yet.
Ilyse Hogue, President, NARAL
.@JayInslee jumps into healthcare fray to make the point that abortion must be covered by all insurance -- private and public -- and as Governor of Washington, he made that happen. #DemDebate
Jess Morales Rocketto, Political Director, National Domestic Workers Alliance
Impressed that Inslee keeps coming back with what he has done. Smart strategy. #DemDebate
RL Miller, Founder, Climate Hawks Vote
First, the only climate candidate is @JayInslee. Period, full stop. He spoke with heart, science, and facts. And he got in a great zinger on greatest threat to national security. #DemDebate
Pili Tobar, Deputy Director, AmericasVoice
No reason for detention and separation of families. They should be released and we should have a way to follow up with them and get them to their court hearings. @JayInslee is completely right. #immigration #DemocraticDebate
Laila Lalami, Author
Jay Inslee is the first (and so far only) candidate to mention the Muslim ban in connection with immigration policy. He would repeal the Muslim ban, he says. #DemDebate
Wardah Khalid, Founder, Poligon
FINALLY the FIRST mention of the Muslim travel ban 49 minutes into #DemocraticDebate. Thank you @JayInslee
Randi Weingarten, President, American Federation of Teachers
.@JayInslee's climate plan has been called the "gold standard of putting people to work." I always love Gov. Inslee's focus on workers rights in his climate work. #AFTVotes #DemDebate
Adam Best, Entrepreneur and Filmmaker
Props to Jay Inslee for saying we need to take the filibuster away from Mitch McConnell. Music to my god damn ears. #DemDebate
Leah Greenberg, Co-Executive Director, Indivisible Guide
Kudos to @JayInslee who is leading by going right after the filibuster as a roadblock to tackling climate change. Again, if we're not going to take this on, we're not going to get anything done.
Jennifer Haberkorn, LA Times
Only Gov. Jay Inslee suggested getting rid of the filibuster -- none of the members of Congress up there. #DemDebate
Representative Pramila Jayapal (D-WA)
My guv, @JayInslee, is all true when it comes to #ClimateChange. He really knows this issue, cares about it deeply, and has a real plan to address it. This is HIS issue.
Harold Meyerson, Executive Editor, The American Prospect
Inslee realizes way to be the climate change candidate is to extol unions. The balancing act that the Democrats will need this year.
Kevin Collins, Co-founder & Chief Research Officer, Survey 160
Inslee's a walking, talking Blue-Green alliance. Honestly not a bad strategy in a Democratic primary campaign.
Susan Rice, former National Security Advisor
Candidates, why is @BilldeBlasio the only candidate to mention Russia as a top threat?? And kudos to @JayInslee for telling home truths about Trump.
Alex Wagner, CBS News
Inslee is right infosfar as the only issue that is being debated tonight that will matter in 25, 50, 100 years is climate.
Alex Seitz-Wald, NBC News
Get yourself a man that looks at you like Jay Inslee looks at a climate change question.
Binyamin Appelbaum, New York Times
It's fascinating that none of the candidates -- save Inslee, I guess -- seems to have any interest in attacking Donald Trump, who happens to be the president, the bete noire of the Democratic base -- and the guy they'd face in the general election.
Stephen Wolf, Daily Kos
Inslee tells the goddamn truth: The greatest geopolitical threat to the United States is Donald Trump
Dan Rather, Journalist
If there is a sleeper in this race, I wonder about Jay Inslee. Impressive record. Impressive plan about climate change. I wonder if he can gain traction...
Jigar Shaw, Clean energy entrepreneur
"Tonight Jay Inslee showed that Democrats can and must be the party of bold climate solutions. He's got that plan. He's also got an impressive record leading the state with #1 economy in the nation."
Tom Matzzie, Clean Energy CEO
"Jay Inslee has brought the climate emergency to the national stage where it should be. And his record of making change as governor - in jobs and wage growth, health care, voting rights, gun safety and more - is what America needs."
Andrew Light, University Professor, George Mason University & Former Senior Climate Change Official, US Department of State
"No one on this stage took climate change as seriously as Jay Inslee. If you care about this issue, you need to look at his record, his commitment, and his determination to dig deep and create the opportunities we need to solve this crisis."
V. John White, Legislative Director of the Clean Power Campaign
"Governor Inslee tonight provided a clear and concise vision of where we need to go on climate, clean energy and the Evergreen Economy. More importantly, he has taken the time to develop a series of detailed and thoughtful proposals that should become the Democratic Party's road map to economic innovation and recovery, and protecting our country and our climate for our children and grandchildren."
Channing Dutton, Activist
"Inslee is a standout in a crowded field. I don't need a crystal ball to tell me I'll be voting for Jay Inslee in Iowa caucuses. I love my kids and know he will protect their climate future."
Christine Curry, Founder-Iowa Water Festival 2019
"Jay Inslee just rocked it at the debates. We need his strong leadership and he's 100% perfect on the environment."
Jay Inslee, Inslee Campaign Press Release - What They're Saying: Jay Inslee at the First Democratic Debate Online by Gerhard Peters and John T. Woolley, The American Presidency Project https://www.presidency.ucsb.edu/node/365012