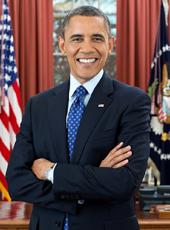 Informal Exchange with Reporters on the Economy with House Speaker Nancy Pelosi
Hey, guys. How are you? Good to see you.
UNIDENTIFIED MALE: Good morning.
THE PRESIDENT-ELECT: Good morning. How are you?
I guess this angle's better, huh? This must be, apparently.
Well, let me just say how thrilled I am to be here sitting with the speaker. Obviously, the inauguration stand is being built in the background, but the reason we're here today is because the people's business can't wait.
We've got an extraordinary economic challenge ahead of us. We're expecting a sobering job report at the end of the week.
The speaker and her staff have been extraordinarily helpful in working with our team so that we can shape an economic recovery and reinvestment plan that starts putting people back to work. And, you know, I can't think of a better partner in doing what is necessary to get this economy back on track than Speaker Nancy Pelosi, who has just been an extraordinary advocate for working people all her life.
PELOSI, HOUSE SPEAKER: Thank you very much, Mr. President-elect. It is a great honor and a personal privilege to welcome you to the speaker's office.
Tomorrow, we will swear in a new Congress. We'll be -- hit the ground running on the initiatives that -- some of which you described to address some of the pain being felt by the American people. And then two weeks from tomorrow, we will inaugurate a new president of the United States.
As the president-elect indicated, the construction is under way right now. And at that time, we will be able to have signed into law legislation which will improve the lives of the American people.
It's a very, very exciting time. We pledge to work together in a bipartisan way with great civility, with great fiscal discipline, and I know the debate will be spirited. We welcome it.
And I congratulate the president-elect on his success, on the appointment of his cabinet, on the transition, and look forward to his inauguration.
THE PRESIDENT-ELECT: Thank you.
(CROSSTALK)
THE PRESIDENT-ELECT: Are we taking questions here, Robert Gibbs?
PELOSI: They're leaving now.
THE PRESIDENT-ELECT: I don't think we're taking questions, guys, but I'm going to have a news avail later in the day.
Barack Obama, Informal Exchange with Reporters on the Economy with House Speaker Nancy Pelosi Online by Gerhard Peters and John T. Woolley, The American Presidency Project https://www.presidency.ucsb.edu/node/286527