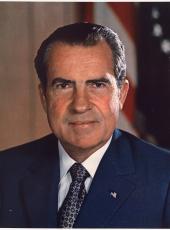 Informal Exchange With Reporters About the Return of American Prisoners of War From Southeast Asia.
REPORTER. What have you heard about how the POW release is going?
THE PRESIDENT. I have only heard that the release is going on according to schedule. I am keeping, of course, in very close connection with it. I have had two messages from Dr. Kissinger, incidentally. He is in Hanoi. I had one yesterday afternoon, a very brief message, and then I had another message today.
The communications are excellent because we have our plane there, which he uses for communication, just as he had when he' went on his first trip to Peking, and as you remember, the People's Republic allowed us to bring our plane in. That gives us secure communications. During the time he is there, he is sending a message daily, perhaps twice daily, if necessary. And I respond, of course, and will, as questions arise, through communications.
This sounds like details, but it is enormously important. When you are going to the capital of a country with which you have no relations whatever, such communications are very important.
He, of course, has had some sort of a trial run, because having had the same problem in Peking, he now knows how to handle it here.
Q. What are you going to do today, Mr. President, later on, about the prisoners?
THE PRESIDENT. I had not planned to do anything, due to the fact that I want them to have the opportunity to see their families and talk to their families, and I am glad the telephone calls have been arranged, without having anybody try to exploit them or interfere.
I called, this morning, General Scowcroft1 and he assured me when they arrived at Clark Field there would be no officials there to welcome them, not because we don't want to welcome them, but because I think after what they have been through they deserve some time to themselves. If they want officials there, they can have them, but I don't think VIP's should go in and try to exploit them. I hope, too, the members of the press will respect that for a while. They will be probably very happy to talk to members of the press after a while. But I was thinking of Alvarez 2 who has been away 8 1/2 years with no communications. Let's give him some time by himself, and all the others.
1Brig. Gen. Brent Scowcroft, USAF, was Military Assistant to the President.
2 Lt. Comdr. Everett Alvarez, Jr., USN, of Santa Clara, Calif.
Of course, I am thinking of the ones who are ill. There are some, of course, who are wounded and ill. They will stay in a hospital, if necessary, at Clark Field. So I would say let's let them get back home. Let's let them see their families again, and then if they want to see anybody, the Secretary of Defense or the President, we will be available. But it is their choice and not ours, and I think all Americans would hope that they would have the kind of reception, when they return, that they want, and not the one that we want.
I know that many towns are planning to receive them, but let it come in a way which will not infringe upon these few moments of privacy of getting acquainted again.
We all remember, all of us who were overseas in World War II--I was just talking to the chaplain about that--I remember when I was away, I was only overseas less than a year and a half. When you got back to see your wife for the first time after a year and a half, you don't want a lot of cameras, you don't want a VIP there, you just want to see your wife. And I can imagine how some of these people, with their wives, their children, mothers, and fathers--so let's respect that.
Q. Are the talks going well with Dr. Kissinger?
THE PRESIDENT. Let me just say that we have an agreement with the other side here, as we have had previously, not to comment on the subjects of talks. I will only say that they are going forward on .schedule and that they are serious talks, and that we expect them to continue to be serious, and we hope and expect that they will be constructive. But beyond that, we will not comment either on the substance of the talks or, of course, will not characterize them.
They are serious, and we hope and believe they will be constructive. When he returns, we will be able to characterize them a little more.
Q. Thank you, Mr. President.
Note: The President spoke at 12:10 p.m. outside the Palisades United Methodist Church, Capistrano Beach, Calif., after attending services there.
On February 12, 1973, the President received a telephone call from Col. Robinson Risner, USAF, who had just arrived at Clark Air Force Base in the Philippines as a member of the first group of prisoners of war returning from Southeast Asia. On behalf of the former prisoners, Colonel Risner expressed their desire to thank the President in person for ending the war and obtaining their release. The President thanked the men for their sacrifice and said he would be pleased to meet with them at any time after their reunions with their families.
Richard Nixon, Informal Exchange With Reporters About the Return of American Prisoners of War From Southeast Asia. Online by Gerhard Peters and John T. Woolley, The American Presidency Project https://www.presidency.ucsb.edu/node/255886