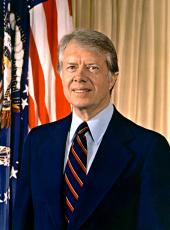 Infant Formula Act of 1980 Statement on Signing H.R. 6940 Into Law.
I am today signing H.R. 6940, the Infant Formula Act of 1980. This legislation recognizes that our most important resource for the future—our children-should be afforded safe and nutritionally adequate formulas during a critical period of development. Infant formulas are uniquely important to the health of our children, because for many infants they are the sole source of nutrients for the first several months of their lives. The proper growth and long-range health of children are determined to a large extent by the quality of the nutrition they receive during these first vital months.
H.R. 6940 is designed to ensure that commercially produced and marketed infant formulas meet accepted nutritional standards and that consistent quality is maintained in their preparation. This bill, which resulted from reports during 1979 that more than 100 infants became seriously ill as a consequence of using soybean-based formulas marketed with an insufficient amount of chloride, establishes a statutory requirement that formula manufacturers include chlorides as well as other essential elements in each infant formula preparation sold. It also gives the Secretary of Health and Human Services (HHS) authority to adjust nutritional standards to conform to the best available scientific knowledge. In addition, the bill requires manufacturers to test infant formulas on a periodic basis and to notify the Secretary promptly whenever formulas do not meet nutritional requirements.
The enactment of this legislation represents the work and cooperation of many individuals and groups, including concerned parents, Congressmen Henry A. Waxman, Albert Gore, Jr., Ronald M. Mottl, and Tim Lee Carter, Senator Howard M. Metzenbaum, the infant formula industry, and officials of this administration. H.R. 6940, together with existing authority under the Food, Drug and Cosmetic Act, will aid in ensuring that both the Federal Government and the private sector meet their responsibilities in providing for the quality of infant formula preparations.
Note: As enacted, H.R. 6940 is Public Law 96-359, approved September 26.
Jimmy Carter, Infant Formula Act of 1980 Statement on Signing H.R. 6940 Into Law. Online by Gerhard Peters and John T. Woolley, The American Presidency Project https://www.presidency.ucsb.edu/node/251762