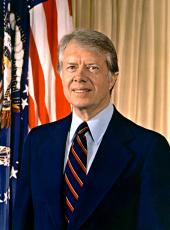 Independent Truckers' Strikes Letter to State Governors.
I am writing to summarize for you the steps I have taken, or am prepared to take, to assist in assuring that the disruptions by independent truck operators in service is brought to an end. In reaching these decisions, my staff has consulted constantly and closely with the leadership and staff of the National Governors' Association and with individual governors all over the country.
The seriousness of the problem facing our nation's economy, if these disruptions continue, cannot be overstated. We must assure all our citizens that transport of agricultural and manufactured products will take place without harrassment, violence and other illegal acts. None of the problems faced by the independents can justify the lawlessness that has occurred in some parts of the country. Shootings, vandalism and murder are senseless criminal acts that serve only to undermine support for the truckers' demands. We will not tolerate lawbreaking or violations of individual rights in any form. Although law enforcement is primarily a state responsibility, the federal government will provide every assistance to the states to help them preserve order. I want to stress in the strongest possible terms that violence and lawlessness will not be tolerated under any circumstances. Murder, vandalism and physical intimidation are criminal acts, and they will be treated as such.
The full resources of the Department of Justice will be used to ensure that order is preserved, that violators are apprehended, and that individual rights of American citizens are protected. As necessary, the Federal government will also coordinate the protection of truck drivers who are moving in interstate commerce. We will do whatever is necessary to see that those truckers who want to work are not threatened by either violence or intimidation.
We all recognize that there are concerns that the independent owner-operators have which must be addressed. Those concerns fall into several categories. I want you to know what has been done in each area so that you will be fully informed as you respond to the situation in your state.
MANAGEMENT OF THE PROBLEM
Jack Watson and Gene Eidenberg of my staff will direct a special White House Management Task Force on Energy Shortages. This Task Force will be responsible for coordinating and directing the federal response to all energy shortage situations that develop. I have charged Messrs. Watson and Eidenberg with handling the federal response to the independent truckers' strike as a first priority.
THE PRICE OF DIESEL FUEL
As is true of all petroleum products, the price of diesel is going up. The independent owner-operators have had to absorb cost increases since January totalling more than 35%. On June 15th, the ICC issued a major change in its regulations that provides as follows:

—All owner-operators handling freight to compensate for escalating fuel costs for regulated carriers are given an automatic pass-through of fuel cost increases, irrespective of whether or not the regulated carrier for whom they work files for an increase in rates with the ICC.
—The surcharge amount guaranteed will be adjusted every week and will be announced by noon on Tuesday. It will be based on weekly surveys of fuel costs at truck stops throughout the country.
—The new system requires no paperwork by the owner-operator.
—Owner-operators can receive higher compensation for fuel costs based on higher surcharges if actual costs are higher, and the carrier for whom they operate files for higher rates. The higher surcharge would automatically pass through to the owner-operator. This tariff filing can be done on a simple expedited basis and ICC is ready to help the carrier in that publication action.
For exempt haulers who are not regulated by the ICC, this fuel price surcharge published by the ICC should form one basis for negotiations concerning a fair price for hauling exempt commodities. In addition to this standard, I have asked the Departments of Agriculture and Transportation, working with the ICC, to develop plans for an index of prices charged for hauling various exempt commodities. If updated in a timely fashion, such an index could provide another basis for negotiations between brokers and exempt haulers, helping to insure fair prices.
ALLOCATION PRIORITIES
The DOE is lifting Special Rule #9 effective immediately. As you know, Rule #9 was promulgated to insure that 100% of farmers' diesel needs were met during the spring planting season. Planting is now completed in all but a few scattered areas, and field work will be in those areas within the next few days.
The USDA will, of course, continue to monitor the needs of farmers throughout the nation who face different planting and harvesting cycles. Farmers' needs will be met through the regular supply channels. In suspending Rule #9, only the priority allocation for mass transit operations will be retained. During a period of shortages of both gasoline and diesel fuel, it would be self-defeating to allow diesel shortages to divert commuters from energy efficient buses to automobiles. Because transit utilizes only 2% of the nation's diesel, this allocation should not significantly impact on other diesel users.
STANDARD NATIONAL LENGTH AND WEIGHT REQUIREMENTS
One particularly important aspect of differing state regulatory requirements is the inconsistency in allowable truck weights and lengths permitted on the nation's highways. Although federal law sets maximum truck weights, it allows the states the right to set limits below these levels. Obviously, in different states the question of truck weights involves complex issues of road capacity, cost allocation, and safety. I believe that the states should continue to make the final judgments on these difficult issues.
There would be, however, a substantial benefit to the nation's transportation system if allowable truck weights were standardized nationwide. I am urging all the governors and state legislatures to consider this potential benefit and to review carefully their decisions on truck weight and size limits in light of the current situation.
On these and other longer-term problems I intend to work with the Congress, the governors, the truckers, and others to devise sound solutions. The Federal government in Washington cannot solve every problem with a law or a ruling but working together we can accomplish a great deal.
While all these efforts go forward, I am calling upon independent truckers to continue to provide the nation with vitally needed transportation services. These are times for cooperation and sharing, not confrontation. Only by acting together with common sense and persistence will we be able to solve the nation's serious and pressing energy problems.

Sincerely,
JIMMY CARTER
Jimmy Carter, Independent Truckers' Strikes Letter to State Governors. Online by Gerhard Peters and John T. Woolley, The American Presidency Project https://www.presidency.ucsb.edu/node/249032