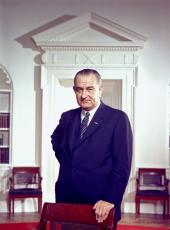 Independence Day Remarks at the U.S. Pavilion at Hemis-Fair '68, San Antonio, Texas.
Governor and Mrs. Connally, Senator and Mrs. Yarborough, Your Excellencies, Ambassador and Mrs. Clark, Mayor McAllister, distinguished guests, ladies and gentlemen:
We are so happy to be here in sunny San Antonio today to spend this preeminent national holiday. We think it is quite significant that America's national holiday--and its continuing message to the world--concerns "independence."

American independence was declared 192 years ago in a very bold political document commissioned by the Continental Congress and written by Thomas Jefferson.
The Declaration spelled out political independence for 13 former colonies. But it did much more than that. It explained the root and the reason for political difference and political independence--in any age, in any land: to enhance individual independence.
"All men are created equal"--they are entitled to "Life, Liberty, and the pursuit of Happiness," said the American Declaration. Since it was issued, that theme--political independence to insure individual independence-has been the bedrock of our domestic and our foreign policies in this land. It has been, and it remains, America's declaration to all the world.
Each generation in America discovers this theme as if it were new. And in a sense it is new. The thrust of America always, then, is to expand and to adjust the concept of independence to a new and a constantly changing era.
Today, in these changing times, we see Americans striving to create conditions so that poor Americans and black Americans and Mexican-Americans and American Indians can shape their own destiny. A man who is untrained for work, who is harassed by ill health, who cannot buy a decent house for his family, or send his children to decent schools, has little independence himself, despite our Fourth of July rhetoric.
And truly none of us, no matter how affluent we may be, can ever escape the continuing challenge to our independence. How much independence does a man have who must breathe polluted air, travel in a perpetual traffic jam, and fear for his own safety and the safety of his family when they go out on the streets at night?
The task that we have--and the task that every President and the people have in the decades to come--is to protect and to deepen the independence of individual human beings, as well as the country itself.
This American vision of individual and political independence has in the past two centuries become the world's dream, too: that men are entitled to grow to their fullest limits as they see fit; that governments shall be responsive to their citizens and not to the dictates of foreign powers--these are the goals now of the New World.
This is clearly apparent today in the nations south of the United States that are represented on this platform and that we will be visiting over the weekend. Their people are dedicated to bringing about individual and political independence, while retaining the richness of singular national identity. It is to further that proposition that the nations of this hemisphere have banded together to form the Alliance for Progress. And it is to honor that proposition that Hemis-Fair was built here, at this confluence of North and Latin America.
In the United States we have, naturally, sympathized with other men and other nations who sought independence. Yet in this century, we have come to realize that simpatico is not always enough. For we have learned that our own independence is bound up in the cause of freedom and independence in other parts of the world.
We have come to know that we Americans have a profound interest in the independence of men and women at home and men and women all around the world.
So I think it is proper that the Fourth of July--our own Independence Day--should be an event of major importance for Americans. It is celebrated in every American Embassy around the world. It is celebrated in every American city. It is celebrated on the White House lawn in Washington; at rodeos in dusty Texas towns; and today, with your Governor and your Senator, and your distinguished Speaker of the House, and all of our guests who speak for this hemisphere here at the American Pavilion at Hemis-Fair.
It will be celebrated by Americans wherever they are, for as long as this Nation is going about its proper business; and that proper business is helping to defend and helping to enlarge the independence of man. I believe that will be for as long as men draw breath on this soil.
Thank you for your gracious hospitality. We know we are going to enjoy being here.
Note: The President spoke at 10:55 a.m. In his opening words he referred to John B. Connally, Governor of Texas, Mrs. Connally, Ralph Yarborough, Senator from Texas, Mrs. Yarborough, Edward Clark, U.S. Hemis-Fair Commissioner and former Ambassador to Australia, Mrs. Clark, and Walter W. McAllister, Mayor of San Antonio.
Lyndon B. Johnson, Independence Day Remarks at the U.S. Pavilion at Hemis-Fair '68, San Antonio, Texas. Online by Gerhard Peters and John T. Woolley, The American Presidency Project https://www.presidency.ucsb.edu/node/236837