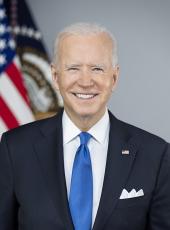 ICYMI: Women Are Facing a National Emergency, and the American Rescue Plan is a National Solution
About 2.5 million women have lost their jobs or dropped out of the workforce during the pandemic. That's why President Biden and Vice President Harris ensured the American Rescue Plan will provide critical relief to women and their families. As Vice President Harris said in her recent op-ed in the Washington Post, "this mass exodus of women from the workforce is a national emergency, and it demands a national solution." The American Rescue Plan will tackle our nation's most urgent needs, lifting up women workers and their families.
Yesterday, Vice President Harris convened women leaders in Congress and of national advocacy organizations for a virtual roundtable discussion on the critical importance of passing the American Rescue Plan – particularly for women. The President and Vice President believe our economy cannot fully recover unless women can fully participate, and they are doing everything they can to get women back to work, kids back in school, and urgent relief to those in need.
Read more below.
New York Times: Harris says women leaving the work force because of the pandemic is a 'national emergency.'
Katie Rogers | February 18, 2021
As part of its $1.9 trillion relief plan, the Biden administration has outlined several elements that officials say will ease the burden on unemployed and working women, including $3,000 in tax credits issued to families for each child, a $40 billion investment in child care assistance and an extension of unemployment benefits. [...]
The 19th: Vice President Kamala Harris meets with women leaders to talk priorities in Biden's relief package
Chabeli Carrazana, Errin Haines | February 18, 2021
Harris laid out the three major causes of the nation's first women's recession. Women have dropped out of the workforce — many of them forced out due to caregiving needs — at far higher rates than men. About 2.5 million have left the labor force, some of them workers in the low-wage service jobs that have been most severely impacted by layoffs. Small businesses have also closed — one in four owned by women closed between February and April 2020. [...]
Washington Post: Harris calls exodus of women from workforce a 'national emergency' as she pitches coronavirus relief bill
John Wagner | February 18, 2021
Vice President Harris on Thursday called the exodus of women from the workforce during the coronavirus pandemic a "national emergency" as she made the Biden administration's latest pitch for passage of a $1.9 trillion pandemic relief bill. Harris spoke at the outset of a virtual event that included female members of Congress and advocacy organizations. [...]
Reuters: Harris taps growing political power of women lawmakers to promote COVID-19 relief
Nandita Bose, Steve Holland | February 18, 2021
The COVID-19 pandemic has had an outsized impact on women, who lost jobs at a higher rate than men and have struggled to return to the workforce because of the need to care for children unable to attend school. Specific carveouts in the COVID-19 relief bill are designed to address problems faced by women, including an investment of $40 billion in child care, paid family leave for 100 million additional workers and an investment of $130 billion to help re-open K-12 schools safely. [...]
Huffington Post: Kamala Harris: Women Are Facing A National Emergency
Emily Peck | February 18, 2021
In a virtual discussion with female lawmakers and advocates on Thursday morning, Vice President Kamala Harris again drew attention to the economic and caregiving crisis women across the country are facing because of COVID-19. A stunning 2.3 million women have left the workforce since the pandemic began because of the pressures of caregiving brought on by school closures and day care shutdowns, coupled with massive job losses in female-centric industries like retail and hospitality.
"Our economy cannot fully recover unless women can participate fully," Harris said, echoing an op-ed she published in The Washington Post last week. "I believe, I think we all believe, this is a national emergency — women leaving the workforce in these numbers is a national emergency, which demands a national solution." [...]
Joseph R. Biden, ICYMI: Women Are Facing a National Emergency, and the American Rescue Plan is a National Solution Online by Gerhard Peters and John T. Woolley, The American Presidency Project https://www.presidency.ucsb.edu/node/348074