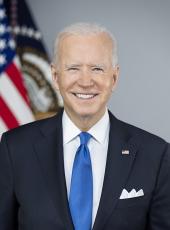 ICYMI: White House Economic Adviser Highlights Why Confirming Federal Reserve Nominees is Important for American Small Businesses
In an interview published today with Forbes, White House Council of Economic Advisers Member Heather Boushey highlighted why the confirmation of President Biden's nominees to the Federal Reserve is crucial for American small business. Amidst a surge in new small business applications, effective leadership at the Federal Reserve will help ensure stable prices and full employment that will drive continued recovery from the pandemic. Boushey emphasized the extensive credentials of Biden's nominees, and called for their swift confirmation in the Senate.
Read more below:
Forbes: The Fed's Big Week Ahead, And What It Means For Small Businesses
[Rhett Buttle, 2/14/22]
As our economy continues to recover from the Covid-19 pandemic, greater focus has been paid on the Federal Reserve System. The Fed is tasked with maximizing employment, stabilizing prices, and maintaining interest rates, making it critical to our overall growth in the years to come.
There are currently several positions on the Federal Reserve Board of Governors that need to be filled. As the Senate considers these nominees, it is important to understand what an important role they play in shaping the economy and what that means for small businesses, who create half of our nation's jobs. In fact, small business leaders have sent a letter of support to the U.S. Senate Banking Committee leadership in advance of their confirmation vote on February 15 calling for quick confirmation.
As a member of the Council of Economic Advisers, Heather Boushey advises the President and the Administration on economic policy. I recently had the opportunity to speak with her about the Federal Reserve and the importance of confirming these nominees. I am grateful for her taking the time and below is a summary of our conversation.
Rhett Buttle: In general, how are you feeling about the current state of our economic recovery from the pandemic, specifically how it relates to small business?
Health Boushey: With economic growth faster than any year since 1984 and unemployment at 4%, the economy has rebounded from the recession, thanks to the policies of this Administration. The January jobs report is a testament to our strong recovery; the 467,000 jobs added this month came in well above market expectations and the labor force participation rate reached a new pandemic-high of 62.2%. Alongside this overall economic strength, many small businesses have been able to make a remarkable—and swift—recovery.
We can see this in the data. In 2021, new small business applications surged. Small business applications that the Census Bureau believes will become a firm with a payroll—what are called "high propensity" applications—are up nearly 35% from their January 2020 level. Further, establishments with fewer than 50 people have been adding jobs to the economy since the third quarter of 2020 (including roughly 750,000 for the fourth quarter of 2021, the period with most recent data).
Heather Boushey: The Federal Reserve's policy making touches every part of the economy. They have a dual mandate to push the economy towards full employment and to ensure price stability.
One of their most important tools is setting the Federal Funds rate, which affects interest rates for the economy more generally and thus affects both aggregate employment and price stability. Changes to the cost of borrowing directly affect the demand for all kinds of investments, which, in turn, drives the level of economic activity and the pace of price changes. For example, for those looking to buy or refinance a home, Fed policy affects mortgage rates; from large companies looking to raise money through capital market to small businesses who may be looking to get a loan from a local bank, Fed policy affects the interest rate they have to pay, affecting how much they invest and thus produce.
The Federal Reserve also plays a critical supervisory role for large banking institutions which millions of Americans and small-businesses interact with on a daily basis. The Fed ensures that these financial institutions are compliant with the variety of regulations that promote financial stability.
Rhett Buttle: How do unfilled seats on the Federal Reserve's Board of Governors hinder its ability to carry out its mission and what are the downstream effects for small business owners?
Heather Boushey: The Federal Reserve's Board of Governors is an important policymaking institution and, as such, it needs to be fully staffed. The President has nominated a highly qualified slate of nominees who will bring decades of relevant experience as well as a diversity of lived experience to the Fed's decisions on monetary policy and financial regulation. As the President has made clear time and again, the goal of economic policy is to strengthen America's middle class and, in order to reach that goal, we need Governors who will focus economic policymaking towards fulfilling the Fed's dual mandate of full employment and price stability.
Core to the Federal Reserve's mandate is regulation that promotes financial stability. This, however, becomes more difficult with unfilled Board seats. Current economic conditions mean that the need for robust and thoughtful regulation is as pressing as ever, and it is imperative that we fill the role of Vice Chair for Supervision—a position created after the financial crisis tasked with developing policy for the supervision and regulation of the large banks the Fed oversees.
Rhett Buttle: Why is it critical for the Senate to confirm Sarah Bloom Raskin, Lisa Cook, and Philip Jefferson to be Fed governors?
Heather Boushey: It is critical for the Senate to confirm Sarah Bloom Raskin, Lisa Cook, and Philip Jefferson to be Fed governors, Lael Brainard to be Vice Chair, and Jerome Powell to be re-confirmed as Chair, to build on progress made in our economic recovery. Since the President took office, the economy has created more than 6.7 million jobs and unemployment is down to 4.0%—years faster than projected. That is a testament to the President's economic plan and his success in getting shots in arms, and it is a testament to the work of the Federal Reserve under Chair Powell and Governor Brainard. To continue our recovery and confront ongoing challenges as we emerge from the pandemic, the United States needs independent and effective leadership at the Fed that will advance its goals of keeping inflation low and prices stable, and creating a strong labor market that broadly benefits workers. These nominees are positioned to deliver on those needs.
When we have leaders in the Federal government that reflect the diversity of our country, there are better outcomes for all Americans. This is especially true in our economy, where too many groups have been historically left behind or altogether left out. That is why—in addition to a wealth of experience in academia and government—these appointments bring long-overdue diversity of thought to the Fed's leadership, with Lisa Cook as the first Black woman in history to serve on the board and Philip Jefferson as only the fourth Black man. And, as a former Deputy Treasury Secretary and member of the Federal Reserve Board, Sarah Bloom Raskin is incredibly well-qualified to be Vice Chair for Supervision.
Rhett Buttle: As we continue to build back from Covid-19, how do appointments like these directly impact our recovery?
Heather Boushey: For an equitable recovery to continue, we need to ensure that a broad diversity of viewpoints and experiences are being elevated during the policymaking process. The nominees proposed by the President will do just that for the Fed.
Additionally, these appointments will help ensure that credit flows to small businesses and individual Americans in a way that is equitable and sustainable. As I discussed above, we need financial regulations which help facilitate orderly credit markets and that is something that is difficult to implement with unfilled seats. The last thing we want to see during the recovery is large amounts of volatility in financial markets—particularly credit markets.
The President's nominees are equipped to help guide our recovery and advance the Fed's mandate of lowering inflation, stabilizing prices, and creating a strong job market with better jobs and higher wages for workers. While the Fed has an extremely tough job balancing a still-recovering labor market against what have been elevated inflation prints, the experience of the President's nominees will allow the Board to continue to thoughtfully deliberate how to best handle this trade-off.
Rhett Buttle: Is there anything else you would like to add?
Heather Boushey: I am looking forward to seeing these five very qualified nominees approved by the Senate in a timely fashion.
Joseph R. Biden, ICYMI: White House Economic Adviser Highlights Why Confirming Federal Reserve Nominees is Important for American Small Businesses Online by Gerhard Peters and John T. Woolley, The American Presidency Project https://www.presidency.ucsb.edu/node/354538