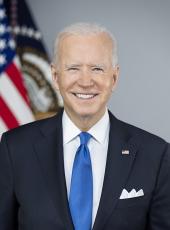 ICYMI: Wall Street Journal: 'Median Weekly Earnings Rose 7.4% Last Year, Outpacing Inflation; Some Groups Notched Double-Digit Gains'
Today, the Wall Street Journal reported on Bureau of Labor Statistics data that show that the median American worker received a pay increase of 7.4% last year, outpacing inflation. The biggest pay raises went to Black workers, young people and low-wage earners. This is a testament that President Biden's economic plan is working: we are building an economy from the bottom up and the middle out.
"The lowest-paid workers saw larger raises last year than the top 10% of wage earners. Those in the bottom 10% saw weekly pay grow 9.8% from a year earlier at the end of 2022 … The top 10% received a raise of 5.7%."
And there are additional reasons for optimism, with the lowest unemployment rate in 50 years, a record 10.7 million jobs created in two years, the best two years for small business applications on record, and annual inflation falling for the last six months. And the President's economic plan is further lowering costs for health care, prescription drugs, and energy this year.
WSJ: Biggest Pay Raises Went to Black Workers, Young People and Low-Wage Earners
Median Weekly Earnings Rose 7.4% Last Year, Outpacing inflation; some groups notched double-digit gains
[Gabriel T. Rubin, 1/23/23]
Black workers, young workers and people on the bottom of the income scale among those who saw the largest pay increases last year, when employers were readily handing out raises in a tight labor market and high inflation environment.
Median weekly earnings for all workers were 7.4% higher, year over year, at the end of 2022, according to an analysis of newly released Labor Department data. That outpaced the consumer inflation rate of 7.1% in the fourth quarter, from a year earlier.
For some workers, the gains were even larger. The median raise for Black Americans employed full time was 11.3%, compared with the prior year. Weekly pay for workers between 16- and 24-years old rose more than 10%. The bottom 10th of wage earners—those that make about $570 a week—saw their pay increase by nearly 10%.
The pay increases were welcome relief for those groups who have experienced "decades of pain" in the labor market, said Aaron Sojourner, an economist at the Upjohn Institute for Employment Research. "It's been a struggle for those folks to find a productive place in the community where they can contribute and earn and build families and success."
While the labor market remains tight, both wage gains and broader inflation have begun to cool, along with consumer spending. That is the result of the Federal Reserve's efforts to stifle demand and bring down inflation. Workers' ability to continue to receive large pay increases this year is likely under pressure. Economists surveyed by The Wall Street Journal forecast job losses in 2023, after recent strong hiring.
Here is a look at which Americans saw the largest, and smallest, raises in 2022.
Better pay increases late last year went to workers who attended college, a reversal from earlier in the pandemic when those who hadn't completed high school saw outsize gains.
The annual rate of wage growth for workers with less than a high school diploma touched a recent peak in the second quarter of 2022, when it was up 11.1% over the prior year, higher than the 7.6% wage growth during that period for workers with a bachelor's degree or higher.
But by the end of 2022, the median worker without a high school diploma was making $675 a week, or 3.7% more than during the last quarter of 2021. Wage gains for the less educated plummeted as more low-skilled jobs were filled and economic growth cooled.
The median worker with at least a bachelor's degree, by contrast, saw 5.5% wage growth from a year earlier to $1,547 a week.
Those who only finished high school saw a 5.3% annual raise.
Wage growth was uneven across racial groups.
The median Black worker's weekly pay increased at the fastest rate among those measured, growing to $896 from $805 a year earlier. The median Hispanic or Latino worker saw a 4.8% raise to $837 a week. White and Asian workers saw wage growth slightly higher than the overall workforce.
Still, white and Asian workers continued to earn far more than other racial groups. Median weekly earnings for full-time Asian workers was $1,496, and white workers earned $1,111.
By sex, weekly wages for the median woman rose 5% to $975 in the fourth quarter, from a year earlier. The median man received a 6.6% raise to $1,176 a week. Women had median weekly earnings that were 82.9% of that for men.
The rate of raises between workers ages 16 to 24 and other age groups widened in 2022.
It isn't unusual for young workers to experience faster wage growth in percentage terms, largely because they typically start from the lowest base. A person making $15 an hour who gets a 10% raise is now making $16.50 an hour.
That youngest cohort, earning a median of $716 a week, ended the year with 10.8% annual wage growth, compared with 7.2% for the next-strongest group, aged 25 to 54. The median worker in those prime working years earned $1,134 a week. At the end of 2021, younger workers had 5.2% annual wage growth, and prime-age workers saw a 4.4% gain.
Older workers, those in the 55-64 bracket and those over 65 years old, who often start from higher bases compared with younger cohorts, saw the slowest wage growth last year, at 2.8% and 3.9%, respectively.
The lowest-paid workers saw larger raises last year than the top 10% of wage earners.
Those in the bottom 10% saw weekly pay grow 9.8% from a year earlier at the end of 2022, to $571 a week. The top 10% received a raise of 5.7%, to $2,584 a week.
Gains for low-income and low-skilled workers drove broader wage growth throughout the post-reopening period of the pandemic, as employers who shed workers in 2020 scrambled to hire, and retain, workers. Quit rates soared as workers found that they could jump to another job for higher wages, with the mismatch between job openings and available workers at an all-time high.
Those fast gains have cooled. Hiring in sectors such as leisure and hospitality and retail eased toward the end of last year.
Joseph R. Biden, ICYMI: Wall Street Journal: 'Median Weekly Earnings Rose 7.4% Last Year, Outpacing Inflation; Some Groups Notched Double-Digit Gains' Online by Gerhard Peters and John T. Woolley, The American Presidency Project https://www.presidency.ucsb.edu/node/359468