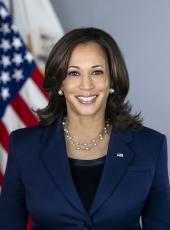 ICYMI: Vice President Harris's Visit to Poland and Romania Demonstrated Unity in the Face of Russia's Aggression
Vice President Kamala Harris traveled to Warsaw, Poland and Bucharest, Romania to demonstrate the strength and unity of our NATO Allies and the world in the face of Russia's aggression. She focused on coordinating closely with Allies, standing up for the sovereignty and territorial integrity of Ukraine, and supporting the humanitarian and security needs of the Ukrainian people.
While in Poland, the Vice President met with President Duda and Prime Minister Morawiecki of Poland, Prime Minister Trudeau of Canada, and people displaced from Ukraine. She spoke with personnel from the U.S Embassies in Kyiv and Warsaw, and she met with U.S. and Polish troops to thank them for their service and dedication. In Romania, Vice President Harris met with President Iohannis of Romania, and she spoke to personnel from the U.S. Embassy in Bucharest. Read more below:
AP: Harris: US dedication to collective NATO defense 'ironclad'
[Aamer Madhani and Chris Megerian, 3/11/22]
"We take seriously, and are prepared to act on, the words we speak when we say, 'An attack on one is an attack against all,'" Harris said during a news conference with Romanian President Klaus Iohannis. […]
She warned that Russian President Vladimir Putin has shown "no signs of engaging in serious diplomacy" to end the war in Ukraine. And she reiterated that Americans should be prepared to endure higher gas prices as the U.S. and its allies punish Russia, a major global oil supplier, with economic sanctions for the invasion.
CBS News: Vice President Kamala Harris meets with troops in Poland as Russia escalates attacks on Ukraine
Vice President Kamala Harris is finishing up her European trip amid the war in Ukraine. She met with troops in Poland before heading to Romania. Meanwhile, Ukrainian refugees continue to flee to Poland and other neighboring countries.
New York Times: Harris, in Poland, Seeks to Present United Front Against Russia
[Zolan Kanno-Youngs, 3/10/22]
"When it comes to crimes and violations of international norms and rules, we are also very clear that any intentional attack on innocent civilians is a violation," Ms. Harris said when asked if there should be an international investigation into Russian war crimes. "Absolutely there should be an investigation and we should all be watching."
The statement, one of the more forceful from a top Biden administration official describing Russia's aggression, was part of an effort to portray a unified front with Poland, a NATO ally.
Politico: 'We should all be watching': Harris says U.N. should probe Putin's 'atrocities' in Ukraine
[Quint Forgey, 3/10/22]
Harris, speaking at a joint news conference with Polish President Andrzej Duda, accused Russia of committing "atrocities" amid the two-week conflict, citing what the international community has already "been able to see" in images and videos of Ukraine's devastated urban centers. […]
"Absolutely, there should be an investigation," she added. "And we should all be watching. And I have no question the eyes of the world are on this war and what Russia has done in terms of this aggression and these atrocities. Have no doubt."
CNN: Harris says US and Poland are united, despite fighter jets episode
[Kevin Liptak and Maegan Vazquez, 3/10/22]
[…] She also pledged more humanitarian support, announcing $53 million in new assistance and saying the United States would help countries like Poland where massive numbers of refugees have fled the fighting. She met later in the day with seven people the White House described as "displaced" and said the conversation would inform policy decisions back home.
"You've been through so much. And the people at this table represent well over a million people," she said.
The Hill: Harris meets with Ukrainian refugees in Poland
[Alex Gangitano, 3/10/22]
Harris thanked the participants for "your willingness, your courage and your time to have this important conversation" to start the roundtable discussion in a classroom at the American School of Warsaw. […]
Her meeting follows an announcement that the U.S. would provide nearly $53 million through the U.S. Agency for International Development (USAID), which will specifically go toward the United Nations World Food Program to provide food for those fleeing Ukraine or displaced from their homes.
Reuters: U.S.'s Harris slams Putin, credits Romania for Ukraine refugee help
[Nandita Bose and Luiza Ilie, 3/11/22]
Harris credited Romania for taking in thousands of people fleeing the fighting in neighbouring Ukraine and said Washington was constantly reassessing support levels for its NATO allies according to the dynamic situation on the ground. […]
Asked if Washington intends to increase the number of troops in Romania, Harris said, "We will on a daily basis, assess the needs that we have to maintain stability in this region."
CNN: Harris: 'The US is prepared to defend every inch of NATO territory'
Vice President Harris joins the Polish President in Warsaw, Poland for a joint presser to discuss the US commitment to defend NATO territory. Harris also announces the further humanitarian aid given to the people of Ukraine and to support the Polish government in their aid efforts.
Washington Post: Biden sends Harris to Poland and Romania amid global crisis
[Cleve R. Wootson Jr., Ashely Parker and Missy Ryan, 3/8/22]
As chaos spreads in the aftermath of Russia's invasion of Ukraine, President Biden is dispatching Vice President Harris to Eastern Europe on an urgent mission this week to reinforce Western unity, reassure allies of U.S. protection and promise aid as more than 1 million Ukrainian refugees flee their homes. […]
Kamala Harris, ICYMI: Vice President Harris's Visit to Poland and Romania Demonstrated Unity in the Face of Russia's Aggression Online by Gerhard Peters and John T. Woolley, The American Presidency Project https://www.presidency.ucsb.edu/node/354897