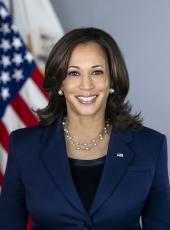 ICYMI: Vice President Harris Visited Milwaukee and Highlighted the Bipartisan Infrastructure Law's Historic Funding to Remove and Replace Lead Pipes
The Vice President was joined by Environmental Protection Agency Administrator Michael Regan, Senator Tammy Baldwin, and Representative Gwen Moore
Today, Vice President Kamala Harris traveled to Milwaukee, Wisconsin, and highlighted the Bipartisan Infrastructure Law's historic investments to remove and replace lead pipes. The Vice President participated in a tour of the Wisconsin Regional Training Partnership Building Industry Group Skilled Trades Employment Program, where she met with local advocacy leaders, public health leaders, and union workers. The Vice President also delivered remarks emphasizing the Administration's commitment to environmental justice and creating jobs through the Bipartisan Infrastructure Law.
This visit builds upon the Biden-Harris Lead Pipe and Paint Action Plan, which ensures the federal government is marshalling every resource to make rapid progress towards replacing all lead pipes in the next decade.
See below for coverage of today's visit:
Milwaukee Journal Sentinel: 'We just have to get rid of the lead': Kamala Harris visits Milwaukee to highlight push to replace lead pipes
[Bill Glauber and Rory Linnane, 1/24/22]
Deanna Branch had something she wanted to tell Vice President Kamala Harris.
The mother and activist from Milwaukee spoke Monday of her journey of overcoming physical ailments. But there was more. She discussed her son's battle with lead poisoning, how he was hospitalized twice.
And from that experience they put together a picture book, featuring a lead-free super hero taking the fight to the "lead monster."
"It means a lot to me and my community that I am hearing and talking to you on their behalf," Branch told the vice president.
Wisconsin Public Radio: Vice President Kamala Harris pushes for lead pipe replacement during Milwaukee visit
[Corrinne Hess, Jenny Peek, and Andrea Anderson, 1/24/22]
Two years ago doctors told Milwaukee mother Deanna Branch her repeated exposure to lead would keep her on dialysis for the rest of her life and she would likely not walk again. Her 6-year-old son, Aidan, had already been hospitalized twice for lead poisoning by then.
"I'm standing, I'm talking, I have my voice back, and I'm here, and I'm able to share my story, Aidan's story with the world," Branch, holding back tears, told Harris on Monday. […]
Harris was in Milwaukee highlighting a plan to accelerate the goal of removing and replacing all lead pipes in the United States in the next 10 years. The city has about 70,000 lead pipes. Wisconsin has 170,000, mainly in rural and poor areas, Harris said.
WISN 12: Vice President Kamala Harris touts replacing lead pipes in Milwaukee
[Kent Wainscott, 1/24/22]
Vice President Kamala Harris touted the removal and replacement of lead pipes during a stop Monday in Milwaukee, where she will highlight efforts to update aging infrastructure across the country.
Harris promoted the $1 trillion bipartisan infrastructure law during her Wisconsin stop. […]
Harris met with community and health leaders at the Wisconsin Regional Training Partnership/BIG STEP program in west Milwaukee. She also met with union members who are working to replace lead pipes
AP: VP Harris touts replacing lead lines during Milwaukee
[Scott Bauer, 1/24/22]
Vice President Kamala Harris said Monday in Milwaukee that removing and replacing lead pipes is a moral imperative and must be one of the nation's highest priorities, pointing to the environmental and health risks lead exposure presents from children to the elderly.
"We are long overdue to get this done and we will get this done and generations of Americans will forever benefit because of the work that is being done right here in Milwaukee," Harris said in comments delivered at the Wisconsin Regional Training Partnership/BIG STEP program in west Milwaukee.
Los Angeles Times: Harris touts removal and replacement of lead pipes funded by infrastructure law
[Erin B. Logan, 1/24/22]
Speaking at a nonprofit in Milwaukee, Harris highlighted the $15 billion from the infrastructure measure that will fund the removal and replacement of all lead pipes nationwide within a decade.
Harris framed the projects as a jobs creator and a public health effort. Ten million households and 400,000 schools and childcare facilities have lead pipes. Exposure to lead in drinking water has been linked to numerous health problems, including increased blood pressure and decreased kidney function.
CBS 58: VP Harris visits Milwaukee, touts infrastructure plan and efforts to replace lead pipes
[Victor Jacobo, 1/24/22]
Vice President Kamala Harris touted the effects of the bipartisan infrastructure plan, especially on water infrastructure, during a visit to Milwaukee on Jan. 24. […]
"These investments will address the needs of our children, these investments will result in improved public health, the creation of more jobs," Harris said. "And it is simply the right thing to do."
The VP's stop in Milwaukee was the first of several programmed for the coming weeks where she will travel to continue to tout the infrastructure plan.
FOX 6: VP Kamala Harris Milwaukee visit, focus on lead pipe replacement
[Jason Calvi, 1/24/22]
The vice president made her pitch at a nonprofit, the Wisconsin Regional Training Partnership/Big Step – which recruits and trains people in the skilled trades like construction and plumbing.
"What we're excited about is that it is not only going to be about the children and making sure they drink clean water; it's going to be about investing in the talented people in the community to build up the skills to do the work," Harris said.
Kamala Harris, ICYMI: Vice President Harris Visited Milwaukee and Highlighted the Bipartisan Infrastructure Law's Historic Funding to Remove and Replace Lead Pipes Online by Gerhard Peters and John T. Woolley, The American Presidency Project https://www.presidency.ucsb.edu/node/354225