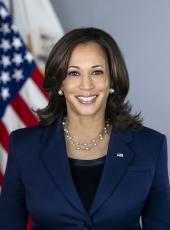 ICYMI: Vice President Harris Strengthens Alliances in Indo-Pacific During Visit to Thailand
This week, Vice President Harris traveled to Bangkok, Thailand, where she engaged with partners on critical issues and strengthened the United States' alliances in the Indo-Pacific region.
The Vice President participated in the Asia-Pacific Economic Cooperation (APEC) Leaders Meeting and delivered remarks at the APEC CEO Summit, where she spoke about how there is no better economic partner than the United States. She convened leaders from Japan, Republic of Korea, Australia, New Zealand, and Canada to condemn the DPRK's ballistic missile launch. She also participated in a bilateral meeting with Prime Minister Prayut of Thailand, attended an audience with His Majesty King Maha Vajiralongkorn Phra Vajiraklaochaoyuhua and Her Majesty Queen Suthida Bajrasudhabimalalakshana, met with the Supreme Patriarch of Thailand at Wat Ratchabophit Temple, and convened environmental activists and clean energy leaders to discuss the climate crisis.
Yesterday, the Vice President departed Thailand and arrived in the Philippines. Read highlights of her visit to Bangkok below:
Associated Press: VP Harris assures Asian leaders US is 'here to stay'
[Krutika Pathi, November 18]
U.S. Vice President Kamala Harris assured Asian leaders Friday that "the United States is here to stay" as she pitched Washington as a reliable economic partner committed to the region and its prosperity. […]
Harris also highlighted Washington's Indo-Pacific Economic Framework launched earlier this year, which she said now encompasses a group of economies representing 40% of the global GDP who are "dedicated to equitable growth and high environmental and labor standards," as well as strong private sector partnerships. […]
"As we go forward together, the companies and economies in this region will find a United States that brings immense opportunities for growth," she said. "A United States that will uphold the rules of the road. And a United States that that will help build prosperity for everyone." […]
Wall Street Journal: Kamala Harris Leads U.S. Push to Bolster Economic Ties in Asia
[William Mauldin, Keith Zhai, November 17]
[…] Ms. Harris is leading the U.S. delegation at the 21-nation Asia-Pacific Economic Cooperation leaders summit that begins Friday in the Thai capital, Bangkok—the first time in four years the group is gathering. Secretary of State Antony Blinken and Katherine Tai, the U.S. trade representative, attended minister-level meetings on Thursday that, Ms. Tai said, brought momentum to U.S. economic efforts. […]
On Friday, Ms. Harris will outline in a speech what the administration calls a comprehensive economic agenda for the Indo-Pacific and will use the visit to "rally other economies around our vision for the future of the rules-based international economic order," a senior administration official said. […]
Reuters: U.S. VP Harris: United States has enduring economic commitment to Indo-Pacific
[Poppy McPherson, Kanupriya Kapoor, November 18]
U.S. Vice President Kamala Harris told a CEO summit during an APEC summit in Bangkok on Friday that her country has an "enduring economic commitment" to the Indo-Pacific region.
The United States will continue to work to increase foreign direct investment and increase free flow of capital and trade with the region, she said, adding that partnering with the private sector is a "top priority" for the country.
Associated Press: VP Harris meets with China's Xi in bid to 'keep lines open'
[Krutika Pathi, November 19]
U.S. Vice President Kamala Harris spoke briefly with Chinese leader Xi Jinping on Saturday in another step toward keeping lines of communication open between the two biggest economies. […]
Their exchange closely echoed Biden's comment to Xi at a meeting between the two leaders earlier in the week about China and the U.S. keeping lines of communication open. […]
On Friday, Harris pitched the U.S. as a reliable economic partner, telling a business conference on APEC's sidelines, "The United States is here to stay." […]
Harris launched a series of partnerships with Thailand aimed at driving down emissions, advancing clean energy goals and promoting sustainable development, among other matters. […]
Bloomberg: Kamala Harris Meets Xi Briefly as US-China Tensions Ease
[Jenny Leonard, Xiao Zibang, November 18]
US Vice President Kamala Harris and China's Xi Jinping met briefly on the sidelines of an Asian summit, in another signal of easing tensions between the world's two largest economies.
Harris said in a tweet that she used the exchange at the Asia-Pacific Economic Cooperation forum Saturday in Bangkok to stress the need for open lines of communication to responsibly manage competition. That reiterated a message delivered by President Joe Biden during his own meeting with Xi on Monday in Indonesia, where they agreed to restore dialogue across a range of sectors. […]
CNBC: Harris calls North Korea's missile launch a 'brazen violation' as APEC leaders condemn act
[Lee Ying Shan, November 18]
U.S. Vice President Kamala Harris met with leaders of Canada, Japan, South Korea, New Zealand and Australia in Bangkok, where they condemned North Korea's latest missile launch. Harris deemed the launch a "brazen violation" of U.N. Security resolutions, as well as an act which "destabilizes security in the region and [unnecessarily] raises tensions. […]
San Francisco Chronicle: San Francisco to host major Asia-Pacific economic forum in 2023
[Shira Stein, November 18]
San Francisco will host next year's Asia-Pacific Economic Cooperation, the most significant economic and trade forum for the region, Vice President Kamala Harris announced Friday evening. Harris is currently in Bangkok attending this year's forum, where she has pitched the U.S. as a reliable economic partner that has a "vital interest in promoting a region that is open, interconnected, prosperous, secure and resilient."
"There is no better place to host APEC 2023 than California, a state known for economic innovation," Harris said Friday. "The United States is a strong partner for the economies and companies of the Indo-Pacific, and we are working to strengthen our economic relationships throughout the region." […]
Additional Highlights:
Kamala Harris, ICYMI: Vice President Harris Strengthens Alliances in Indo-Pacific During Visit to Thailand Online by Gerhard Peters and John T. Woolley, The American Presidency Project https://www.presidency.ucsb.edu/node/358893