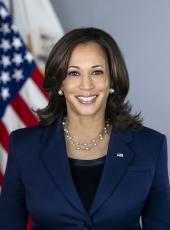 ICYMI: Vice President Harris Meets With Governor Charlie Baker and Massachusetts Leaders for Discussion on Protecting Reproductive Rights
On Thursday, Vice President Kamala Harris met with Governor Charlie Baker and Massachusetts leaders in Boston, Massachusetts to discuss the fight to protect reproductive rights. At the roundtable, the Vice President reaffirmed the Biden-Harris Administration's commitment to protecting access to reproductive health care, including abortion access, and encouraged legislators and leaders to continue fighting to protect reproductive rights in their state.
There were over 20 roundtable participants including Governor Baker, U.S. Department of Defense Undersecretary Gil Cisneros, Congresswoman Ayanna Pressley, State Representative Aaron Michlewitz, State Representative Kate Hogan, State Representative Liz Miranda, and Rebecca Holder, Executive Director of Reproductive Equity Now.
Read more below:
Boston Globe: With Baker by her side, Kamala Harris makes case that abortion is not a partisan issue
[Tal Kopan, 08/04/2022]
Fresh off a resounding victory for abortion rights in the reliably red state of Kansas two days prior, Vice President Kamala Harris held an event in Boston on Thursday to emphasize that Americans' views on the controversial issue cross party lines.
And to drive home the point, she had a Republican at her side.
Harris hailed Massachusetts as a "model" for the nation on the issue as Governor Charlie Baker, a pro-abortion rights Republican who later echoed her talking points, sat to her left.
"Governor, I appreciate the role, the national leadership that you have provided on this issue," Harris said to Baker as a phalanx of Democratic lawmakers and other officials flanked her at the IBEW Local 103 headquarters in Dorchester.
Axios: VP Harris, Mass. Gov. Baker make bipartisan pitch for abortion rights
[Steph Solis, 08/04/2022]
Vice President Kamala Harris joined forces with Massachusetts Republican Gov. Charlie Baker and the state's top Democrats to pitch abortion protections as a bipartisan issue. […]
This is the seventh state Harris has visited in recent weeks to discuss reproductive health care.
Why it matters: Massachusetts has one of the strongest reproductive health laws in the country, and Harris' visit shows the White House's commitment to states reinforcing abortion protections.
"Our administration stands with the leaders who are here and with the women of America," Harris said Thursday. […]
CBS Boston: Vice President Kamala Harris praises Massachusetts as national leader on abortion rights
[CBS Boston staff, 08/04/2022]
Vice President Kamala Harris came to Boston Thursday afternoon and praised Massachusetts as a national leader when it comes to abortion rights.
"The work that is happening here in Massachusetts is a model of work that can and we believe should happen around the country," the vice president said.
Baker, a Republican, said abortion rights have not been a partisan issue in Massachusetts and that he was glad Harris came to town.
NBC10 Boston: Kamala Harris Calls Mass. a 'Model' for Protecting Reproductive Rights
[Mary Markos, Matt Fortin and Wire reports, 08/04/2022]
Vice President Kamala Harris highlighted Massachusetts as a leader in the national fight to protect abortion rights during a round table discussion in Boston Thursday as part of a visit to the Bay State.
During the Vice President's meeting, Harris and several other leaders including Gov. Charlie Bake, U.S. Department of Defense Undersecretary Gil Cisneros and Representative Ayanna Pressley, discussed the significance of a women's right to make decisions about her reproductive health after the Supreme Court struck down the landmark Roe v. Wade decision.
"We are here today because we share a fundamental belief that we trust the women of America to make decisions about what is in their best interest," Harris said Thursday. "And we believe it is they who should make that decision and not their government. It is that simple."
Additional Coverage:
Bloomberg: Kamala Harris Says Kansas Vote Shows 'Majority' Back Democrats on Abortion
The Lowell Sun: Kamala Harris sees Mass. As reproductive rights 'model'
WCVB: Vice President Kamala Harris visits Boston, Martha's Vineyard on first trip to Massachusetts
WBUR: Vice President Harris praises Massachusetts as a 'model' for other states on reproductive rights
Spectrum News 9: 'They spoke volumes': Harris applauds Kansas voters for rejecting abortion restrictions
WPRI 12: VP Kamala Harris visits Massachusetts
Kamala Harris, ICYMI: Vice President Harris Meets With Governor Charlie Baker and Massachusetts Leaders for Discussion on Protecting Reproductive Rights Online by Gerhard Peters and John T. Woolley, The American Presidency Project https://www.presidency.ucsb.edu/node/357168