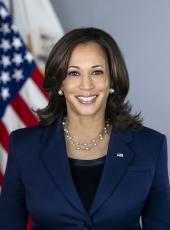 ICYMI: Vice President Harris Highlights Biden-Harris Administration Actions to Make America More Resilient to Climate Change
On Monday, Vice President Kamala Harris traveled to Miami, Florida to announce over $1 billion for 53 states, territories, and D.C., to improve their infrastructure and make communities more resilient, with an emphasis on increasing resilience to the impacts of climate change and extreme weather events.
The Vice President was joined by U.S. Department of Homeland Security Secretary Alejandro Mayorkas, Federal Emergency Management Agency (FEMA) Administrator Deanne Criswell and National Oceanic and Atmospheric Administration (NOAA) Administrator Richard Spinrad.
While in Miami, Vice President Harris made a surprise stop at Dragonfly Thrift Boutique, the proceeds of which benefit the Ladies Empowerment & Action Program, a nonprofit focused on helping formerly incarcerated women reintegrate into their communities.
Read more below:
Associated Press: Harris cites climate 'crisis,' pushes $1B for floods, storms
[Matthew Daly, 08/01/2022]
Vice President Kamala Harris called climate change an "immediate" and "urgent" crisis Monday as she detailed more than $1 billion in federal spending to respond to disasters such as deadly flooding in Kentucky and wildfires ravaging her home state of California.
On a visit to Miami, Harris announced a series of grants being made available to states to help communities across the nation prepare for and respond to climate-related disasters. […]
The billion-dollar grant program announced by Harris doubles spending from last year on programs to defend against extreme weather events across the country. Biden announced last month that the administration will double spending yet again in the budget year that begins in October, spending $2.3 billion to help communities cope with soaring temperatures through programs administered by FEMA, the Department of Health and Human Services and other agencies.
Miami Herald: VP Harris uses Miami visit to tout $1 billion to combat heat, flooding. What's local cut?
[Alex Harris, 08/01/2022]
Miami is getting $50 million to protect low-lying communities from sea level rise and storm surge, thanks to $1 billion in new federal funding announced Monday by Vice President Kamala Harris in Miami.
At Florida International University's Sweetwater campus, the vice president said the federal case will provide an infusion to help states address extreme heat and flooding. A string of states have been dealing with devastating extreme weather events this summer. At least 35 people have died in flooding in Kentucky alone over the last week, including children.
"The takeaway is clear. As the climate crisis gets worse, extreme weather will pose a rapidly growing danger to a rapidly growing number of communities," Harris said at FIU. "The president and I also have a duty to act not only after a disaster strikes but also before a disaster strikes, and that is why we're here today."
Sun Sentinel: Vice President Harris visits South Florida to tout $1 billion plan for climate-related disasters
[David Lyons, 08/01/2022]
Vice President Kamala Harris flew to South Florida on Monday to talk up a $1 billion Biden Administration program to help deal with the growing intensity of hurricanes, wildfires, extreme heat and other disasters that threaten communities nationwide. […]
She said the administration "remains committed" to addressing them by making financial grants available to communities "disproportionately impacted by the climate crisis." […]
Earlier, the vice president visited the National Hurricane Center a short distance from the FIU main campus in West Miami-Dade County, where she discussed extreme weather events nationally, such as the deadly flooding in Kentucky and Missouri and the protracted wildfires in California.
UPI: VP Kamala Harris outlines $1B in federal aid for climate resiliency
[Clyde Hughes & Sheri Walsh, 08/01/2022]
Vice President Kamala Harris traveled to South Florida on Monday to announce more than $1 billion in federal funding to improve infrastructure nationwide to increase resiliency to excessive heat and climate change.
"Today our administration is investing more than $1 billion through FEMA to fund climate-resilient projects in 343 cities, towns and counties around our nation," Harris said after meeting with leaders at the Federal Emergency Management Agency and the National Hurricane Center in Miami. […]
Harris promised the grants will create jobs and will mostly go toward low-income communities without resources to rebuild.
Telemundo 51: Vicepresidenta Kamala Harris en Miami, anuncia ayudas millonarias para afrontar la crisis climática
[Staff, 08/01/2022]
Harris, anunció subvenciones por más de $1,000 millones para que los estados se puedan preparar y responder a desastres climáticos como inundaciones, sequía e incendios.
"Sabemos que los impactos de la crisis climática están aquí y que debemos invertir en desarrollar resiliencia para proteger nuestras comunidades, infraestructura y economía", dijo la Casa Blanca en un comunicado.
CBS Miami: VP Kamala Harris announces $1B to states for floods, extreme heat during Miami stop
[Ashley Dyer, 08/01/2022]
Vice President Kamala Harris was in South Florida Monday, making a stop at FIU to announce the White House will be putting more than $1 billion towards extreme heat and flooding.
It's part of their Building Resilient Infrastructure and Communities or BRIC program, and is in addition to the $2.3 billion grant President Joe Biden announced last month. […]
Harris says we are seeing and feeling the impacts of extreme weather and climate change all across the country. […]
"The president and I have a duty to act before disaster strikes," she explained.
Miami Herald: Kamala Harris made surprise stop in Little Havana: A thrift store with a mission
[Alexis Harris, 08/01/2022]
Gemma Garcia could hardly believe the news when she first heard it. The vice president of the United States was about to visit her Little Havana thrift shop in a few hours, a surprise stop on her quick visit to Miami.
The visit held extra weight for Garcia, whose store, Dragonfly Thrift Boutique, has a special mission. They help recently incarcerated women in Miami get back on their feet after they're released by finding housing, support and even a job at the thrift store. […]
"I almost started crying too. Can you imagine the vice president of the U.S. telling you, 'I admire you for your resilience and for how well you're doing?' A lot of these women, that's what they need to hear. They need to hear people saying we are here to support you and we want you to do well," she said.
Additional Coverage:
El Nuevo Herald: Kamala Harris visita Miami para promover financiamiento contra el calor extremo y las inundaciones
Fox 4 Kansas City: VP announces $1 billion for infrastructure resilient to severe weather
Philadelphia Inquirer: Philly gets $25M for sewer system as White House announces new flood-prevention funding
Texas Tribune: Texas Gets Grants to Mitigate Flood Risk
La Tribuna: Harris anunciará en Miami ayudas millonarias frente a la crisis climática
NJ.com: These N.J. towns getting $39M from feds to protect against future flooding
Real Clear Politics: VP Kamala Harris On Climate Change: Time For Debate Is Over, "Threat Has Now Become Reality"
850 WFTL: V.P. Kamala Harris to visit National Hurricane Center, FIU in Miami today
E&E News: Vice president talks climate resilience in Miami
Kamala Harris, ICYMI: Vice President Harris Highlights Biden-Harris Administration Actions to Make America More Resilient to Climate Change Online by Gerhard Peters and John T. Woolley, The American Presidency Project https://www.presidency.ucsb.edu/node/357181