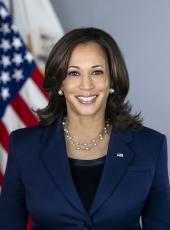 ICYMI: Vice President Harris Delivers Remarks Commemorating the 50th Anniversary of Roe v. Wade
Yesterday, Vice President Kamala Harris visited Tallahassee, Florida, where she delivered remarks to commemorate the 50th anniversary of the decision in Roe v. Wade. Vice President Harris underscored the fight for reproductive rights as a fight for freedom and liberty, outlined the detrimental impact of the Dobbs decision on women's health, and drew contrast between Republicans' extreme approach and that of the Biden-Harris Administration. Vice President Harris also announced that President Biden issued a Presidential Memorandum to further protect access to medication abortion for women across the country.
Read more below:
USA TODAY: 'Right side of history': VP Harris urges abortion rights supporters to continue fight on Roe anniversary
[Michael Collins, 1/22/23]
[...] Harris has been leading the administration's charge against new abortion restrictions. […] In recent months, she has hosted leaders from 38 states for events that focused on attacks on reproductive freedom and convened nearly 200 state legislators from 18 states to discuss the fight at the state level, her office said.
Harris' remarks served as a reminder that abortion access remains a priority for the administration beyond last November's midterm elections, when the issue drove voters to the ballot box and enabled Democrats to perform much better than expected. […]
Associated Press: Harris rallies against GOP push to roll back abortion rights
[Chris Megerian and Seung Min Kim, 1/22/23]
Vice President Kamala Harris railed against efforts in Washington and in Republican-led states to restrict abortion on what would have been the 50th anniversary of Roe vs. Wade, invoking fundamental American values such as freedom to make the case for protecting abortion access despite the Supreme Court's decision to eliminate constitutional protections for it.
Leading the administration's response on commemorating Roe on Sunday, Harris methodically detailed fights throughout history for certain liberties, such as civil rights and the right to vote for women, and tied that to access for abortion, which Harris called the "fundamental, constitutional, right of a woman to make decisions about her own body." […]
The decision for Harris to speak in Tallahassee, the state capital, reflects how the battle lines have shifted since last summer. Now that there's no more national right to abortion, battles over the issue will play out in individual statehouses rather than in the halls of Congress or before the Supreme Court. White House officials this past week convened top lawmakers from eight states to discuss pending legislation. [...]
The New York Times: 'We Are on the Right Side of History,' Harris Says on Roe's 50th Anniversary
[Katie Rogers, 1/22/23]
[...] In her speech, at a nightlife venue called the Moon, Ms. Harris took aim at "so-called leaders" in the state for issuing what she called an extreme ban on abortions and rules that target both health care providers who perform the procedure and pharmacists who dispense the abortion pill.
"Today, we are fighting back," Ms. Harris said. […]
In her remarks, Ms. McGill Johnson called the vice president one of the "fiercest fighters for reproductive freedom." Ms. Harris has established herself as the administration's leading voice on promoting abortion rights, a position she has embraced in recent months. […]
The Hill: Harris on Roe anniversary: 'No one is immune' to impacts of Supreme Court decision
[Alex Gangitano, 1/22/23]
[…] Harris, during a speech to mark 50 years since the Roe v. Wade court ruling that allowed for abortion access across the country, said that while several states have already closed clinics and restricted abortion access, no Americans are immune to such measures.
"To everyone listening, be sure, no one is immune from these impacts," she said in remarks from Tallahassee, Fla. "Even in states that protect reproductive rights like New Jersey, Illinois, Oregon, even then, people live in fear of what might be next because Republicans in Congress are now calling for a nationwide abortion ban. Some even from the moment of conception." […]
Bloomberg: White House Aims at Protecting Abortion Pill Access, Harris Says
[Jennifer Jacobs, 1/22/23]
President Joe Biden is issuing a memorandum aimed at protecting access to mifepristone, a drug used in medication abortion, Vice President Kamala Harris said Sunday. […]
Biden's presidential memorandum directs three of his cabinet members — at Health and Human Services, the Justice Department and Homeland Security — to consider new guidance to support pharmacies and patients nationwide get access to mifepristone. [...]
Biden's action Sunday follows an executive order he signed in July aimed at protecting access to medication abortion and reproductive health services. […]
Los Angeles Times: 'We will not back down': Harris spotlights abortion, challenges GOP in Florida speech
[Courtney Subramanian, 1/22/23]
[…] Harris intended the defiant speech in Tallahassee, where state legislators last year passed a law outlawing abortions after 15 weeks of gestation, to send an unmistakable signal that Democrats are not ready to give up on access to the procedure for women in red states like Florida.
"The right of every woman in every state in the country to make decisions about her own body is on the line," Harris told a crowd at the Moon, a concert venue less than two miles from the state Capitol. […]
CNN: Kamala Harris mourns victims of Monterey Park shooting before speech to mark 50 years since Roe
[Jasmine Wright, 1/22/23]
[...] Harris' high-profile speech in Tallahassee came on the 50th anniversary of Roe v. Wade, which the Supreme Court overturned in June, ending federal protections for abortion.
The vice president sought to draw a direct throughline between abortion access and the freedoms enjoyed by Americans, arguing that limits or outright bans on reproductive health care threaten the rights of ordinary citizens. […]
NPR: On 50th anniversary of Roe v. Wade, Kamala Harris urges federal abortion protections
[Giulia Heyward, 1/22/23]
Vice President Kamala Harris commemorated the 50th anniversary of the Roe v. Wade decision by imploring Americans to work to enshrine abortion rights into law.
"For nearly 50 years, Americans relied on the rights that Roe protected," Harris said at a speech delivered in Tallahassee, Fla., on Sunday. "Today, however, on what would have been its 50th anniversary, we speak of the Roe decision in the past tense." […]
Ebony Magazine: The White House Recommits Its Efforts To Reproductive Rights In Address On Roe. v. Wade
[Savannah Taylor, 1/23/23]
[…] This afternoon, Vice President Kamala Harris spoke with an audience at an event in Tallahassee, Florida commemorating the historic 1973 decision. In her remarks, she outlined a plan of action that the Biden-Harris administration plans to execute to protect access to reproductive healthcare and safe abortions. She also expressed the stark danger that revoking Roe v. Wade puts many communities in. […]
The 19th: Kamala Harris, in Florida, takes aim at abortion restrictions as attacking the 'very foundations of freedom'
[Grace Panetta, 1/22/23]
Vice President Kamala Harris tied the fight for legal abortion to fundamental freedoms, charging supporters to "resolve to make history" in a speech Sunday marking the 50th anniversary of the Roe v. Wade decision.
Harris' remarks reflected how dramatically the landscape for abortion access and the politics surrounding it have changed since the Supreme Court overturned Roe v. Wade seven months ago. Her choice to speak in Florida — which is poised to further restrict abortion access this year — indicated a recognition on the part of the White House that abortion rights are now being decided not in Washington but in state capitals like Tallahassee. [...]
Tallahassee Democrat: 'We need to turn this around': About 1,500 turn out for VP speech on abortion in Tallahassee
[Douglas Soule and Christopher Cann, 1/22/23]
Hours before Vice President Kamala Harris gave her Tallahassee speech on the 50th anniversary of Roe v. Wade on Sunday, hundreds of people stood in the rain, waiting in line. […]
Molly Henry, a volunteer with Planned Parenthood in Sarasota, came to Tallahassee via bus with one of her children. They left around 4:30 a.m. and arrived at 9. […]
Tampa Bay Times: Vice President Kamala Harris invokes 'freedom' in Florida rally for reproductive rights
[Ana Ceballos, 1/22/23]
[…] President Joe Biden signed a memorandum Sunday that directed members of his administration to make recommendations that support patients, providers and pharmacies that want to legally access, prescribe or provide mifepristone, the first pill used in a two-drug medication abortion regimen.
Harris then called on Congress to pass federal protections on abortion. […]
Harris' remarks were met by a roar of applause from hundreds of people, including Floridians from different parts of the state and elected local, state and congressional Democrats. The event was held concurrently with marches and rallies across the country to commemorate the Roe v. Wade anniversary.
Additional Coverage:
Kamala Harris, ICYMI: Vice President Harris Delivers Remarks Commemorating the 50th Anniversary of Roe v. Wade Online by Gerhard Peters and John T. Woolley, The American Presidency Project https://www.presidency.ucsb.edu/node/359467