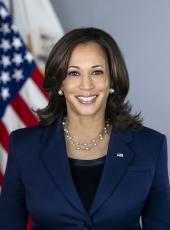 ICYMI: Vice President Harris Concludes Successful Visit to Ghana, Continues Trip with Visits to Tanzania and Zambia
Vice President Harris concluded a successful visit to Ghana this week, where she met with President Akufo-Addo to further strengthen the partnership between our two countries.
The Vice President delivered remarks to a crowd of 8,000 young Ghanaians about the United States' vision and approach to Africa, and at Cape Coast Castle spoke about the brutality and legacy of the transatlantic slave trade and the importance of remembering its impact on our history and current fight for justice.
The Vice President announced key deliverables during her visit to Ghana as part of her focus facilitating economic growth and opportunities across the continent. She announced that the Biden-Harris Administration intends to invest more than $100 million to support conflict prevention and stabilization efforts in Coastal West Africa, and announced more than $1 billion in private sector commitments to empower women across the continent.
To highlight the dynamism and creativity across Africa, the Vice President met with young artists and creatives at a recording studio, and she with women entrepreneurs. The Vice President's trip continues with visits to Tanzania and Zambia.
Read more about the Vice President's visit to Ghana below:
AP: Harris, in Africa, confronts painful past, envisions future
[Chris Megerian and Colleen Long, 3/28/23]
Vice President Kamala Harris on Tuesday stepped through the black doors of a colonial-era seaside fort and down into the dungeons, touring a site where millions of enslaved Africans were held captive before they were loaded onto ships bound for the Americas. With her visit to Cape Coast Castle, Harris was insisting on remembering the painful past even as she stood earlier Tuesday before a monument commemorating Ghana's independence, envisioning a grand future between the U.S. and Africa propelled by innovation on the continent.
"The horror of what happened here must always be remembered," she said from the fort as the sun set over the water. "It cannot be denied. It must be taught. History must be learned. "The nation's first Black and South Asian vice president is the most high-profile member of President Joe Biden's administration to visit Africa as the U.S. escalates its outreach to the continent. The events on her second day in Ghana are part of a weeklong trip that will include visits to Tanzania and Zambia. […]
Harris skipped her prepared remarks to talk bluntly about the anguish "that reeks from this place," and the horrors endured by the people who passed through those walls; mass kidnapping, sickness, rape and death. Those who lived were sold into bondage in the Americas. "And yet, they survived," she said, her voice cracking with emotion. She said the endurance and determination of the African diaspora in the world should be admired. "All of us, regardless of our background, have benefitted from their fight for freedom and justice," she said. […]
Harris has proved to be a potent messenger in Ghana, and thousands waited hours earlier Tuesday at Independence Square for a chance to see her speak at the Black Stone Gate monument. "Because of this history, this continent of course has a special significance for me personally, as the first Black vice president of the United States," she said to huge cheers from the crowd. […]
Tracy Sika Brobbey said "it's a special moment" to see the first woman vice president. Margaret Mintah, who waited alongside her, said Harris "gives us some kind of hope, that we can believe that anything is possible.""It's like a blessing," she added […]
Reuters: Kamala Harris starts Africa tour in Ghana, announces security aid
[Francis Kokoroko, 3/27/23]
The United States will provide $100 million to Ghana and four other West African countries to help them deal with violent extremism and instability, Vice President Kamala Harris said on Monday during a visit to Ghana.
Harris was in Accra at the start of a week-long, three-nation African tour, the latest in a series of visits by senior U.S. officials as Washington seeks to counter growing Chinese and Russian influence on the continent.
"President Biden and I have made clear the United States is strengthening our partnerships across the continent of Africa," she said during a joint news conference with Ghana's President Nana Akufo-Addo. […]
Bloomberg: Celebrities Idris Elba, Sheryl Lee Ralph Join Vice President Harris in Ghana
[Akayla Gardner, 3/27/23]
Vice President Kamala Harris surprised onlookers in Ghana when she stopped at a local recording studio joined by two famous Black actors. Idris Elba and Sheryl Lee Ralph appeared alongside Harris on Monday to tour Vibrate Space, a community recording studio, in Accra, Ghana, as part of the vice president's week-long tour of Africa.
The event was intended to highlight the growing creative economy in Africa, and the links between artists there and in the US, according to the vice president's office. Harris toured the studio and met with young artists. […]
Harris's trip to Africa as the first Black person and first woman to be US vice president is an opportunity for President Joe Biden's number two to burnish her foreign policy credentials and boost her visibility ahead of an expected 2024 reelection bid. […]
The 19th: Kamala Harris, in Ghana, focuses on women and the economy
[Errin Haines, 3/29/23]
Vice President Kamala Harris wrapped up a three-day state visit in Ghana on Wednesday, hosting a roundtable focused on women's economic empowerment in the country and underscoring the administration's commitment to the issue more broadly on the African continent.
Harris met with five Ghanaian women entrepreneurs in fields including medicine, farming, climate, economics and culture at The Mix Design Hub, a woman-owned restaurant, gallery and coworking space. It coincided with the announcement of commitments of public and private funds worth about $1 billion to help close the gender gap in access to the Internet in Africa and help women further their participation in the economy.
"The investments that I have outlined, we believe will help build a future where women are not just treated equally but are able to thrive, where women have the opportunity to lead, and a future simply put where there will be no barriers for the ability of women to participate in the economy, where they can enjoy freedom from violence and equal access to health care and education, and where they can shatter every glass ceiling," Harris said Wednesday. […]
"The focus here is on both: inclusion and leadership, understanding that women must have the opportunity and the access to all that is necessary to achieve their goals, their desires, their potential, to also lead," Harris said. Harris said that the administration is working to measure the impact of its investment and that she's "a big believer in metrics." […]
"When you create a system where rule of law is important, equal rights are defended and protected," Harris said. "You will see greater empowerment of all people, including women, especially if they have been behind or you see extreme disparities. So there's a correlation there and we're going to continue to work on it knowing that they're interconnected." […]
The Grio: Vice President Harris' historic trip to Africa signals America 'means business'
[Gerren Keith Gaynor, 3/29/23]
African and foreign policy experts are praising Vice President Kamala Harris' trip to Africa, where America's first Black, Asian and female vice president delivered sharp remarks about the history of slavery and announced U.S. investments to bring economic and gender equity to the continent.
On Wednesday, Harris convened a roundtable with several female African business owners in Ghana to discuss ways the United States and private-sector companies can partner with African nations to advance gender equality. "When we lift up the economic status of women, we lift up the economic status of families, of communities — and all of society benefits," said Harris. "There's a direct correlation between policies that are directed at the economic empowerment of women and the general prosperity of societies." […]
The federal, private and philanthropic dollars that the vice president announced included hundreds of millions of dollars to promote economic security for women entrepreneurs and close the gender digital divide. […]
In her remarks on Tuesday to Ghanaian youth at Black Star Gate, Harris presented a scenario for a bright future. "Imagine a future where every person is connected to the digital economy," she said. "A future where every young person trusts that their voices are heard. A future that is propelled by African innovation." […]
Additional Coverage:
Kamala Harris, ICYMI: Vice President Harris Concludes Successful Visit to Ghana, Continues Trip with Visits to Tanzania and Zambia Online by Gerhard Peters and John T. Woolley, The American Presidency Project https://www.presidency.ucsb.edu/node/360262