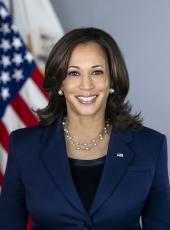 ICYMI: Vice President Harris Announces $5.8 Billion Student Loan Forgiveness for 560,000 Borrowers Who Attended Corinthian Colleges
Yesterday, Vice President Kamala Harris announced that the U.S. Department of Education has approved a $5.8 billion group discharge to cancel all remaining federal loans for 560,000 borrowers who attended Corinthian Colleges. Then-Attorney General Kamala Harris's lawsuit against Corinthian played a key role in the Education Department's work to approve loan discharges for borrowers harmed by Corinthian's wrongdoing. In the wake of then-Attorney General Harris's lawsuit, Corinthian declared bankruptcy.
This announcement is the largest single loan discharge in Department history – demonstrating the Biden-Harris Administration's continued commitment to helping borrowers who are struggling the most by ensuring discharge programs provide borrowers the complete relief to which they are entitled.
The Vice President was joined by Secretary Miguel Cardona, Secretary of U.S. Department of Education, Undersecretary James Kvaal, U.S. Department of Education, and Chief Operating Officer Richard Cordray, U.S. Department of Education.
Read more below:
Los Angeles Times: Kamala Harris to announce student loan relief for California's Corinthian Colleges
[Noah Bierman, 06/01/2022]
The Biden administration plans to forgive loans for an estimated 560,000 former students of Corinthian Colleges, a group of for-profit schools that Vice President Kamala Harris helped put out of business when she was attorney general of California, a senior administration official said Wednesday.
Harris, who won a judgment of more than $1.2 billion against the Santa Ana-based company for false advertising in 2016, plans to formally announce the loan forgiveness Thursday at the Department of Education. The department will absorb the estimated $5.8-billion cost of the federal outstanding loans. The administration said it's the largest single loan discharge made by the department in its history. […]
"For years, Corinthian profited off the backs of poor people," Harris said after winning the judgment.
Sacramento Bee: How Kamala Harris took down Corinthian Colleges as California's attorney general, in her words
[Gillian Brassil, 06/02/2022]
Vice President Kamala Harris' decade-long "journey for justice" on behalf of Corinthian Colleges students will soon come to a close as the Biden administration promises to relieve borrowers of their remaining federal student loans.
CNN: Biden administration cancels $5.8 billion in student loan debt for former Corinthian students
[Katie Lobosco, 06/01/2022]
Wednesday's announcement is the latest -- and biggest -- action taken by the Biden administration to cancel federal student loan debt for borrowers who were defrauded by their for-profit colleges. The administration has also made it easier for permanently disabled borrowers as well as public sector workers to receive debt relief.
New York Times: $5.8 Billion in Loans Will Be Forgiven for Corinthian Colleges Students
[Stacy Cowley, 06/01/2022]
The debt cancellation will be automatic, meaning former Corinthian students will not have to apply to have their debts canceled. The Education Department will eliminate any remaining balance on the federal student loans of those who attended any Corinthian campus or online program during the chain's 20-year existence. […]
When Vice President Kamala Harris was the attorney general of California, she sued the chain in 2013 over what she called an "unconscionable" scheme "designed to rake in profits" by targeting vulnerable populations like low-income workers, single parents and military veterans.
Forbes: Biden Administration Cancels Student Loans For 560,000 Former Corinthian College Students
[Edward Conroy, 06/01/202]
Today's loan forgiveness announcement was based on findings from investigations started by Vice President Kamala Harris when she was California's Attorney General. This moment is noteworthy because this is only the second time in history that loans have been forgiven through what is known as a group process.
Additional Coverage:
Bloomberg: US to Cancel $5.8 Billion Student Debt From College That Harris Once Sued
Associated Press: Debt wiped for Corinthian students as bigger decisions loom
Washington Post: Education Dept. to clear $5.8B in debt of Corinthian Colleges students
CNBC: Biden administration will cancel student debt for half a million students from Corinthian Colleges
NPR: U.S. will forgive $5.8 billion of loans to Corinthian Colleges students
Fortune: Biden administration to cancel $5.8 billion in single largest student loan forgiveness effort ever
Axios: Education Dept. cancels student debt for borrowers defrauded by Corinthian Colleges
NBC News: Education Department to cancel $5.8B in debt for students of Corinthian Colleges
USA Today: Billions in student loans erased for students preyed upon by Corinthian Colleges; most relief yet by White House
UPI: Vice President Harris announces forgiveness of Corinthian Colleges student debt
The Hill: White House to announce widespread relief for former Corinthian Colleges students
Politico: Biden cancels all remaining student loan debt from Corinthian Colleges
Fox News: Biden admin to cancel $5.8B in school loans for former Corinthian College students
The Root: Biden Administration Erases $5.8 Billion In Student Debt For Former Corinthian College Students
Insider: Biden's Education Department just wiped out $5.8 billion in student debt for all remaining borrowers defrauded by Corinthian Colleges
Inside Higher Ed: $5.8 Billion for Former Corinthian Students
Kamala Harris, ICYMI: Vice President Harris Announces $5.8 Billion Student Loan Forgiveness for 560,000 Borrowers Who Attended Corinthian Colleges Online by Gerhard Peters and John T. Woolley, The American Presidency Project https://www.presidency.ucsb.edu/node/356293