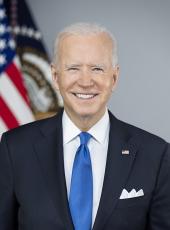 ICYMI: U.S. Gas Prices Drop to Lowest Levels Since February
President Biden committed to addressing Putin's Price Hike at the pump, and gas prices have now returned to the levels they were at prior to Putin's unprovoked war against Ukraine.
The national average is $3.47 per gallon, down about $1.50 from the June peak and the lowest since February. That's saving American families with two cars about $160 per month on average. The most common price is $2.99 per gallon. This is important breathing room for American families, and meets a key commitment the President made to them on lowering costs.
It's no accident either. President Biden has been releasing oil from the Strategic Petroleum Reserve. He rallied international partners and allies to release oil too. And he has been calling on oil and gas companies to pass on their savings to consumers at the pump. Notably, the President's actions are helping bring prices down for families while continuing to power robust economic and jobs growth.
Read key coverage below:
CNN: US gas is cheaper than before Russia invaded Ukraine
[Matt Egan, 12/1/22]
Prices at the pump continue to plunge, dropping the US average for gasoline below where it was when Russia invaded Ukraine. A gallon of regular gas now fetches $3.47 nationally, according to AAA. That is below the $3.54 average on February 24, the day Russia invaded Ukraine. That is down about 12 cents in the past week and 29 cents in the past month.
Axios: Gas prices are now cheaper than before Russia invaded Ukraine
[Herb Scribner, 12/1/22]
It is the first time since February that gas prices cost less than $3.50 per gallon, a significant decrease from record prices in the summer… It's possible that prices could dip below $3 by Christmas, according to GasBuddy, which tracks cheap gas prices.
ABC News: Gas prices plunge to lowest level since February
[Max Zahn, 12/1/22]
Gas prices nationwide have plunged to their lowest level since February as demand has dropped from peak summer travel season and the price of crude oil has fallen… The national average price for a gallon of gas, which stands at $3.47, has fallen more than 30% since it reached a peak of $5.01 in mid-June, according to data AAA provided to ABC News. Over the last month alone, the price for a gallon of gas has fallen nearly 8%.
CBS News: Gas prices are now lower than before Russia's invasion of Ukraine
[Aimee Picchi, 12/1/22]
Americans are now paying less for gasoline than they did before Russia invaded Ukraine in February as fuel prices continue to drop amid slowing demand across the globe… Gas prices may have more room to fall in the coming weeks, according to GasBuddy analyst Patrick De Haan.
The Washington Post: U.S. gas prices plunge toward $3 a gallon as demand drops worldwide
[Evan Halper, 11/30/22]
The cost of gasoline is falling so fast that it is beginning to put real money back in the pockets of drivers, defying earlier projections and offering an unexpected gift for the holidays. Filling up is now as cheap as it was in February, just before Russia's invasion of Ukraine touched off a global energy crisis.
The Hill: Gas prices could drop below $3 by Christmas
[Julia Mueller, 11/30/22]
"All the metrics look very positive for motorists as this week is likely to continue seeing falling gasoline prices, with many areas falling to the lowest level since Russia's invasion of Ukraine in February," said GasBuddy's head of petroleum analysis Patrick De Haan.
Joseph R. Biden, ICYMI: U.S. Gas Prices Drop to Lowest Levels Since February Online by Gerhard Peters and John T. Woolley, The American Presidency Project https://www.presidency.ucsb.edu/node/358976