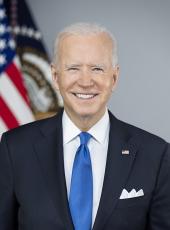 ICYMI: On Sunday Shows, Biden Administration Officials Lay Out Concrete Actions to Fight Global Inflation
As we work to transition from a historic economic recovery to stable and steady growth with lower prices for the American people, top Biden Administration officials took to Sunday Shows to explain the concrete steps the President is taking on his own and with Congress to address his top priority: fighting global inflation here at home.
TREASURY SECRETARY JANET YELLEN (This Week, ABC): President Biden believes there are other things the administration can do to support what the Fed will do.
He's had historic releases of oil from the Strategic Petroleum Reserve, that even though gas prices are high, they would be higher without those releases.
He stands ready to work and is encouraging producers of oil and refined products, gas, to work with him to increase supplies, to bring gas prices and energy prices down.
And if Congress will work with him to enact some of the administration's programs, we can bring down other costs that are burdening households, like prescription drugs, healthcare costs, increase the supply of affordable housing. We clearly have a housing problem in the United States, and we need to address it by building more affordable housing.
ENERGY SECRETARY JENNIFER GRANHOLM (State of the Union, CNN): Well, what we're trying to do, in my column, right, we really want to make sure that we can increase supply, because, right now, we have a huge mismatch between demand for fuel, for gasoline, and supply of it.
And so we are doing a whole series of things, including, this week, I will be meeting with the CEOs of oil and gas companies, because we have a -- globally a refinery challenge. The refineries shut down, many of them, some of them, during COVID, pulled in the United States a million barrels of capacity offline.
And that, of course, increases to these upward pressure on prices.
NATIONAL ECONOMIC COUNCIL DIRECTOR BRIAN DEESE (Fox News Sunday): We're talking about some concrete measures to lower costs the typical families are facing.
Take Medicare prescription drugs. We can lower those costs by allowing Medicare to negotiate for better prices. That actually reduces federal spending and reduces cost faced by consumers.
Lowering energy bills, utility bills with commonsense tax credits, and reducing the deficit -- reducing the deficit with long-overdue tax reform.
Congress across the spectrum agreed that if we take those steps, it will be complementary to what the Fed is trying to do. Not only help to lower prices but also sends a signal to the market and the world that the United States is focused on this issue and is committed to bringing prices down, again, without giving up all of the extraordinary economic gains that we've made.
NATIONAL ECONOMIC COUNCIL DIRECTOR BRIAN DEESE (Face the Nation, CBS): Well, lowering prescription drug costs is one piece. Lowering utility costs by providing tax incentives for energy is another piece, but equally important, lowering the federal deficit by enacting long overdue tax reform. If we can do a package like that we can move forward in the near future, it will not only help in lowering prices, but it will send a signal to the markets and the global economy that the United States is really deadly serious about taking on this inflation.
Joseph R. Biden, ICYMI: On Sunday Shows, Biden Administration Officials Lay Out Concrete Actions to Fight Global Inflation Online by Gerhard Peters and John T. Woolley, The American Presidency Project https://www.presidency.ucsb.edu/node/356528