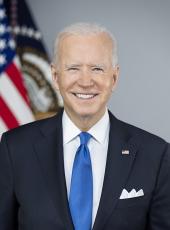 ICYMI: Student Journalists Highlight Biden-Harris Administration's Efforts to Support HBCUs
Historically Black College and University (HBCU) student journalists from across the country traveled to the White House last week for a briefing with Vice President Kamala Harris and Senior Advisor to the President for Public Engagement Keisha Lance Bottoms. During the briefing, the Vice President and Senior Advisor took questions on the President's historic efforts to support HBCUs and priority issues impacting their communities. Since taking office, the Biden-Harris Administration has delivered a nearly $6 billion cumulative investment through the Department of Education to support HBCUs.
Read more below:
Rolling Out: White House invites HBCU student journalists to discuss resources
[Jasmine McClain, 2/25/23]
The Biden administration continues to take strides toward maintaining a connection between HBCUs and the White House. On Feb. 23, 2023, more than 40 students from historically Black colleges and universities across the country represented their institutions in a much-needed conversation with the White House about their needs.
The students asked Vice President Kamala Harris and Keisha Lance Bottoms, senior advisor for public engagement at the White House, about funding for HBCUs, student loan forgiveness, and racial inequalities.
HBCU Buzz: VP Kamala Harris Meets With HBCU Student Journalists and Representatives
[Nyah Peebles, 2/24/23]
Bottoms, who is a Florida A&M University alumna, also spoke on the topics at hand and complimented the Biden-Harris Administration's efforts to support HBCUs.
"President Biden and Vice President Harris have been very intentional in funding for HBCUs very intentional and making sure that the voices of HBCUs are heard on this campus as with a group of HBCU presidents just last week on campus," Bottoms said.
Politico: HBCU Journalists On Campus
[Eli Stokols and Lauren Egan, 2/24/23]
Harris, who emphasized the administration's $5.8 billion investment in HBCUs, also offered the roughly 40 future journalists some advice, according to a write-up by MELVIN HARRIS, editor in chief of the North Carolina A&T State University Register.
"I would encourage you as journalists to always remind all of us to see people in their full selves, to see people in all the facets and nuances in which everyone lives," Harris said. "None of us is one dimensional."
Watch The Yard: Student Journalists Representing 47 HBCUs Invited to the White House for Exclusive Press Briefing
[Jonathan Rabb, 2/23/23]
This is one of many HBCU engagements hosted at the White House in recent days. On Friday, Assistant to the President for National Security Affairs Jake Sullivan met with 18 HBCU leaders to discuss pressing issues such as national security partnerships, career recruitment, and campus security.
Meanwhile, just a few steps away, over 60 HBCU student veterans and Reserve Officers' Training Corps (ROTC) students from seven HBCUs gathered at the White House for the first-ever Student Veterans and Cadets Forum.
Student Publications
Alcorn State University: The Campus Chronicle – Jones Represents Alcorn at White House
[D'Marius Jones, 2/24/23]
In addition to shedding light on topics of concern that affect the entire nation, the briefing was also set to give students real world experience to further sharpen their journalistic skills.
Benedict College: The Black Achiever's Digest - Black Excellence HBCU White House Press Briefing
[Mia Douglas, 2/28/23]
Uniquely, this press briefing has encouraged many students to continue to share their stories and the stories of their HBCU institutions.
"We are counting on you all as leaders and journalists to help us to continue to educate the people of our country and our world about who we are as Americans," Harris said.
Bowie State University: BSU TV - 2023 HBCU White House Briefing Recap
[Angelica Tyler, 2/24/23]
"President Biden and Vice President Harris have been very intentional in funding for HBCUs and very intentional in making sure that the voices of HBCUs are heard on the [White House's] campus," Bottoms said.
Coppin State University: Coppin Courier - 9 Expressions of Wisdom: A Conversation with Keisha Lance Bottoms and Vice President Kamala Harris
[Jamie Reed, 2/26/23]
Our schools own President Jenkins just recently met with the White House. In this meeting they spoke about topics ranging from national security to research curriculums. In the same regard, our Coppin Courier editor Keylin Perez also represented our university to attend a discussion at the White House on ROTC at HBCUs. This among many other events that have happened in the past year is proof of the commitment that has been made.
Delaware State University: HBCU students participate in a White House Press Briefing with Keisha Lance Bottoms and Vice President Kamala Harris
[Nyla Branam, 2/25/23]
[Bottoms] said that education that propelled her to succeed in life. "I'd never seen anyone like me inside the White House, and here I stand…years later." Ms. Bottoms also addressed the importance of HBCUs within the Biden-Harris administration. In fact, she noted that, the President's Board of Advisors on HBCU's is "led by Dr. Tony Allen, President of Delaware State University."
Florida A&M University: The Famuan - HBCU students participate in a White House Press Briefing with Keisha Lance Bottoms and Vice President Kamala Harris
[Kyla Hubbard, 2/24/23]
"Representation is really important in journalism and the way our stories are told, especially with the amount of misinformation that there is in the media today," Webb said. "It was really great to see them in their natural element and their fields doing exactly what they're meant to do."
Bottoms and Harris encouraged attendees to stand proud in being the future. They mentioned several times that the next generation will be the key in solving many of the racial, social and environmental issues society faces.
Hampton University: The Hampton Script - Vice President Kamala Harris Gives a Message To HBCU Students: "We Are Requiring You To Lead"
[Morgan Norris, 2/27/23]
"So just a reminder of why elections matter, not just when it's time to go and vote for the president but when it's time to vote for your elected officials," said Bottoms. "All the funding in the world, quite frankly, cannot stop what the governor is doing, and what he is doing is disgraceful."
Despite the constant fight to protect HBCUs, the FAMU alum highlighted the collaborative work being done to combat historic underfunding.
"There's a great committee led by Tony Allen, President of Delaware State," said Bottoms cheerfully. "They are getting exposure to where the resources are and how funding can be accessed."
Lincoln University: The Clarion - Lu Journalism Student joins White House Briefing
[Darianna McGee, 2/24/23]
"How can HBCU students get better access to local and regional U.S. government internships?" asked McGee, who is currently a reporter and digital content manager for LU's digital newspaper, the Clarion News.
Bottoms answered the soon-to-be LU grad by saying students need to stay connected through informative newsletters, alumni, and other resources. "Make sure you are getting our newsletters," said Bottoms.
Miles College: The Milean – The White House Invites HBCU Student Journalists to the 2023 HBCU Briefing
[Marcus Speakman, 2/28/23]
Miles College is celebrating its 125th Anniversary this year, and what a milestone it is for us. This was an opportunity of a lifetime for me, and I'm grateful to have represented my College. My Miles College Family and I are thankful to the Biden-Harris administration for their inclusion and development of the nation's HBCUs, especially at Miles College.
Morgan State University: The Spokesman – White House hosts HBCU student journalists, discusses funding and resources for universities
[Jordan Brown, 2/23/23]
In addition to student loan forgiveness, Harris referenced her Wednesday visit to Bowie State University where she announced a new initiative to reduce the cost of homes and mortgage insurance that could directly help HBCU graduates.
"There are many of our policies that relate to, for example, something I did yesterday at Bowie State, which was to announce what we are doing as an administration and to bring down the mortgage insurance premiums. So for FHA loans, so for loans that low income families can get to buy a home and bringing down the cost of that even further," Harris said.
North Carolina A&T University: The A&T Register – N.C. A&T's Harris Attends White House Briefing With Vice President Harris
[Melvin Harris and Markita Rowe, 2/27/23]
In October 2021, President Biden signed an executive order reestablishing and expanding the White House Initiative on Advancing Educational Equity, Excellence, and Economic Opportunity for Black Americans.
The initiative works to strengthen the nation by improving educational outcomes for Black Americans of all ages and to help ensure that all African Americans receive an education that properly prepares them for college and productive careers.
Prairie View A&M University: KPVU TV - 2023 HBCU White House Briefing Recap
[Caleb Carter, 2/25/23]
Before journalists went back to their respective schools, Vice President Harris left them with one message, "Use your voices. Continue to use your voices because we need you to talk about things like climate and starting a small business."
Rust College: The Rustorian - V.P. Kamala Harris implores HBCUs student journalists to be voice of community
[Kayla Foster, 2/27/23]
Senior Advisor to the White House Office of Public Engagement Keisha Lance Bottoms, gave the opening and introductory remarks at the meeting, highlighting the policies of the President Joe Biden administration and taking questions from the students.
Bottoms said the event was hosted to allow student journalists to not only be heard and receive direct answers in a professional setting but to understand just how much effort the Biden-Harris administration is putting into meeting the objectives of serving the needs of the nation.
Savannah State University: Tigers Roar - Vice President Kamala Harris encourages student journalists to "see people as they are" during exclusive press briefing
[Eden Turner, 2/26/23]
Additionally, a committee dedicated to HBCU support has been established in the Executive Offices. Earlier in the month, HBCU presidents visited the White House to discuss the issues that their HBCUs are currently facing.
"President Biden and Vice President Harris have been very intentional in funding for HBCUs, [and] very intentional in making sure that the voices of HBCUs are heard on this campus."
Spelman College: The Blue Record Podcast - White House, VP Kamala Harris host Briefing with HBCU Student Journalists and Representatives
[Elizabeth Gowans, 2/27/23]
The briefing ended positively, with encouraging words from Vice President Harris telling us to remember we are the future and, above all, tell the truth always because "you only have to tell the truth once." I believe my fellow student representatives left that day encouraged to do our part in communicating to the world and proud of having shown how our HBCUs shaped us. Because of that shaping, many of us may end up back at the White House sooner than we thought.
Stillman College: Stillman freshman, other HBCU students query White House on ed policy reform, social media influence
[Adebola Aderibigbe, 2/27/23]
"The Biden-Harris administration believes that one of America's greatest strengths is our ability to attract global talent, to strengthen our economy and technological competitiveness, and benefit working people and communities across the country," Bottoms said.
"The Department of State and Homeland Security announced actions to advance predictability and clarity for pathways for international STEM scholars, students, researchers, experts to contribute to innovation and job creation efforts across America. These actions will allow international STEM talent to continue to make meaningful contributions to America's scholarly research and development and innovation communities."
Joseph R. Biden, ICYMI: Student Journalists Highlight Biden-Harris Administration's Efforts to Support HBCUs Online by Gerhard Peters and John T. Woolley, The American Presidency Project https://www.presidency.ucsb.edu/node/359901