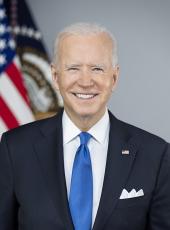 ICYMI: Senior Biden Administration Officials Highlight Strong Economic Transition, Reckless Approach of Republicans in Congress
Today Senior Biden Administration Economic officials went to Sunday shows to highlight the strong economic transition from an historic jobs recovery to steady and stable growth and the President's plan to tackle inflation. This was reinforced in the latest jobs report, which the Washington Post rightly described as part of the ongoing "Great Return to Work." Transportation Secretary Pete Buttigieg appeared on CNN's State of the Union, Commerce Secretary Gina Raimondo appeared on ABC's This Week, and Senior Advisor Gene Sperling appeared on Fox News Sunday.
COMMERCE SECRETARY GINA RAIMONDO, CNN:
Look, the reality is, I was just in Europe a couple of weeks ago. Gas there in France is $10 a gallon. and -- right? And they didn't have an American Rescue Plan like we did.
I shudder to think, Jake, what we'd be living through right now if we didn't have the American Rescue Plan. Remember, that was the money for vaccinations, which actually allowed us to get everybody back to work. That was the money for emergency rental relief.
I was the governor of Rhode Island before this job. When I took over as governor, we were deep into the -- quote, unquote -- "recovery" from the stimulus last time, which was anemic. When I took over, unemployment in my state was 7 or 8 percent. So, I can't -- you know, when the president -- when President Biden took over, we had 18 million people collecting unemployment insurance.
That's down more than 90 percent right now.
SENIOR ADVISOR GENE SPERLING, FOX NEWS:
Well, you know, what else is interesting though is that when you ask people how they're doing themselves, you do get more optimistic view. More people are saying they are financially okay. As we've said, you've seen checking accounts and debt service, you know, fairly strong across -- across the spectrum.
But look, you know, we're big kids here. We understand. This is tough. You've got global inflation.
We just got a report from the OECD. I won't bore people with the acronym, but it's the 38 major countries. The average inflation for 38 major countries is 9.2 percent.
I mean, this is a very difficult global phenomenon. It's caused by global events related to Russian aggression and, you know, the variants of Delta and Omicron, and yet we know, and the president said this, that's really of little comfort for a family whose driving up to the gas pump, are going to the grocery line and seeing those high prices.
And yes, even if it's a global phenomenon, people want to see their leaders taking it on, and that's why this president has tried to do everything he can both legislatively and administratively to have a plan to have lower prices and make -- as he said, bringing down those prices his number one priority for working families right now.
PETE BUTTIGIEG, SECRETARY OF TRANSPORTATION, ABC:
Well, right now, what we are doing is preparing for the road ahead where you're not going to see this kind of swift, red-hot, wildly fast economic growth that we had over the last year or so, but still expecting strong economic growth and working to keep it this way.
Now, look, whether we're talking about growth or whether we're talking about inflation, one very important principle right now that this administration takes seriously and respects is to allow the Fed to do its job. But the administration and Congress have a job to do as well, and that is to support growth in this economy, including issues on the supply side of our economy, like making sure our supply chains are stronger, making sure that we invest in the capacity, both physical and human, of our economy to keep up with demand, and taking action where we can to lower costs for American families.
And there are a number of things that the president has proposed that we do that Congress could do, lowering the cost of insulin, lowering the cost of childcare, lowering the cost of housing, things that would make a difference no matter what's happening macro-economically, would make life easier for Americans who are facing these economic question marks right now.
[…]
Well, look, the president's made clear that inflation is his top economic priority. And he's laid out a very clear strategy for doing that. I'm sure additional ideas will be welcomed, especially when they're ideas that come in good faith.
But right now the president has a very clear plan. Now, unfortunately, from the other side of the aisle, what we're seeing is not very much by way of concrete ideas, right? We've heard something from Senator Rick Scott about raising taxes on lower and middle-income Americans. There's a continued push to reduce -- or to remove the ACA. And you have, you know, continued culture wars. But, you know, what we have in the administration, and working with partners in Congress who are coming through with a number of good ideas, is to continue to take the steps that are needed both on the price side and on the growth side to keep our economy strong.
Joseph R. Biden, ICYMI: Senior Biden Administration Officials Highlight Strong Economic Transition, Reckless Approach of Republicans in Congress Online by Gerhard Peters and John T. Woolley, The American Presidency Project https://www.presidency.ucsb.edu/node/356305