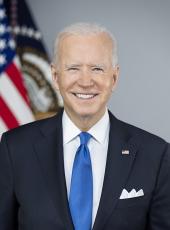 ICYMI: Secretary Raimondo on Chips Act: "It's a National Security Imperative"
Today, Secretary of Commerce Gina Raimondo joined Margaret Brennan on CBS Face the Nation to underscore the importance of passing the Chips Act, which the Secretary called "a national security imperative." This package has strong bipartisan support and will lower prices for Americans, strengthen our domestic supply chains and manufacturing power, and bolster our national security.
President Biden looks forward to getting a final bill to his desk, and signing it as soon as possible. The stakes are high and there's no time to waste.
Key excerpts from Sec. Raimondo:
On our national security:
"So the reality is, we need companies to expand in America, and- and other countries all around the world are providing incentives. Right? I wish- I wish you didn't have to do this, to be very honest, but France, Germany, Singapore, Japan, all of these other countries are providing incentives for CHIP companies to build there and we- frankly, we cannot afford that, we cannot afford to be in this vulnerable position. We need to be able to protect ourselves."
"This is a matter of national security. And I don't think we can put a price tag on it, because we are in a very vulnerable spot. So if you talk to the military experts, or the national defense contractors, they'll tell you they need CHIPS, there's 250 chips in a javelin launching system and that's not as sophisticated as some of the new equipment. Everything we talk about these precision guided missiles and such. They're precision guided because of CHIPS, which are not made in America. They're made in Taiwan. So it's just a national security imperative. And by the way, we have to move quickly. That is the most critical point here."
On guardrails:
"There are many strings attached. Strings attached companies can't use this money to build facilities in other countries, companies who accept this money can't then turn around and be building facilities in China for leading edge technology. There's a lot of strings attached around you know the quality of jobs that have to be created working with small contractors and minority owned contractors there are labor protections. So to say it is a blank check is just dead wrong."
On bipartisan support:
"You know, you see former Secretary Mike Pompeo today, tweeting out in favor of it you're gonna see Republicans and Democrats coming together because it's about national defense it's about jobs. This will create hundreds of 1000s of jobs in America."
See the full transcript here: https://www.cbsnews.com/amp/news/gina-raimondo-transcript-face-the-nation-07-24-2022/#app
Joseph R. Biden, ICYMI: Secretary Raimondo on Chips Act: "It's a National Security Imperative" Online by Gerhard Peters and John T. Woolley, The American Presidency Project https://www.presidency.ucsb.edu/node/356936